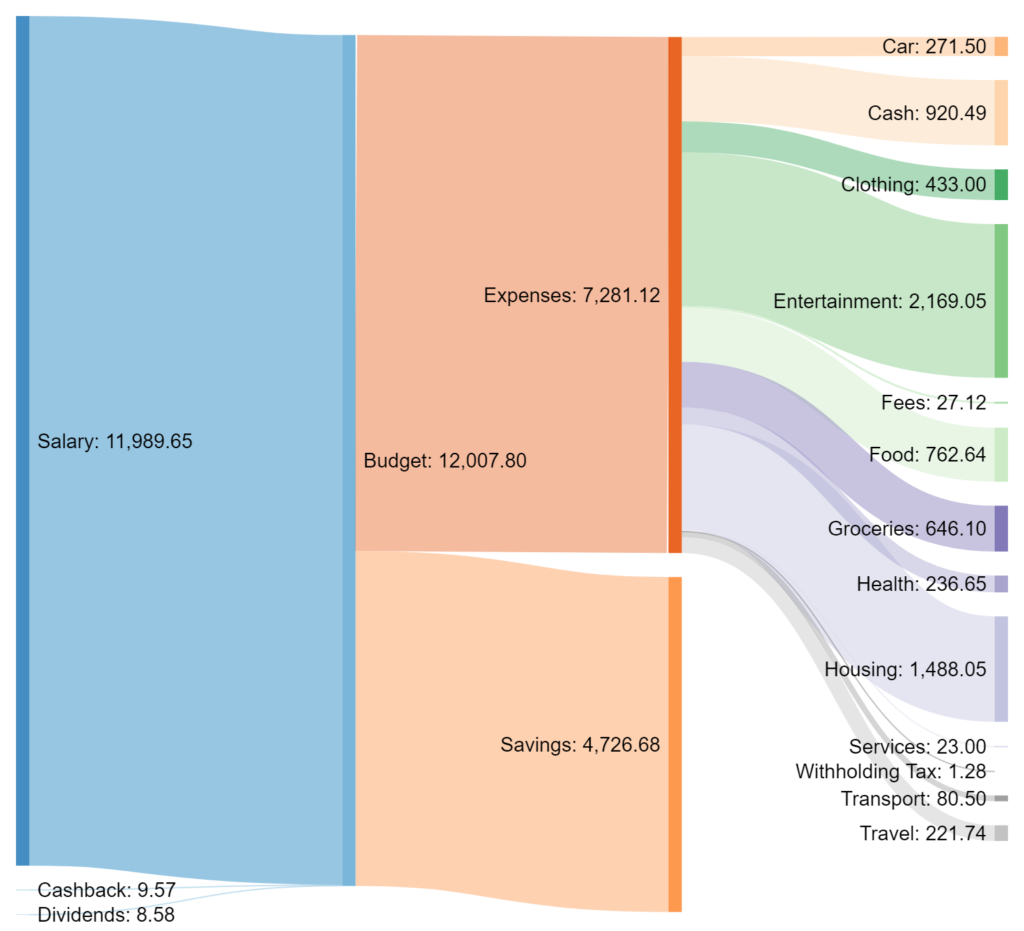 I was asked by several readers how I create the Sankey diagrams in my monthly updates. So I thought I write a quick post about it.
Kudos to Tony whom I asked originally because I've seen the Sankey diagrams in his monthly updates and liked them a lot.
Definition
Sankey diagrams are a type of flow diagram in which the width of the arrows is proportional to the flow rate.
Sankey diagrams can also visualize the energy accounts, material flow accounts on a regional or national level, and cost breakdowns.
Sankey diagrams emphasize the major transfers or flows within a system. They help locate the most important contributions to a flow. They often show conserved quantities within defined system boundaries. (source Wikipedia)
The Tool
I use the Sankey generator from sankeymatic.com it's pretty straight forward and has a color palette which I like.
Creating a new diagram is pretty straight forward, you click on the "Build a Sankey Diagram" link and input your data.
The Data
To get a useful Sankey diagram you first need to have some structured data. I use the numbers from the "Income Statement" of fava (a web tool to visualize beancount ledgers). I filter for the month I want to extract and make sure to convert all numbers to CHF.
Here its how it looks:
For the diagram you always need balanced spending input data. For the screenshot above I would end up with the following Inputs for the tool:
Salary [11989.65] Budget
Cashback [9.57] Budget
Dividends [8.58] Budget
Budget [7281.12] Expenses
Budget [4726.68] Savings
Expenses [271.50] Car
Expenses [920.49] Cash
Expenses [433] Clothing
Expenses [2169.05] Entertainment
Expenses [27.12] Fees
Expenses [762.64] Food
Expenses [646.10] Groceries
Expenses [236.65] Health
Expenses [1488.05] Housing
Expenses [23] Services
Expenses [1.28] Withholding Tax
Expenses [80.50] Transport
Expenses [221.74] Travel
If you end up with an imbalance the tool will nicely let you know, just fix it or ignore the error.
After adding those values to the Sankey tool I pretty much end up with the diagram in the header of this post. I usually tweak the size of the image and the colors if I don't like them and then use the "Export Diagram" option with "PNG image" at the "2x (Retina)" setting.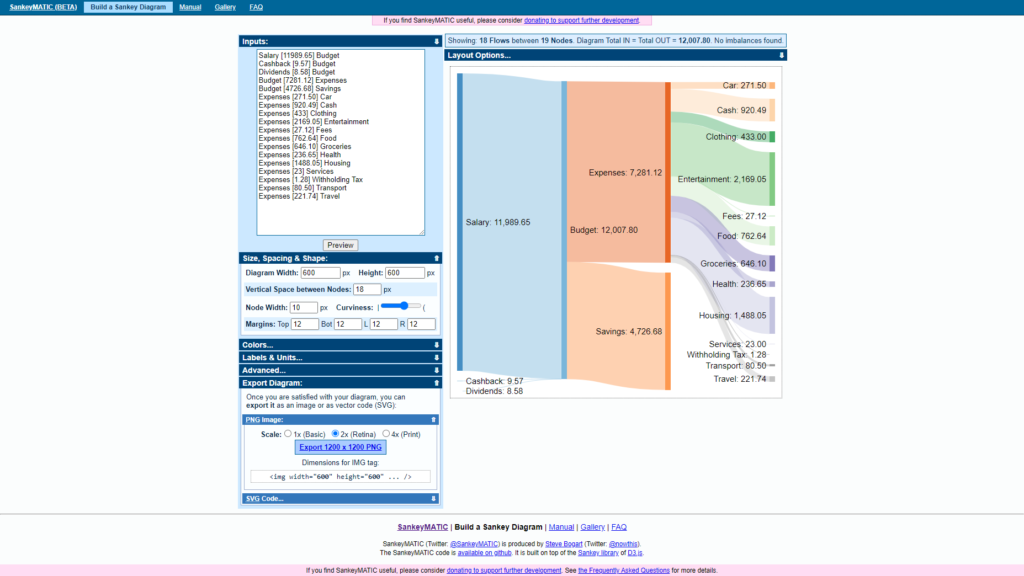 I hope this little post helps some people to produce nice Sankey diagrams for their purposes. Feel free to link your blog post with a nice Sankey diagram in the comments below.