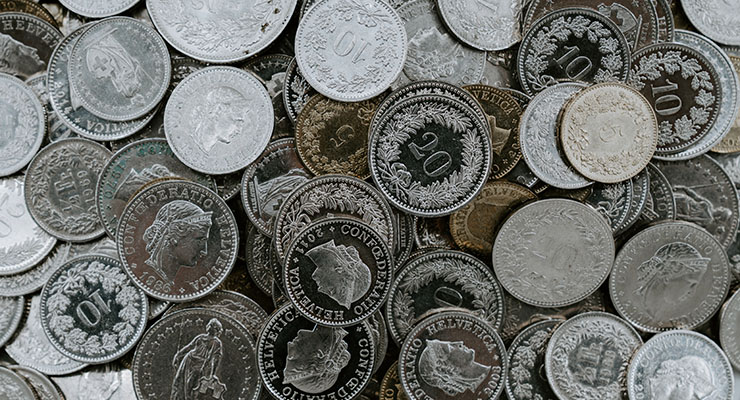 Welcome to the Portfolio update of April 2021. Looks like leaving jobs is quite profitable. Another 96k CHF added to our net worth. I hope this year keeps going like this (spoiler: it won't).
Personal update
March 5th was my last day at my previous company, the tech megacorp. My account was promptly locked at that Friday, a bit disappointing since I told my former team that I would be available for questions during the whole month. I also wrote a blog post outlining what led to my decision to leave the megacorp company which I then deleted after multiple negative comments and LinkedIn outreaches referring the blog.
I had time for some random projects, I refined my Binance python script that allows me to setup orders with stop loss and multiple take profit points. My dads paintings were uploaded to OpenSea as NFTs. I created a python NFT art generator leading to CryptoPoops. And I started a YouTube channel that already has over 500 subscribers by now (content is not really relevant or interesting for this blog). The content is about short facts about the top 10 crypto currencies, also mostly automated using Powerpoint templates and Python (for filling the templates and uploading the videos).
The startup eventually got the offer ready with the token part slightly lower than hoped for. I guess I will have to pour in some good work and might then renegotiate. I will start soon and I'm super curious to see how startups work, the laptop and everything is already here.
During my days off I discovered that Uber Eats is now available and we ordered Momos several times they are as delicious as expensive (roughly 50 CHF for a serving of 12 Momos and 3 Mochis). I think I also gained some weight because I had to stop working out due to a little surgery. 🙁
I somewhat aggressively reduced my cash cushion and poured more money into my crypto gambling portfolio and stock portfolio.
No new watch this month, but the urge to get a Omega Speedmaster Dark Side of the Moon Apollo 8 is getting stronger. However I recently got an offer to get FTTH to our house and the installation would cost about as much as the watch and faster internet is somewhat more useful on a day to day basis than the third watch in my collection.
Savings Rate: March 2021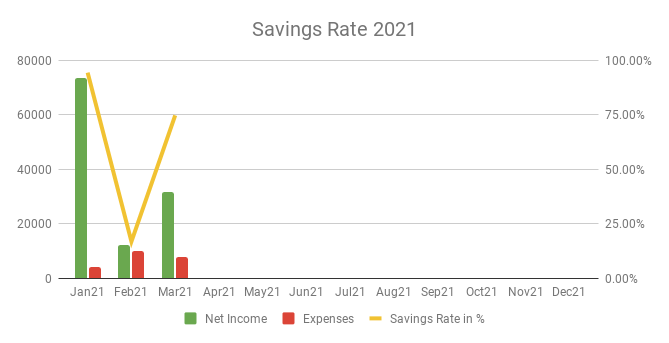 Cash flow: March 2021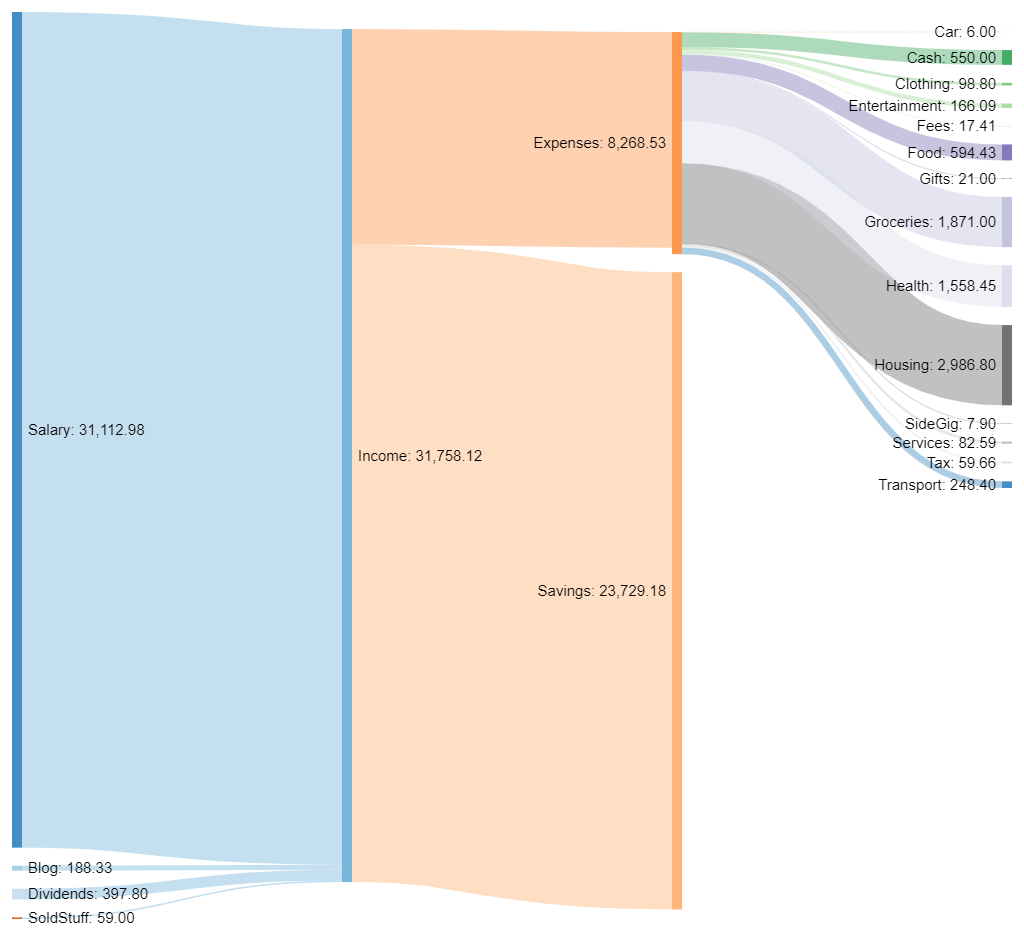 Total Income: 31'112 CHF (+19'692 CHF vs. Feb) – Regular salary of megacorp, plus bonus for 2021, plus stocks vesting, plus early paid sign-on bonus form new employer (10k CHF). Then almost 400 CHF of dividends and 200 USD from the Blog (for an IBKR sign-up, thank you!) and some sold stuff (mostly books).
Total Expenses: 8'028 CHF (-1'998 CHF vs. Feb) – Still way too much spent but less than February, yay. Biggest positions were housing with 1314 CHF for new furniture (we had to rearrange the bedroom to make space for my desk&computer) and the quarterly mortgage interest payment of 1330 CHF. Then I had a little ambulant doctor visit for 900 CHF. And groceries added another 1871 CHF to the expenses. That is a lot however we had guests multiple times plus my sons birthday party so hopefully an exceptional amount. Then there was my half-fare card renewal from SBB for 165 CHF and some 594 CHF in ordered food (also for guests).
Savings Rate: 74.72% (+57.81% vs. Feb) – Nice income recovered the savings rate from February. We're at a 81% savings rate for 2021 so far.
Net Worth: 1.1M CHF (+96k CHF vs. Feb) – Thanks to Mr. Market and my Bitcoin portfolio another wonderful month in terms of net worth gains.
Stock Portfolio
Stock Portfolio value: 231'117 CHF (+36'798 CHF vs. Feb)
Stock Symbol
# Shares
Avg. price
Current price
Unrealized P/L
VT
1444
85.18 USD
98.54 USD

19'290 USD

ARKK
324
110.12 USD
121.24 USD

3'530

USD

AVUV
452
71.88 USD
73.20 USD

595 USD

AVDV
372
62.34 USD
63.07 USD

272 USD

SPXU
240
100.87 USD
22.85 USD

-18'730 USD

ABBA
8
60.86 CHF
138.30 CHF

620 USD

Total
2227
N/A
N/A

10'994 USD
Stock Portfolio February 2021
I rearranged my stock portfolio a bit. I want to increase my exposure to Small Caps a bit more. I also thought about setting up a fixed asset allocation which I ultimately implemented:
| | |
| --- | --- |
| Stock | Allocation % |
| VT | 60 |
| AVDV | 10 |
| AVUV | 15 |
| ARKK | 15 |
Current and future stock allocation
ABBA is probably one of my best stock market investments as it more than doubled since I bought some. I realized that IBKR prevents me from buying more at this point so I eventually move it to something more conservative like GME (lol, jk).
With my new allocation I'm trying to somewhat chase for the Five Factor Investing approach:
P2P Portfolio
| | |
| --- | --- |
| Platform | Value |
| Bondster | 2116 EUR |
| Crowdestor | 823 EUR |
| DoFinance | 4259 EUR |
| FastInvest | 1710 EUR |
| Flender | 1028 EUR |
| Grupeer | 4787 EUR (more likely 0) |
| IuvoGroup | 1353 EUR |
| Mintos | 2083 EUR |
| PeerBerry | 1205 EUR |
| RoboCash | 2807 EUR |
| Swaper | 9.84 EUR |
| Viventor | 3301 EUR |
| Wisefund | 1000 EUR |
| Total | 26'486 EUR |
March Income from P2P Portfolio: +175 EUR
Noteworthy updates:
I liquidated a total of 1400 EUR of my P2P Portfolio in March.
FastInvest is doing great in pretending they have some active business going on, almost all of my 1710 EUR is now showing as available but obviously their arbitrary withdrawal limits don't let me get anything of that.
Viventor, Mintos, IuvoGrou

p

, Grupeer and Crowdestor have not been able to provide any interest in the last few months at all. Very disappointing.
---
Blog statistics
Views: 2025 (+536 vs. Feb) Wow some good growth this month.
Visitors: 668 (+242 vs. Feb) Second highest visitor count since inception of this blog!
Followers: 37 (+4 vs. Feb) Some steady growth in followers, wohoo 🙂
I posted 43 blog posts in March. the monthly update, the assembling service marketplace and the digital graveyard ideas. And the now deleted rant about my previous employer, I apologize if people felt attacked it was my attempt to close that chapter of my life and vent some of the built up frustration around it. But the amount of details in that post exposed me and my family too much (well others have succeeded before in finding me on Linkedin, soo…). One more business idea post is in the pipeline. If you have ideas or are interested in topics let me know in the comments.
That's it for this month. Like last month let me know if you like the style and the ordering of topics.
If you have any questions or comments, please leave a message below or contact me by email. I try to answer all comments and emails.