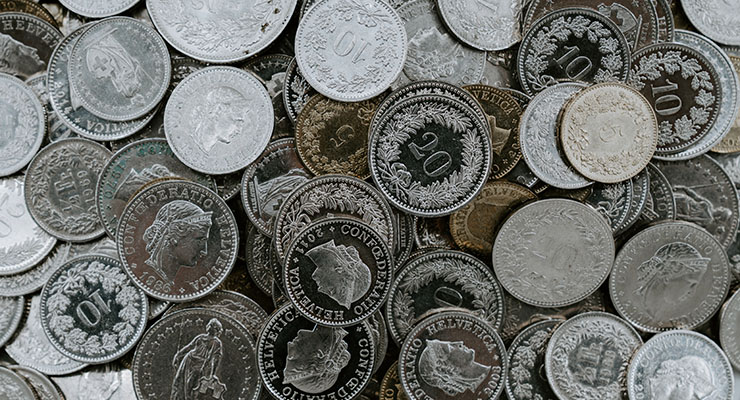 Welcome to the Portfolio update of August 2021. July was the complete opposite of June, historic bad weather, floodings and more layoffs.
Personal update
The layoffs in the startup continued and I got hit in the middle of July, will get my salary until end of August and then we'll see what I'll be working on in the future. There will also be a severance package about which I can't talk. Attentive readers will be able to put the numbers together though. Overall I'm no upset that I was laid off, I heavily disagreed with the product strategy and how the management was acting. After having enjoyed the last two weeks with my family I now look forward to another month of free time. That's the longest time off in my 18 year long working career and recharging the batteries is never wrong.
I've used the last two weeks pretty productively. I fully automated my YouTube channel (one click script to generate the 10 videos every day), built a little Raspberry Pi with display to show the value of my crypto portfolio whenever I sit at my desk, built a Telegram Bot to manage my Binance crypto portfolio (put in sales orders, raise stop losses, etc.), learnt some ReactJS (for the best credit card cashback app) and informed myself about deep fake videos. And I've installed a forum at forum.fondue.blog (the structure and name will very likely change in the near future). So rather productive I'd say.
On July 28th I've organized a Mustachian Meetup in Zug which had 10 attendees including 2 women, was interesting to see old and new faces. I'm discussing with two friends from Zug about founding a "Verein" (kind of Non-Profit) to kind of provide some financial education to people (the mentioned forum will very likely be used for that).
The second COVID-19 shot was very bad, woke up the day after and felt like shit. That lasted for around 10 hours and it was all good again. I was tired, had fever and a pretty strong head ache. Besides that I'm trying to work our more regularly.
No news regarding the FTTH connection. Some job interviews here and there but I kind of hope to get back to the mega corp/my old job because compensation at other places is not really competitive.
Savings Rate: July 2021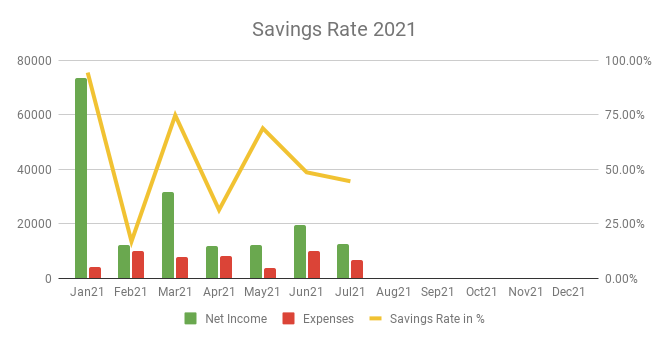 Cash flow: July 2021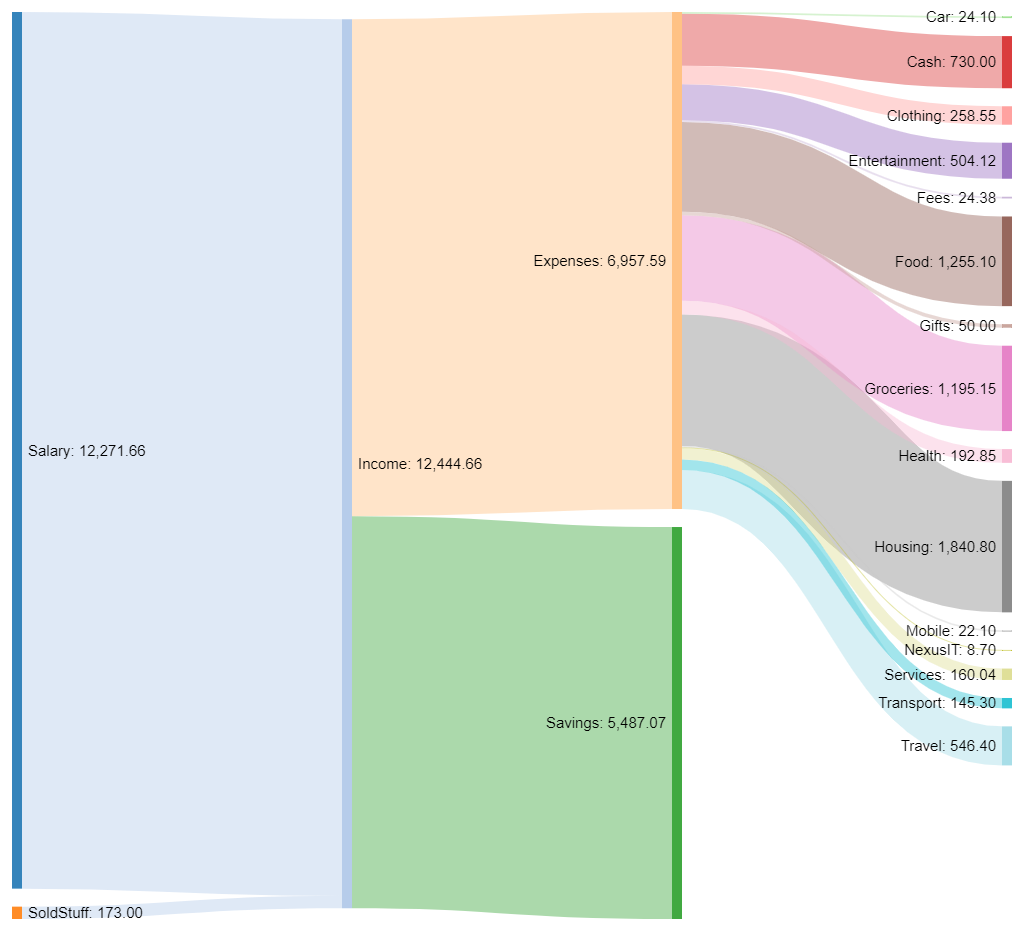 Total Income: 12'271 CHF (-7'149 CHF vs. June) – Regular salary plus 173 CHF of sold stuff. I've also made 68 CHF from lending stocks to short sellers on IBKR in July.
Total Expenses: 6'908 CHF (-3163 CHF vs. June) – Better than June but still not great. 1'195 CHF on groceries (I've challenged my wife to get it below 1'000 CHF and she'll get the difference of the amount below 1'000 CHF) another factor for lower groceries spending is likely the fact that my son is now potty trained so the diapers no longer push up those numbers. We've spent 546 CHF on a night in Grindelwald to go up the Jungfraujoch, the hotel which did cost 390 CHF for a night was a disappointment though ("modern" room had carpets and looked like from the 90ies, swimming pool would have needed some new paint). Then the quarterly maintenance payment of 1144 CHF, the yearly 518 CHF household insurance and several restaurant outings added to the expenses.
Savings Rate: 44.60% (-4.11% vs. June) – Wrong direction for sure, but when one has more free time one also spends a bit more. No regrets.
Net Worth: 1M CHF (+37k CHF vs. June) – At least one number this month that increased. And we're back to the millionaires club, well I did the P2P write-offs after updating the net worth so technically we're at 996k CHF but I'm too lazy to update all the numbers at this point. Mostly thanks to Bitcoin getting some traction again. It's funny how the stock and crypto portfolio are currently roughly the same size.
Stock Portfolio
Stock Portfolio value: 256'967 CHF (+5'282 CHF vs. June)
Stock Symbol
# Shares
Avg. price
Current price
Unrealized P/L
VT
1599
86.92 USD
104.25 USD

27'710 USD

ARKK
333
110.89 USD
120 USD

3'033 USD

AVUV
563
72.61 USD
73.39 USD

439 USD

AVDV
422
62.68 USD
65.32 USD

1'114

USD

ABBA
48
10.14 CHF
17.34 CHF

345 USD

Total
2817
N/A
N/A

32'642 USD
Stock Portfolio end of July2021
July brought some strong volatility with several daily moves of 2+% up and down. Overall the unrealized profit went down a bit. I stick to my stock allocation regardless of the moves tho.
August should bring in some extra money which will very likely flow to the stock portfolio.
Crypto HODL Portfolio
Current HODL portfolio value: 245'060 CHF (~6.5 BTC) (+ 30'311 CHF vs. June)
Bitcoin ended quite a bit stronger in July. However it seems that countries around the world slowly start to seeing it as a threat as they start to crack down on crypto exchanges like Binance.
Crypto Gambling Portfolio
I optimize for BTC growth in this small crypto portfolio. No new funds were added in July.
Gains/Losses this month: +1'300 CHF (+2'412 CHF / +0.00444123 BTC vs. June)
I'll just post my Binance portfolio picture here: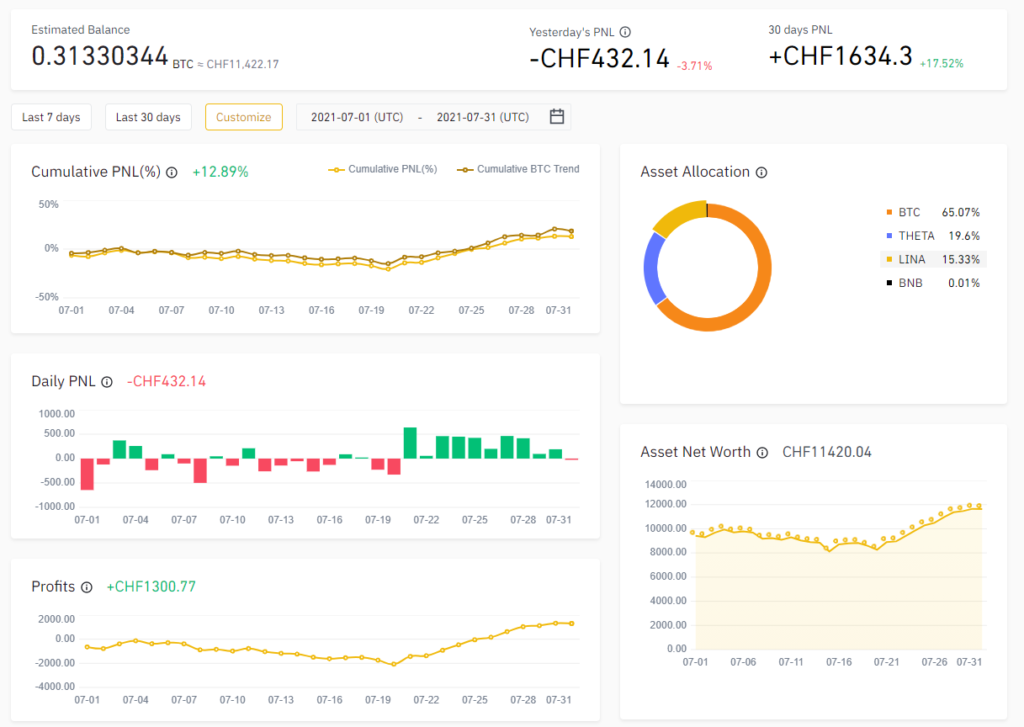 Unfortunately I couldn't beat the BTC trend this month with the few trades I took. Yet a ~13% gain is very nice.
P2P Portfolio
| | |
| --- | --- |
| Platform | Value |
| Bondster | 1099 EUR |
| DoFinance | 4158 EUR |
| FastInvest | 3120 EUR |
| Flender | 1616 EUR |
| IuvoGroup | 1315 EUR |
| Mintos | 1766 EUR |
| PeerBerry | 948 EUR |
| RoboCash | 389 EUR |
| Swaper | 9.84 EUR |
| Viventor | 1964 EUR |
| Wisefund | 1000 EUR |
| Total | 17'389 EUR |
July Income from P2P Portfolio: 91.98 EUR
Noteworthy updates:
I liquidated a total of 3182 EUR of my P2P Portfolio in July.
I've managed to get over 2'000 EUR back from RoboCash (account at 417 EUR profit so far)
Booked a write-off for the Crowdestor account of 2'067 EUR
Booked a write-off for the Grupeer account of 4'700 EUR
Total gain/loss of P2P investments: 13'452 CHF (man that would have been a nice watch…)
---
Blog statistics
Views: 1324 (-45 vs. June) at least only 2 digit numbers 🙂
Visitors: 476 (+32 vs. June) I do prefer regular readers over one day flies. Welcome!
Followers: 41 (-1 vs. June) Oh noo, that's the one number that shouldn't go down :'(
I posted 1 blog post in July. the monthly update. I'll maybe write a blog post or two about my little projects I've built. If you have ideas or are interested in more details let me know in the comments.
That's it for this month. Like last month let me know if you like the style and the ordering of topics.
If you have any questions or comments, please leave a message below or contact me by email. I try to answer all comments and emails.