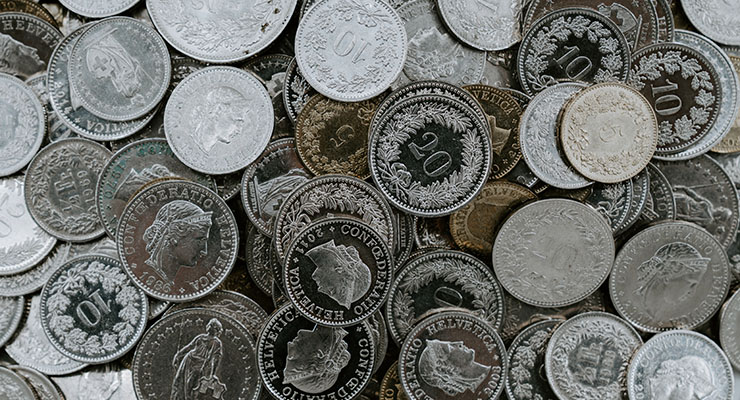 Welcome to the Portfolio update of December 2020. We are half-millionaires, wohoooo!!
Personal update
I was alone for the full month of November, unfortunately my plans to work from Mexico went down the drain however fortunately without any financial impact. My employers stubborn work policies didn't allow me to work in Mexico for the planned 2 months despite me having the approval from the Mexican consul of the Mexican embassy of Switzerland. I was upset for a weekend and got drunk (with friends) but eventually got over it.
Living alone is kind of cheap, I spent very little on groceries but kind of a lot eating outside (and drinks with friends).
I managed to get a PS5 digital edition on launch date by bypassing some JavaScript in an online store. It arrived on the 20th of November.
Still exercising regularly with the Nintendo Ring Fit Adventure game. I now feel muscles in places I didn't knew they exist (on top of shoulders and the side of the belly), very nice.
Today it started snowing in Switzerland, certainly not my favorite time of the year, dressing up just to survive in the outside temperatures is extremely silly. I wished I could have gone to Mexico instead. Maybe in Janaury.
On the awesome achievement of reaching over 500k CHF net worth and 100k in Stock portfolio (both Level 1 goals!), I decided to start a Swiss watch collection and will get a Carl F. Bucherer Patravi SubaTec Manta Trust Edition soon as a start. So you might see some watch reviews here soon.
Savings Rate: November 2020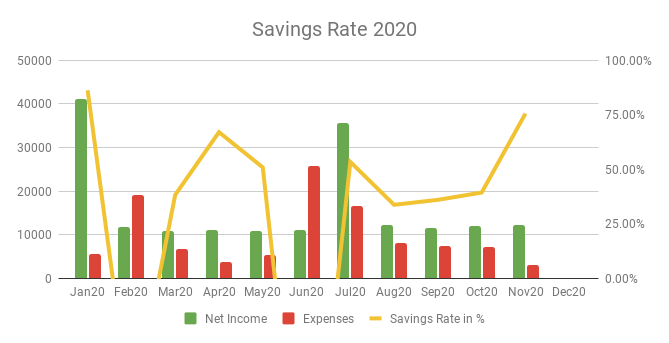 Cash flow: November 2020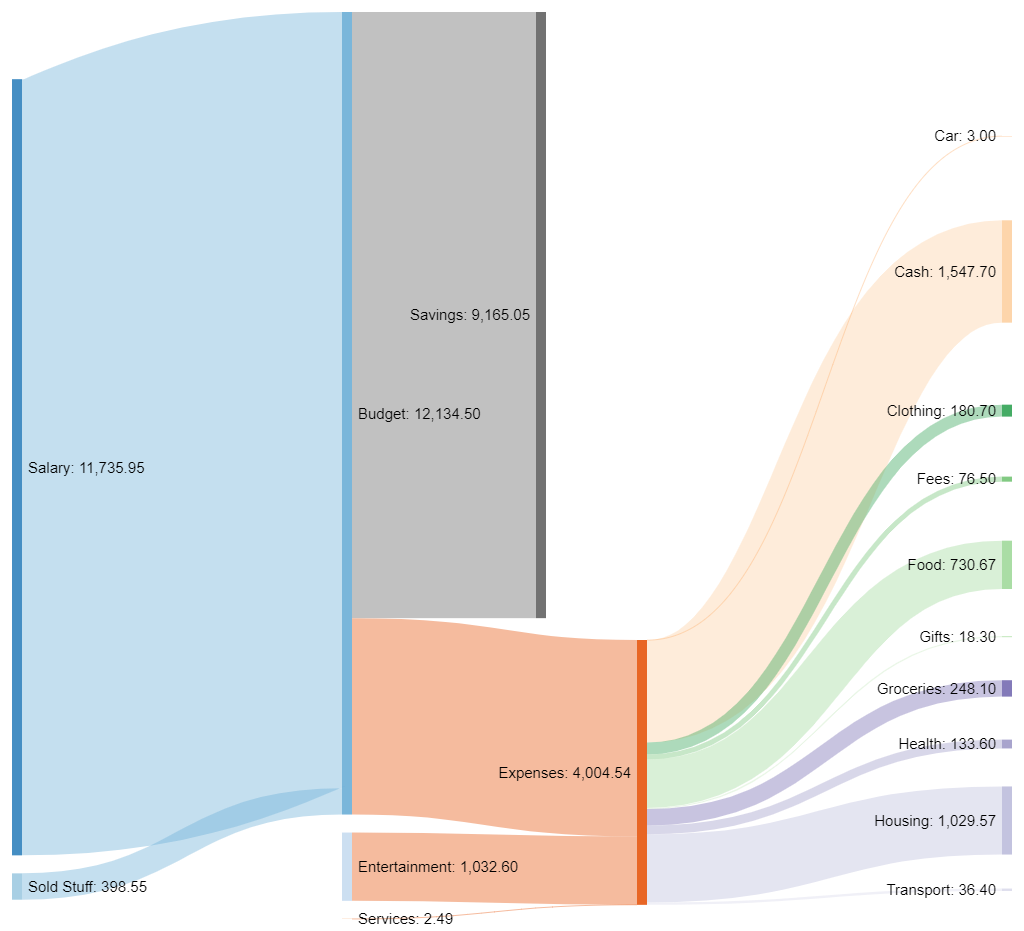 Total Income: 12'134 CHF (+127 CHF vs. Oct) – I sold quite some stuff in November for a total of 398 CHF. I gave up my online storage business and sold 12 harddisks. I also sold my old PS4 Pro for 231 CHF.
Total Expenses: 2'969 CHF (-4'312 CHF vs. Oct) – New all time low!! I got a refund for my first Samsung Monitor of 1420 CHF, sold the old AV-Receiver for a fantastic price of 350 CHF, cancelled a PS5 preorder at another online store which led to getting the already paid 499 CHF back. Two bigger positions were cash of 1547 CHF mostly for my family in Mexico and 1029 CHF for housing of which 479 CHF were for a new bed for my son. I also managed to sell back two 10 year old bar chairs to IKEA which got me a 140 CHF gift card (which I partly used for lunch and some bed covers). Groceries were at a laughable 248 CHF but I have to admit that my diet variety was not that high either. Also the fridge was mostly empty unlike when the family is around. I also paid 57 CHF in fees for a online auction platform. With the money from the AV-Receiver I bought gifts for my wife and son only paying 18.30 CHF on top.
Savings Rate: 75.53% (+36.17% vs. Oct) – The luxury of living alone, savings rate is at the second highest value of the year. Sadly even if I saved 100% of my income in December the total yearly savings rate wouldn't exceed 32%. Some people however also said I shouldn't calculate the tax expenses in June as expenses because the heavily pull down the savings average. Let me know what you think about it. (Mr. RIP will be very proud of you Mr. Cheese)
Net Worth: 504k CHF (+44k CHF vs. Oct) – A whopping gain due to both the stock market and my cryptocurrencies performing very very well in November. On towards the 750k CHF net worth and 250k CHF stock portfolio goals!
Stock Portfolio
Stock Portfolio value: 106'955 CHF (+14'325 CHF vs. Oct)
Stock Symbol
# Shares
Avg. price
Current price
Unrealized P/L
VT
996
79.49 USD
88.76 USD

9'233 USD

ARKK
179
89.97 USD
112.75 USD

4'077

USD

CSCO
26
37.96 USD
43.62 USD

147.16 USD

SPXU
1200
20.17 USD
6.42 USD

-16.50k USD

Total
2401
N/A
N/A

-3.0k USD
Stock Portfolio November 2020
Stock market only went up and to the right this month. Pretty amazing. I moved about 4'500 EUR of the P2P money to the portfolio and invested it in the regular candidates.
P2P Portfolio
| | |
| --- | --- |
| Platform | Value |
| Bondster | 3305.72 EUR |
| Crowdestor | 4047.60 EUR |
| DoFinance | 4952.75 EUR |
| FastInvest | 2946.05 EUR |
| Flender | 1276.28 EUR |
| Grupeer | 4787.29 EUR |
| IuvoGroup | 1353.09 EUR |
| Mintos | 2350.57 EUR |
| PeerBerry | 2070.55 EUR |
| RoboCash | 3127.70 EUR |
| Swaper | 541.32 EUR |
| Viventor | 3416.38 EUR |
| Wisefund | 1056.66 EUR |
| Total | 35'232 EUR |
November Income from P2P Portfolio: +477 EUR
Calculated XIRR (of the platforms that generated money): 11.92%
Noteworthy updates:
I liquidated a total of 8668 EUR of my P2P Portfolio in November.
FastInvest payed out all pending withdrawals (total of 730 EUR) on 18th of November, looks like they found new poor souls
RoboCash payed out big time: 1294 EUR and 2106 EUR from them
Viventor and Mintos both payed some 195 EUR
Swaper is almost liquidated, the 540 EUR remaining were all generated interest
Also some withdrawals from Viventor and PeerBerry
And I sold some projects on the second market of Crowdestor with 10% discount which got me 467 EUR back (just today tho, will be accounted for in the next update)
---
Blog statistics
Views: 1247 (+300 vs. Oct) I did shared the Expat guide link on Reddit which brought some traffic.
Visitors: 482 (+186 vs. Oct) as said mostly from Reddit I assume.
Followers: 18 (+2 vs. Oct) yay, welcome new readers!
I posted 2 blog post in November. The monthly update, and my new blog series Expat Guide to Switzerland: How to make Swiss friends. I plan to put one evening per week aside for blogging in December, ideal for that dark and cold weather outside.
That's it for this month. Like last month let me know if you like the style and the ordering of topics.
If you have any questions or comments, please leave a message below or contact me by email. I try to answer all comments and emails.