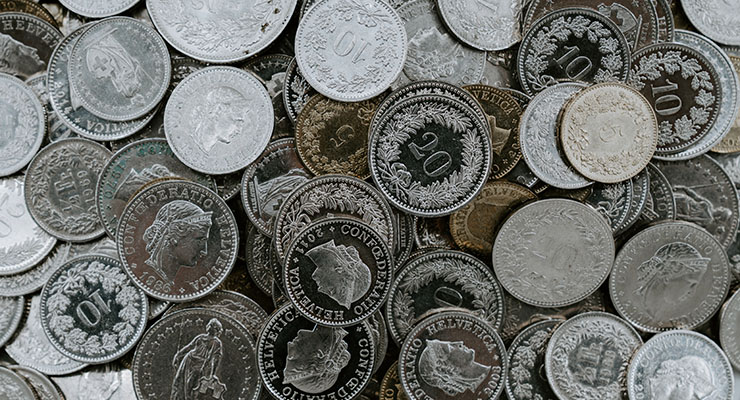 Welcome to the Portfolio update of December 2022. We're back from Mexico. FTX blew up and took down the crypto market quite a bit.
Personal update
Happy to be back and working again. Yesterday I've even had time to meet one of my readers during my lunch break, was an interesting talk about Crypto startups and life with a family. Go buy that Porsche #MidLifeCrisis 😉
We came back from Mexico and since the Validator income was so juicy in October I've upgraded the whole family including my parents to Business class flights. Unfortunately the service in that Aeromexico flight was rather bad, no Champagne in the beginning and the food was rather low quality. Well my retired parents certainly enjoyed the lay-flat seats during that 9 hour flight.
The FTX blow up also affected the Bitcoin and Phala prices and therefore the validator income was a bit lower than October, still can't complain about 10k CHF on the side with about 10 hours of effort per month. I might even soon need to transform my company to a GmbH due to the revenue amount (~60k CHF right now, mandatory to do proper book keeping at >100k CHF revenue).
And the Blog celebrates it's 3rd Anniversary, wohooo!
Savings Rate: November 2022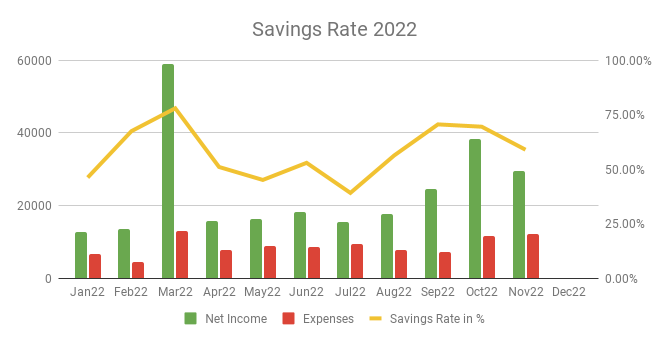 Cash flow: November 2022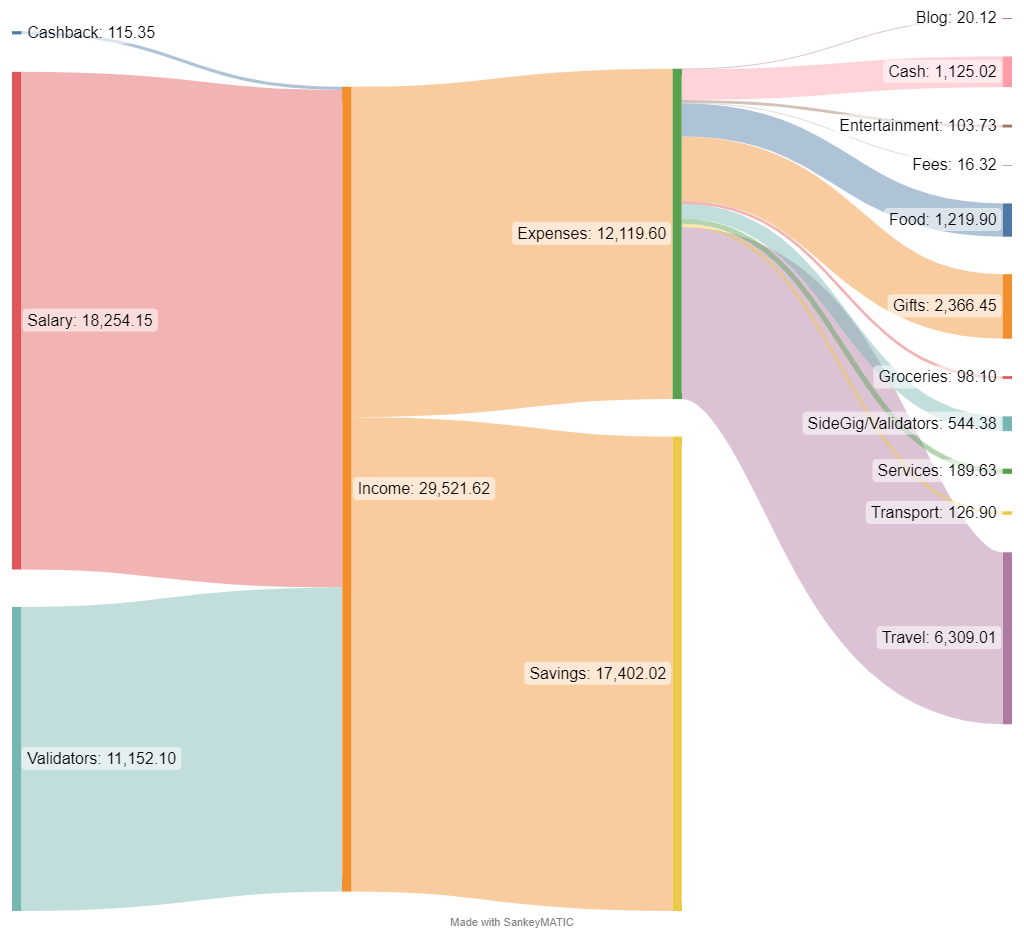 Total Income: 29'522 CHF (-8'862 CHF vs. last month) – Regular salary (~18k CHF) and the validator income of ~10k CHF and some 115 CHF cashback from the crypto.com credit card.
Total Expenses: 12'119 CHF (+406CHF vs. last month) most expenses were travel related: Hotels around 3300 CHF, flight upgrades 5800 CHF (2200 CHF accounted for as Gifts). Then the blog domain renewal (Happy 3 Year blog anniversary to me) of 20 CHF.
Savings Rate: 58.9% (-10.6 vs. last month) – well I've been on vacation for a month, no regrets.
Net Worth: 923k CHF (-15k CHF vs. last month) – The FTX fallout hit my crypto portfolio quite a bit.
Stock Portfolio
Stock Portfolio value: 249'879 CHF (+20'443 CHF vs. last month)
Stock Symbol
VT
AVUV
AVDV
ABBA
Fundsmith T Acc Mutual Fund
GRNBF
SXOOF
ELBM
Stock Portfolio at the end of this month
I finally started investing again and put 10k CHF into VT.
Crypto HODL Portfolio
Current HODL portfolio value: 140'108 CHF (~7.7 BTC / 167 KSM / 1328 DOT / 92100 CRO / 2.2k+ PHA) (-27'034 CHF vs. last month)
Well fuck you SBF. However I've used the opportunity to buy 1 BTC, so I got that going for me.
---
Blog statistics
Views: 1392 (+297 vs. last month) – Looks like people have time to read blogs again during the colder months 🙂
Visitors: 633 (+199 vs. last month)- Nice!
Followers: 50 – Still the same
I posted 1 blog post last month, the monthly update. If you have ideas or are interested in more details let me know in the comments.
That's it for this month. Like last month let me know if you like the style and the ordering of topics.
If you have any questions or comments, please leave a message below or contact me by email. I try to answer all comments and emails.