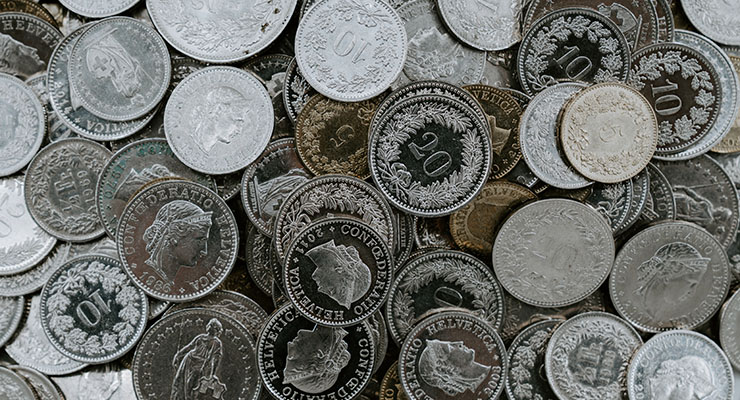 Welcome to the Portfolio update of February 2020. We first look at income and spending of the month and then at the P2P Portfolio value and changes.
As you might have guessed it from my previous post there is a negative surprise.
Savings Rate: January 2020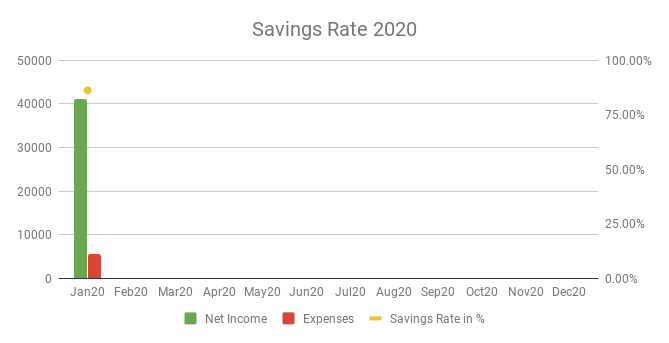 Total Income: 41'193 CHF 🤑 – consisting of the roughly 12k CHF salary plus a juicy 30k CHF bonus for 2019.
Total Expenses: 5'679 CHF – So I started to use the YNAB (You need a budget) app and defined 10% lower budgets for each category in January. Looks like my better half sticked to it pretty well. I have to admit I was in America on a business trip for the last week of January which probably saved some money too. All the expenses on my business trip are covered by my employer. I sold some items from a hobby I stopped having time for and spend 3k CHF on flight tickets to Mexico where my wife and son will spend 2 month and I will spend 1 month in May.
Savings Rate: 86.21% – New all time record since I started tracking our expenses and savings.
P2P Portfolio
January Income from P2P Portfolio: −1'773,13 EUR (or +226,87 EUR w/o Envestio loss)
Calculated XIRR (of the platforms that generated money): 11.20%
What a ride January was. While I avoided the collapse of Kuetzal it seems that I got hit by the Envestio scam. So that's 2'000 EUR down the drain. Ignoring the Envestio loss I reached a very respectable 226,87 EUR with a 11.20% XIRR.
Let's dive into the detailed statistics and comments on each platform:
Agrikaab
Balance: 2000 $
Income: 0 $
XIRR: 0.00 %
I invested 2'000 $ in Agrikaab. 160 pieces of the Farm Pond (expected XIRR 20%) and 4 shares in the Store in Mogadishu (expected XIRR 20%). The website is more like an online store instead of an investment platform. My "purchases" are visible as my orders. They are happily sitting in the state confirmed, no further information on when the payments start.
I got an email that I earned 40 $ affiliate credits from using a referral link but haven't yet found where in the page I can find that credit.
Since Agrikaab doesn't have monthly payments I will hold back from investing more in this platform until I see some returns.
Bondster
Balance: 2004.04 EUR
Income: 4.04 EUR
Platform XIRR: 13.03%
Calculated XIRR: 2.33 %
For Bondster I use the following AutoInvest settings: Minimum interest rate: 12.5%, maximum loan term: 12 months, buy-back guarantee: yes
These settings managed to invest in 158 loans, however 57 of them are already 15+ days late. Which is a bit wierd because my autoinvest setting only choose current loans.
I will throw some more money at it to see how the platform performs over time.
Crowdestor
Balance: 2024.67 EUR
Income: 24.67 EUR
Platform XIRR: 20.33 %
Calculated XIRR: 15.01 %
I really like the webdesign of Crowdestor. They also seem to have interesting investment projects however the returns are almost too good to be true. I've invested in the Limp Bizkit concert loan and the first slice of Fertilizer shipping.
Number-wise Crowdestor is the 4th best performing platform in my Portfolio with a return of 24.67 EUR. I wished it had a Auto Invest function and would allow to invest less than the minimum amount of 50 EUR per loan to maximise the working capital.
I will definitely add more money to this platform with the next investment round.
DoFinance
Balance: 2019.04 EUR
Income: 19.04 EUR
Platform XIRR: 12 %
Calculated XIRR: 11.41 %
DoFinance has one of the ugliest platforms in my opinion. They have a fixed 12% auto invest profile which doesn't seem to compound. Instead they pay out all the interest at the end of the investment duration (12 months). The good news however is that this platform has the closest matching calculated and advertised interest rate so far.
I will include DoFinance in the next investment round as they so far perform as advertised.
Envestio
Balance: 0 EUR (total loss of funds)
Income: – 2000 EUR
As outlined in my previous post, Envestio is vanished and with it all the money. Shit happens. A great moment to remind you to only invest money that you can afford to loose!
FastInvest
Balance: 2010.23 EUR
Income: 10.23 EUR
Platform XIRR: 12.98 %
Calculated XIRR: 5.99 %
My FastInvest AutoInvest portfolio covers loans from 13-16% interest, from all countries, running for 1-12 months and any of the 3 buyback options.
Actually by the time of writing this blog post there were another 4 EUR of interest paid but I took a snapshot of the numbers on the 2nd of February. These numbers will flow in the next months report and probably correct the calculated XIRR.
I will include FastInvest in the next round of investment as unlike others I'm not concerned about the lack of loan originator transparency. They also didn't panic like other platforms due to the collapse of Envestio and Kuetzal.
Flender
Balance: 1000 EUR
Income: 25 EUR
Platform XIRR: 7.95 %
Calculated XIRR: 32.53 %
I don't like Flender, while they have a very attractive 5% cashback offer on all investments they do lack transparency. Right after adding money to the platform by credit-card there was cash drag. Eventually the AutoFlend portfolio got invested in two 500 EUR loans each which came out of nowhere and were not published on the marketplace at all.
The calculated XIRR with 32.53% is obviously grossly inflated by the 5% cashback bonus.
With the 1025 EUR (1000 EUR from deposit and 25 EUR cashback) sitting there and not earning money I decided to withdraw from Flender and sent the money to RoboCash. Flender also doesn't seem to pay monthly interests. The generally low interest rates of the platform unfortunately disqualifies it for my 12% XIRR goal.
I will therefore NOT include Flender in my next investment round.
Grupeer
Balance: 2005.82 EUR
Income: 5.82 EUR
Platform XIRR: N/A (not available)
Calculated XIRR: 3.37 %
This is the only platform which doesn't calculate an XIRR over all invested loans for you.
My AutoInvest profile on Grupeer looks like this: Everything except Mortgage Loans, From 13 – 25%, between 1 – 24 months, all Countries, all loan originators, with buy-back and max amount per loan 10 EUR
Looks like Grupeer added new loan originators. I had to update my autoinvest settings to now include 42 LO's (from 40 before).
I will include Grupeer in the next round of investments to see if the performance improves.
IuvoGroup
Balance: 2033.53 EUR
Income: 33.53 EUR (30 EUR cashback)
Platform XIRR: 14.16 %
Calculated XIRR: 20.88 %
I like this platform as it was the only one actively reaching out to me (by phone <.< and email). While writing this update I got another mail from them to remind me that I still can maximise my cashback if I add more money to the account.
The 30 EUR cashback for investing more than 1000 EUR surely helped the calculated XIRR of 20.88%.
My Autoinvest settings look like this: Maximum in one loan 10 EUR, min interest 12%, loan status current, all 3 buy-back options. No other limitations.
I will include IuvoGroup in the next round of Investments.
Mintos
Balance: 2014.86 EUR
Income: 14.86 EUR
Platform XIRR: 13.63 %
Calculated XIRR: 8.81 %
Mintos is another great platform, no wonder it's the biggest in the industry. I currently have 69 loans of which 669 EUR are 1+ days delayed.
My Autoinvest settings look like this:
A high risk second market profile with all LOs with buy-back with 15%+ interest rate up to 12 months, no diversification across LOs, 5 – 25 EUR per loan.
A maximum interest profile with all LOs with buy-back with 12%+ interest rate up to 12 months terms, with diversification across LOs, 10 – 50 EUR per loan.
I will include Mintos in the next investing round as it's probably the safest of all the options.
Monethera
Balance: 2047.23 EUR
Income: 47.23 EUR
Platform XIRR: 19.05 % (average from 20.1 % and 18 % projects)
Calculated XIRR: 30.50 %
Monethera is another platform where the cashback skews the XIRR heavily in favor of the platform. You get 0.5% cashback on all investments in the first 180 days.
There is no Autoinvest feature and projects are made available rather sporadically. That means you have to login regularly to be able to invest in new projects.
There are some rumors that Monethera is connected to Envestio and therefore might be another scam platform. That's the reason why I will NOT include Monethera in the second investment round. If the returns stay stable and the platform doesn't disappear in the next 6 months I might reconsider.
Also the platform seems to have reachability issues at the moment. That could be either a sign of DDoS attacks or some made up bullshit like Envestio which was fighting with reachability problems first too.
PeerBerry
Balance: 2010.20 EUR
Income: 10.20 EUR
Platform XIRR: 12.25 %
Calculated XIRR: 5.97 %
PeerBerry is another platform which I mostly like for the web design.
My Autoinvest settings have two profiles:
One for 12.5%+ loans with current status, buyback and any duration, max amount per loan 100 EUR.
One for 11.5%+ loans with current status but only 1 months remaining, max amount per loan 20 EUR.
These settings give me currently 44 loans with only 73 EUR in 1+ days delayed loans.
I will include PeerBerry in my next investment round.
Robo.cash
Balance: 2031.34 EUR
Income: 6.34 EUR
Platform XIRR: 12.00 %
Calculated XIRR: 3.63 %
Late to the party is Robo.cash, the only platform which actively reached out to me to invest with them. They found the blog and sent me a email. They promise a decent 12% return and an additional 1% if you invest 10k EUR with them. That is the platform limit too.
The invested 2025 EUR are coming from the withdrawal from Flender due to the cash drag and from Wisefund due to them being scared of the Envestio / Kuetzal situation and the lack of new projects.
I will include Robo.cash in the next round of investments to see how the platform performs over time.
Swaper
Balance: 2000.59 EUR
Income: 0.59 EUR
Platform XIRR: 0.4 %
Calculated XIRR: 0.34 %
Swaper seems to try to reflect the actual interest rate of the investments instead of a projected XIRR. We will see how well that goes.
I had some significant cash drag and it took two weeks until all the money was invested. Feels like a human is manually investing into loans in the background to me.
I will include Swaper in the next round of investments as many other P2P bloggers are very happy with the platform.
Viventor
Balance: 2000.32 EUR
Income: 0.32 EUR
Platform XIRR: 16.65 %
Calculated XIRR: 0.18 %
I earned a whopping 0.39 EUR from one repaid loan so far on Viventor.
My Autoinvest settings are the following: max amount per loan 20 EUR, 14 – 16% loans only, up to 24 months term, all loan types, all countries, all LOs, buyback & payment guarantee.
I will include Viventor in the next investment round.
Wisefund
Balance: 2000.32 EUR
Income: 0.32 EUR
Platform XIRR: 17 %
Calculated XIRR: 0.00 %
Wisefund is seemingly very popular with other P2P bloggers but I don't understand why. In the whole month of January they had one new project only. I invested 1000 EUR in that which promises 17 % return.
As I outlined in the Envestio vanished blog post I have some concerns about the legitimacy of Wisefund. Their reaction was rather unprofessional incase they are a legit business.
I will NOT include Wisefund in the next investment round due to the lack of projects and professionalism.
---
So we had 5 very nicely performing platforms with: Flender, Monethera, IuvoGroup, Crowdestor and DoFinance
And some very disappointing platforms like: Envestio (goodbye 2k EUR), Wisefund, Viventor, Swaper
Blog statistics
Views: 882 (+56 from December)
Visitors: 458 (+31 from December)
I actively ran Google and Facebook Ads. I'm however suspicious towards the Facebook Ads as they claim to have had 281 clicks but I've only seen 80 visitors from Facebook.
That's it for this month, sorry for the long post. Let me know if you like the style and the ordering of topics. I'm still new to the blogging world.
If you have any questions or comments, please leave a message below or contact me by email. I try to answer all comments and emails.