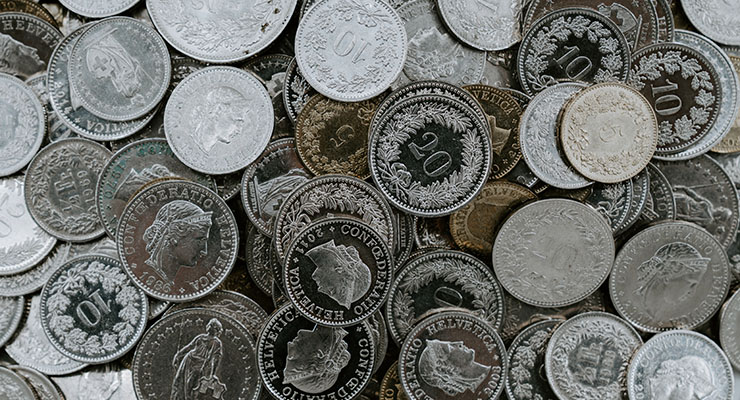 Welcome to the Portfolio update of February 2021. Who taught December was crazy? January was the real deal. 73k income, 250k re-evaluation of the apartment value!
Personal update
We've started 2021 fairly crappy from a personal perspective. Switzerland is in another lockdown, all restaurants are closed.
I faced some unnecessary work related frustration because a coworker kind of got an internal title unofficially which I was hoping to get.
And all the new years resolutions of blogging once a week already went down the drain. Sorry for that.
On the nice side I was starting to engage in discussions with 3 banks to renew my mortgage in January next year which resulted in a "conservative" re-evaluation of my apartment from 850k to 1.1M CHF! I did account for that change in value and hence my huge net worth boost this month. I also locked in a 5 year fixed mortgage for 680k CHF at 0.69% interest rate (down from 0.94%!!!).
I also planned to move my main bank account because my current bank is raising their account fees from 13 CHF to 18 CHF, very unnecessary as they don't provide more services or value. However the bank account move fell flat as I want to explore a possible change in my career first.
That's hitting the 750k net worth goal and therefore another watch has to be added to my collection. This time I'm going for a Grand Seiko SBGA211G Snowflake, it has one of the most precise automatic calibers in the world with a deviation of ±15 seconds per month. And it just looks gorgeous. Stay tuned for a pic or two.
There were earnings calls of many companies but specifically the one from Tesla stuck out because they also announced a new Model S with Plaid+ acceleration (0-100km/h in <2 seconds), I'm super tempted to get one of those because mine is almost 6 years old by now.
Savings Rate: January 2021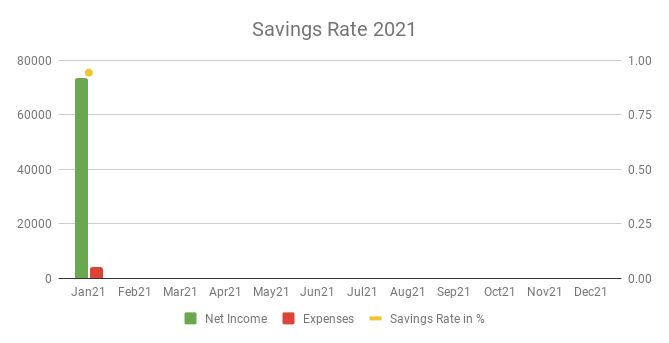 Cash flow: January 2021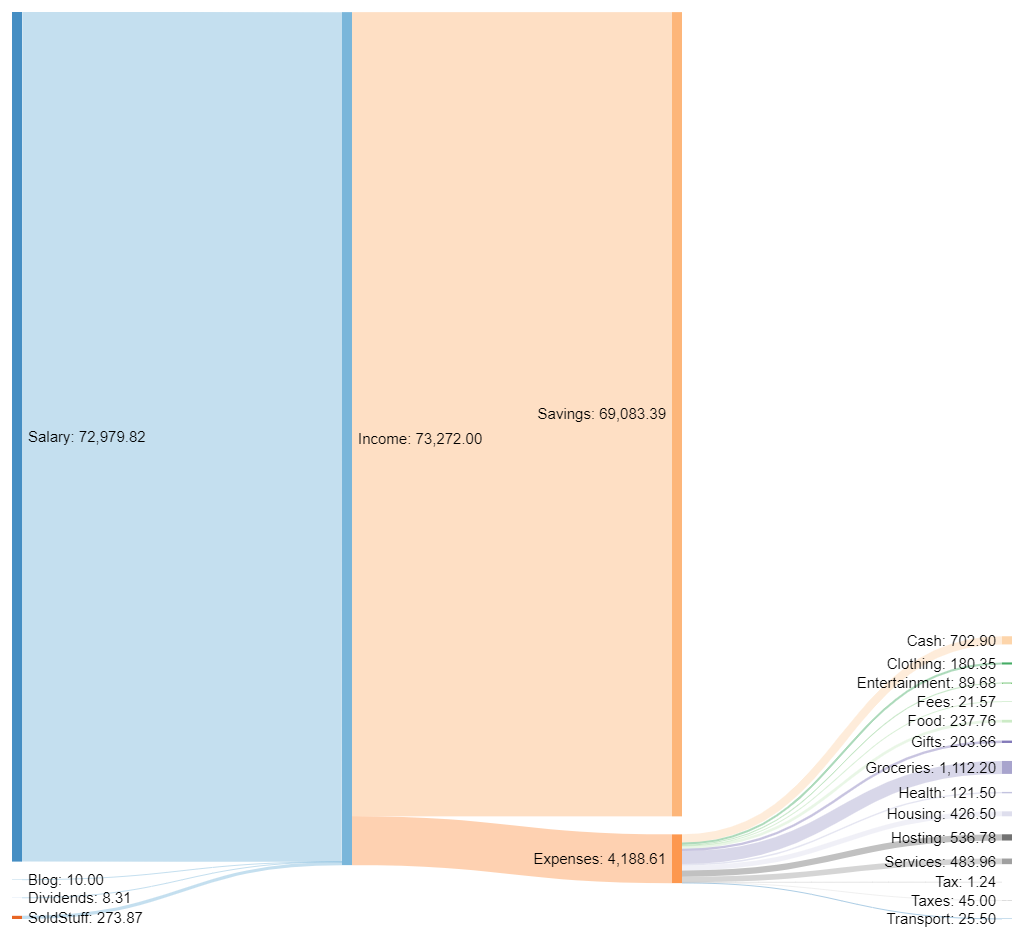 Total Income: 73'272 CHF (+50'300 CHF vs. Dec) – Regular salary, plus ~30k CHF bonus, plus 32.4k CHF sold stocks, plus 10 CHF from a Neon referral (thank you!). As mentioned before Januaries are one of the three fat months (Jan, Jul, Dec), the income will settle itself again around the ~11k CHF in the next few months.
Total Expenses: 4'188 CHF (-14'487 CHF vs. Dec) – Kind of frugal, isn't it? 1'112 CHF in groceries, 702 CHF for the wife (cash / gifts), 237 CHF in meals ordered/take-away, 418 CHF were splurged on a Stock indicator tool to up my (crypto) trading game. Fun fact I spend a total of 8.44 CHF for YT Premium Family and Netflix UHD subscriptions per month. Official prices would be 19.50 CHF and 21.90 CHF respectively. I will eventually write a blog post about how I got the two services for one fifth of their prices. Let me know if you'd like to read about that.
Savings Rate: 94.28% (+75.57% vs. Dec) – Crazy income also means crazy savings.
Net Worth: 910k CHF (+337k CHF vs. Dec) – Another of my net worth goals reached! It literally went thru the roof which is funny because 250k CHF were because of the re-evaluation of our apartment. The other 87k CHF of net worth gain are a combination of the large income, small stock gains and great crypto portfolio gains.
Stock Portfolio
Stock Portfolio value: 170'583 CHF (+38'485 CHF vs. Dec)
Stock Symbol
# Shares
Avg. price
Current price
Unrealized P/L
VT
1527
84.10 USD
93.96 USD

15'040 USD

ARKK
304
107.37 USD
142.31 USD

10'690

USD

CSCO
26
37.96 USD
45.44 USD

195 USD

SPXU
240
100.87 USD
28.50 USD

-17.36k USD

ABBA
8
60.86 CHF
77.09 CHF

130 USD

Total
2105
N/A
N/A

8'695 USD
Stock Portfolio January 2021
I moved the whole stock sale proceeds to IBKR and bought 39 ARKK and 326 VT. I also moved 25k CHF of my Bonus to IB but then hesitated to invest it all because there were several red days in a row and loosing 2.5k CHF every day made me feel slightly uneasy. Might be a sign that my asset allocation doesn't fit my risk appetite. However I still have 14.4k USD ready to be invested and will do so over the coming weeks. And I withdrew 6k CHF to get my second watch.
My ABBA play worked out pretty nice so far, I hope my son will thank me at some point in the future. I might however move it to some stock-based ETF like VTI or maybe the new ARK Space Exploration ETF.
My looser SPXU executed a reverse stock split on 21st of January which converted my 1200 stocks into 240 stocks. Interesting way to prevent the price falling under 5 USD.
The FOMO with GameStop was also real and I kind of wanted to buy some but IBKR didn't let me. In the meantime some rationallity returned to my mind and I will not touch that stock. The price will crash at some point when WSB loses interest… and you don't want to be the last one selling.
P2P Portfolio
| | |
| --- | --- |
| Platform | Value |
| Bondster | 2752 EUR |
| Crowdestor | 823 EUR |
| DoFinance | 4626 EUR |
| FastInvest | 1994 EUR |
| Flender | 1173 EUR |
| Grupeer | 4787 EUR |
| IuvoGroup | 1353 EUR |
| Mintos | 2156 EUR |
| PeerBerry | 1754 EUR |
| RoboCash | 2968 EUR |
| Swaper | 2.36 EUR |
| Viventor | 3308 EUR |
| Wisefund | 1019 EUR |
| Total | 28'719 EUR |
January Income from P2P Portfolio: +265 EUR
Noteworthy updates:
I liquidated a total of 650 EUR of my P2P Portfolio in January. It's slowing down again 🙁
FastInvest now came up with some new limits for withdrawal, I had 429 EUR available but then only 159 EUR could be withdrawn. Obviously non of my withdrawals actually arrived.
Swaper

payed another 2.69 EUR which is funny because there's 0 money in the account, maybe some referal bonus?
---
Blog statistics
Views: 2124 (+344 vs. Dec) I really love to see that organic growth of visitors!
Visitors: 593 (+73 vs. Dec) Welcome new readers!
Followers: 29 (+6 vs. Dec) Also more than last month, happy to see that!
I posted 3 blog posts in January. The monthly update, an business idea for YouTube music channels (fair enough a bit silly) and another Expat Guide to Switzerland post about Housing/Apartment rental. As said I'm slightly disappointed of myself that I didn't keep up the weekly posting, let's see if I can get back on track. I however also have to admit that I'm kind of running out of ideas on what to write, please let me know in the comments if there is something you'd like to hear about. Be it Switzerland or investing specific.
That's it for this month. Like last month let me know if you like the style and the ordering of topics.
If you have any questions or comments, please leave a message below or contact me by email. I try to answer all comments and emails.