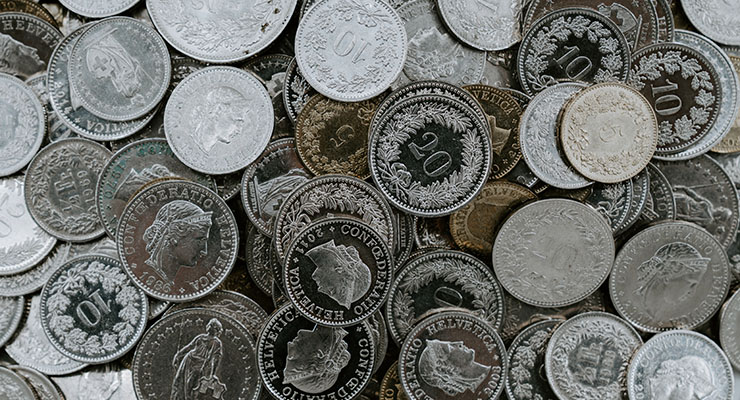 Welcome to the Portfolio update of January 2022. Since the end of December we're in warm and sunny Mexico a nice change to the cold winters in Switzerland. Cryptos kept dropping and stock market stayed rather flat.
Personal update
December was sprinkled with meeting some friends (for some reason I have the urge to leave the house more often during that cold and dark time of the year). Raising Corona cases in Switzerland made me fear that our vacation plans in Mexico will be abruptly stopped.
But fortunately we've managed to escape cold and infected Switzerland on December 20th. Then we spent a few nice days in a hotel we remembered much better from 2019. The rooms were a bit run down but fortunately the food and private beach were still amazing. Daily 15°-35°C are very very nice to have in winter.

Then the Christmas celebrations with the whole family of my wife (iirc 32 people). Some new thing to me was that the gifts are only unpacked at midnight, while in Switzerland we unpack most of them during the Christmas Eve on the 24th.
After Christmas I've worked from the AirBNB we rented. I found a rather manageable 07:30 to 15:00 schedule to have some overlap with the coworkers back in Switzerland. I also managed to do a 2 hour long interview with KM Finanzen after working hours.
The FTTH connection at home is finally operational. It bordered to some comedy how the people from the cabling company struggled to get the fibre cables pulled into the ducts. They eventually succeeded and on the 5th of December I finally had service on my fibre. My new internet speed is now 1/1Gbps with hopes for 10/10Gbps by end of Q1 2022.
Overall we finished the year with 250k+ CHF in income, a quite respectable number and probably within the top 10% for Swiss single income households. For 2022 I expect around 260k+ CHF income if the crypto markets stay stable.
Also in December I've turned down a brand new Rolex GMT Master II "Batman" (retail price 9k CHF, current market value 19k CHF) as I felt being a bit short on cash. In hindsight a regrettable decision.
In a weak minute in December I've ordered a new Tesla Model S Plaid, to be delivered in roughly 12 months for the earliest…
Savings Rate: December 2021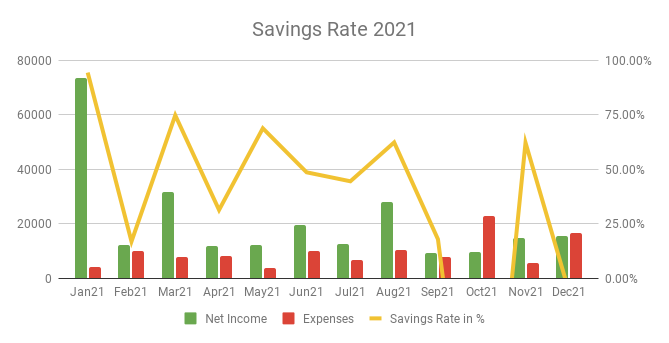 Cash flow: December 2021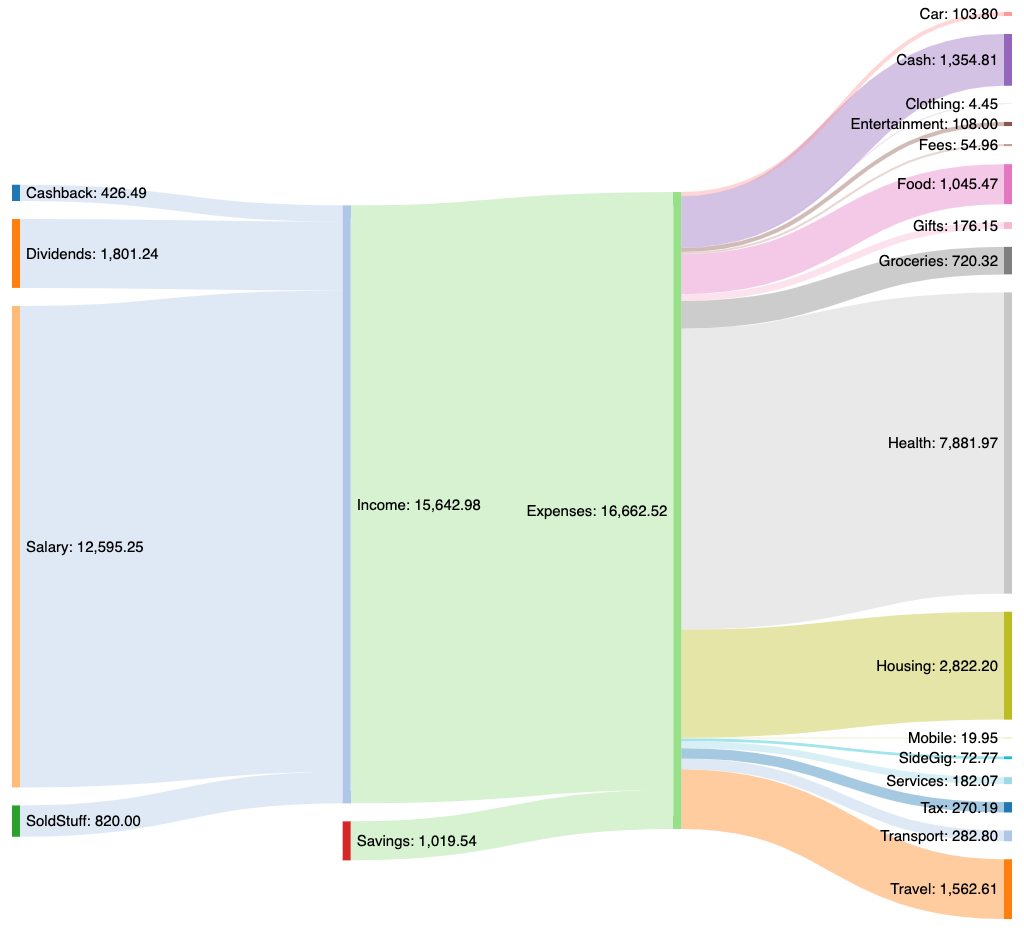 Total Income: 15'643 CHF (+668 CHF vs. November) – Full salary plus some expenses from the Barcelona trip, plus some sold stuff during December. Unfortunately no 13th monthly salary that I've enjoyed almost every year so far.
Total Expenses: 16'653 CHF (+10'988 CHF vs. November) – December is always an expensive month, I pay the health insurance (7'128 CHF for the whole family) during that month and combined with the lack of bonus or 13th monthly salary that kills the saving rate. December is also one of the Mortgage interest and amortization and maintenance payments months (~2'733 CHF every quarter).
Savings Rate: -6.46% (-68.36% vs. November) – Horrible but we've ended the year overall with 54.24% savings rate. 6% below target but given the unstable income situation due to job changes I can live with it.
Net Worth: 1.05M CHF (-72k CHF vs. November) – Stock markets were mostly flat and cryptos rather weak. I guess with so much equity exposed to economic forces one has to live with negative swings like this.
Stock Portfolio
Stock Portfolio value: 267'507 CHF (+1'494 CHF vs. November)
| | | | |
| --- | --- | --- | --- |
| Stock Symbol | # Shares | Current price | Unrealized P/L |
| VT | 1666.44 | 104.93 USD | 27'322 USD |
| ARKK | 371.58 | 94.59 USD | -6'584 USD |
| AVUV | 552.72 | 79.74 USD | 3'924 USD |
| AVDV | 436.51 | 64.55 USD | 763 USD |
| ABBA | 48 | 21.61 CHF | 550 USD |
| Total | 3012.59 | N/A | 27'872 USD |
Stock Portfolio end of December 2021
I again didn't add the monthly 5k to the portfolio. However on 1st of January I've realized that there were around ~3.8k USD cash from dividends in the account which I've then invested.
End of January should see the regular 5k CHF invested again.
Crypto HODL Portfolio
Current HODL portfolio value: 274'867 CHF (~6.2 BTC / 50+ KSM) (-69'296 CHF vs. November)
The KSM validator so far returned 0.85 KSM which easily covers for the 60 EUR/month in cost. Good stuff
Crypto Gambling Portfolio
I optimize for BTC growth in this small crypto portfolio.
Gains/Losses this month: -2'199 CHF (-0.0476571 BTC vs. November)
I'll just post my Binance portfolio picture here: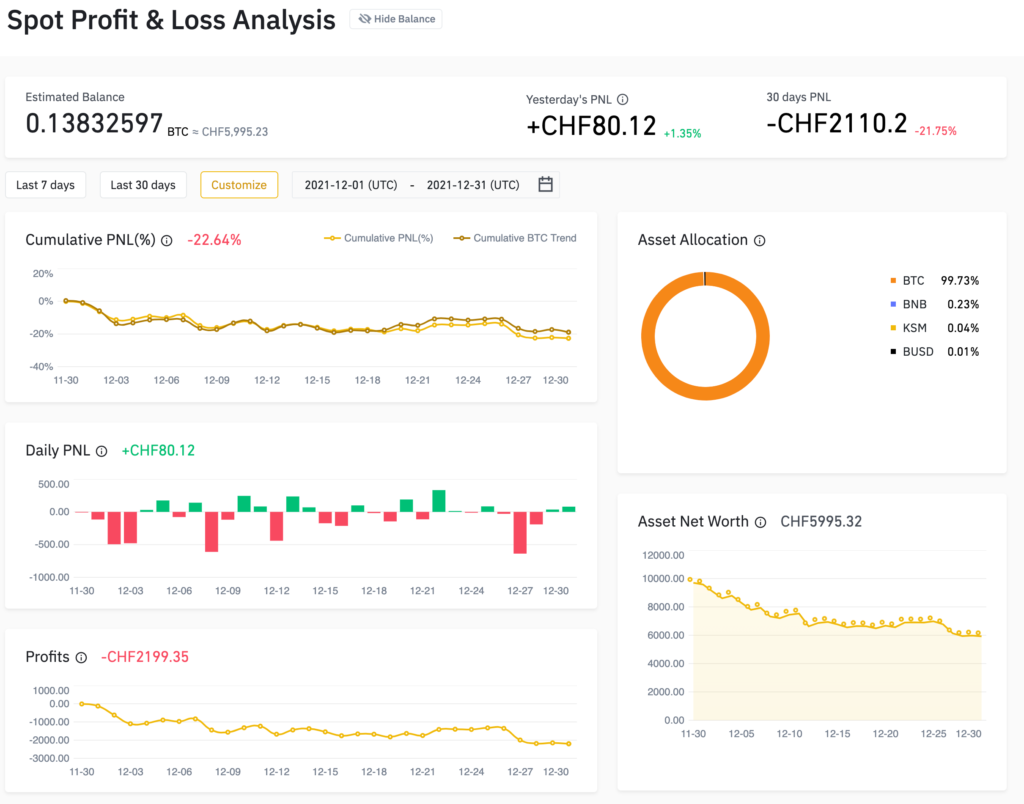 Another month underperforming the market. Meh…
P2P Portfolio
Still trying to abandon the P2P assets as there were too many scams.
December Income from P2P Portfolio: 15.58 EUR
Noteworthy updates:
I liquidated a total of 467 EUR of my P2P Portfolio in December.
DoFinance posted about recovery of funds at 40-60% of the principal value… another loss in the disappointing P2P sphere.
---
Blog statistics
Views: 1828 (+185 vs. November) slowly but steadily increasing again, very nice!
Visitors: 651 (+83 vs. November) also growing which is nice!
Followers: 45 (+2 vs. November) hello new subscribers 🙂
I posted 3 blog post in December. the 2 year anniversary post, the KM Finanzen interview and the monthly update. If you have ideas or are interested in more details let me know in the comments.
That's it for this month. Like last month let me know if you like the style and the ordering of topics.
If you have any questions or comments, please leave a message below or contact me by email. I try to answer all comments and emails.