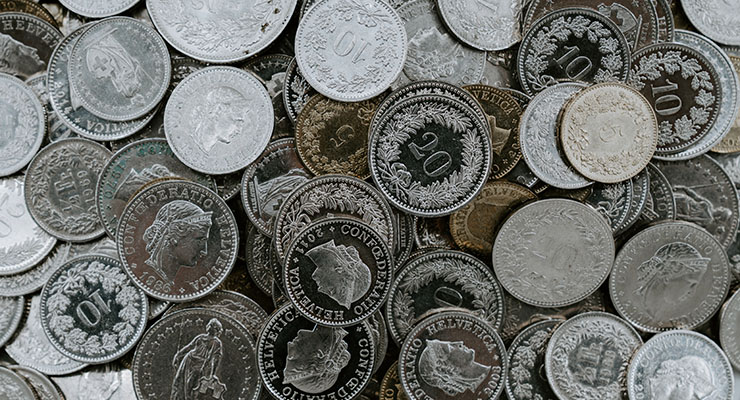 Welcome to the Portfolio update of July 2021. Startup life is tough, layoffs left and right. The first heatwave hit Switzerland. And negative net worth developments. Read more to learn more about our June.
Personal update
They say you should always start on a positive note. Well I've got most of my weekend work paid by the startup. Now to the problematic things, company transparence and layoffs. CEO claims the token launch didn't go as well and instead of raking in 0.5B USD we've "only" made less than that. And the consequences were layoffs of mostly American people amounting to almost 10% of the company. The confusingly also let go the SRE equivalent people who should have monitored and run the product. There was also some shady stuff going on regarding token distribution and cash programs which were cancelled last minute for Swiss employees. Nothing I have to bother about yet but the general morale of people is rather low, they either fear being fired without notice or that the company cuts their promised payouts… few people say it's seemingly normal that startups restructure after product launch, so we'll see where we heading. I'm personally a bit reckless and question any process or political bullshit I see internally as the severance packages seem rather nice and I still have the option to return to mega corp (my previous employer) rather easily if shit hits the fan.
Token prices kept dropping with the bottom suspiciously matching the date where all the 12+ months employees got their tokens. Probably some tax optimization or something. Current 4 year token estimate dropped to 1.125M CHF, looks like the risk reward ratio is slowly going towards 0. And who knows, maybe they have the urge to let more people go which approach their token vesting dates.
My YouTube channel recently passed 2000 subscribers. I feel bad because I couldn't invest much time in it… the 1 min videos have the same music since the first day and people complain from time to time about it.
I've had quite some meetings with friends, the meeting with KM Finanzen was very interesting (he even ended up writing a post about our meeting), another trip to Lucerne with two guys from Zug whom I met at a MP Forum Meetup, a very enjoyable Ping-Pong and videogames afternoon/evening with one of my best friends. And most recently drinks/dinner event with some coworkers. Was really enjoyable to see the people you have video meetings with in real life.
One celebratory moment! We've passed the 250k CHF Stock Portfolio goal and therefore I ended up getting a new watch (well technically two, wanted to see what's the resell value of a limited edition Casio G-Shock). It's a Casio G-Shock MTG-B2000PH-2AJR "Blue Phoenix" It was on the cheaper side at ~1600 CHF. I really like the rainbow colors of this watch.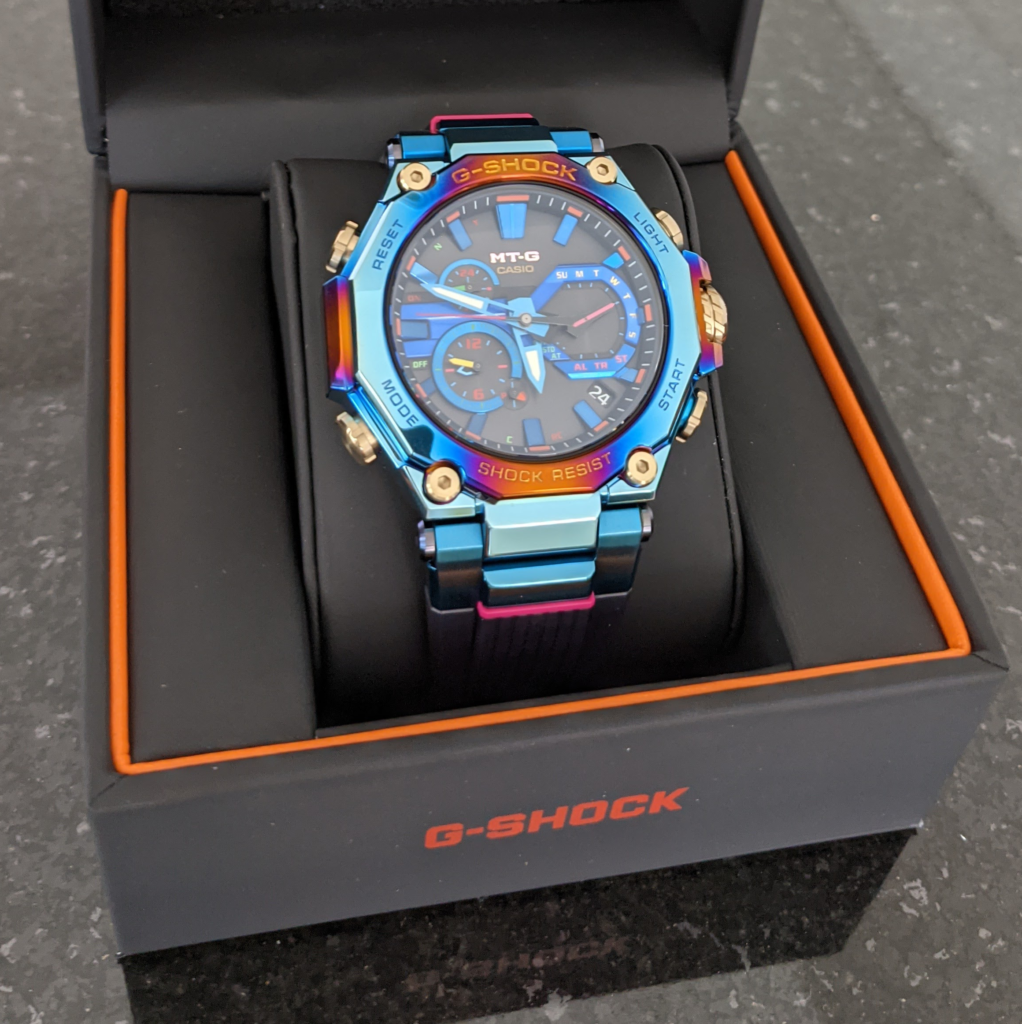 Otherwise life is going on, I've got my first COVID-19 shot in the beginning of June and will have my second one next Friday. Moderna was the one I got. The FTTH internet upgrade should be hopefully completed by end of July/beginning of August which will be another hit to the wallet…
Savings Rate: June 2021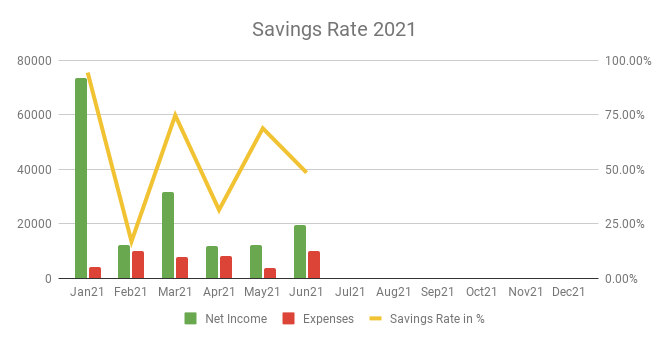 Cash flow: June 2021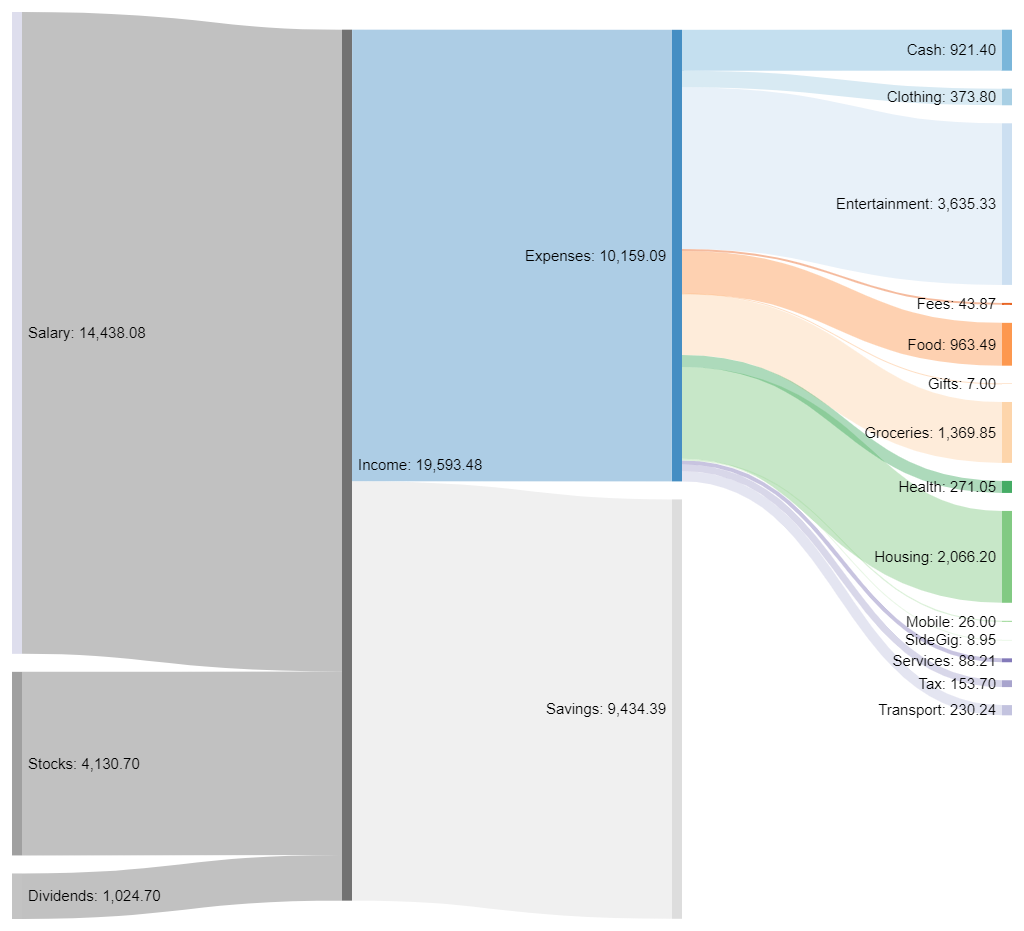 Total Income: 19'593 CHF (+7'286 CHF vs. May) – Regular salary plus 2'438 CHF of weekend/holiday work compensation. Plus some 4'130 CHF of sold stocks from previous company. And 1'001 CHF of dividends from VT/AVDV/AVUV, very nice. I expect the next month to be closer to the regular 12k again.
Total Expenses: 10'071 CHF (+6227 CHF vs. May) / incl. Taxes 27'791.36 CHF – Ouch, 17k CHF in taxes (hopefully the last ones this year, bringing the tax burden to 32k CHF). The cash position at 921 CHF was on the high side, however we went at least twice with my family and friends (a total of ~7 people each time) to a nice restaurant in walking distance from our place. 373 CHF on cloths, well it's summer time and my wife lost quite some kilos due to her rigorous workout program (Mostly Yoga in the evenings for ~2h every work day). That brings us to the 584 CHF of electronics expendure. We've broke our elliptic hometrainer which we sent to repairs and got the 399 CHF reimbursed but then bought a new Kettler Nova P for 899 CHF. I've also had to replace my internet router. Then the watches put me back a total of 3'042 CHF. We've also bought new curtains for the bedroom of our son and ours for 476 CHF. As you can see many one time spendings which hopefully won't continue like this.
Savings Rate: 48.60% (-20.16% vs. May) – Meh… not hitting our savings rate of 65% this months. And with vacation coming up in August and maybe one or two boat trips in July, we'll see if we can reach 65% again.
Net Worth: 969k CHF (-12k CHF vs. May) – Well high tax bills usually hit the net worth a bit. Still ok to see that I manage to compensate 5k CHF (-12k loss vs. -17k tax bill) due to other factors.
Stock Portfolio
Stock Portfolio value: 251'685 CHF (+7'340 CHF vs. May)
Stock Symbol
# Shares
Avg. price
Current price
Unrealized P/L
VT
1557
85.94 USD
103.61 USD

27'512 USD

ARKK
329
110.17 USD
130.78 USD

875 USD

AVUV
499
72.26 USD
76 USD

1'866 USD

AVDV
384
62.45 USD
64.73 USD

6'780

USD

ABBA
48
10.14 CHF
15.03 CHF

234 USD

Total
2817
N/A
N/A

37'269 USD
Stock Portfolio end of June 2021
I've finally killed the SPXU crutch I was still carrying with me and bought VT instead. I then missed to buy new stock with the monthly 5k CHF I send to IBKR.
With crossing the 250k CHF mark we've hit the next goal (hence the new watch). Next up 500k CHF stock portfolio!
Crypto HODL Portfolio
Current HODL portfolio value: 209'749 CHF (~6.5 BTC) (- 8'674.9 CHF vs. May)
Bitcoin was somewhat lacking inspiration and ended the month slightly lower than in May.
Crypto Gambling Portfolio
I optimize for BTC growth in this small crypto portfolio. I've sent around 4k USD to Binance in June (from the sold Stocks).
Gains/Losses this month: -1'112 CHF (+1'967 CHF / +0.0996877 BTC vs. May)
I'll just post my Binance portfolio picture here: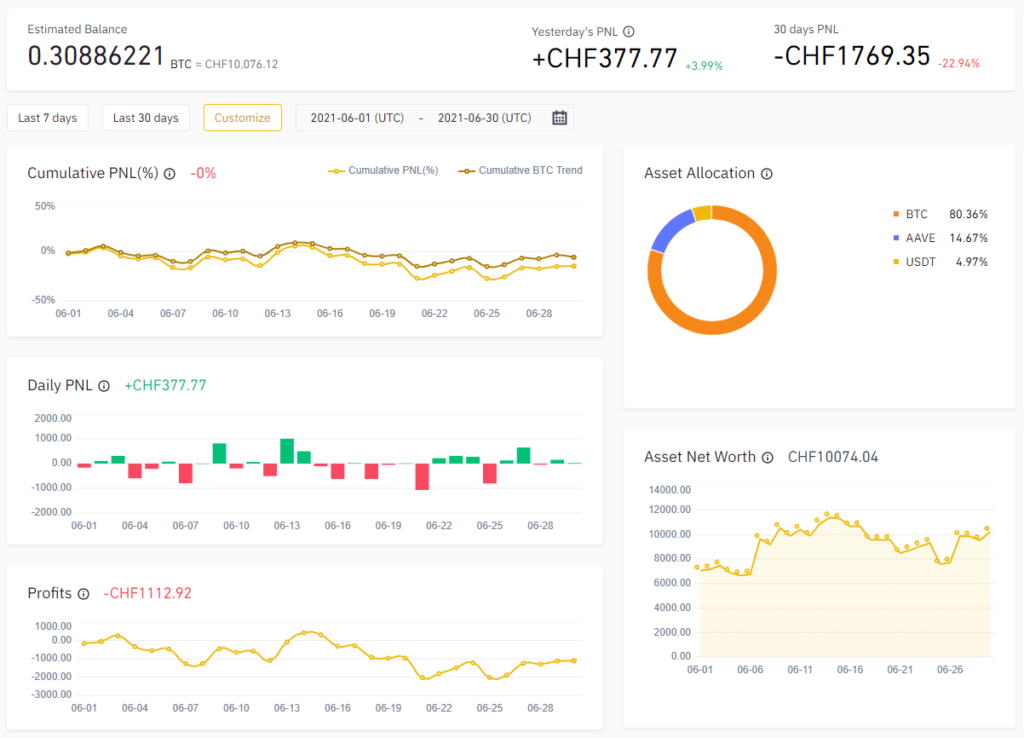 Let's see where this is going.
P2P Portfolio
| | |
| --- | --- |
| Platform | Value |
| Bondster | 1097 EUR |
| Crowdestor | 0 EUR (completely liquidated!) |
| DoFinance | 4180 EUR |
| FastInvest | 1394 EUR |
| Flender | 1616 EUR |
| Grupeer | 4787 EUR (more likely 0) |
| IuvoGroup | 1315 EUR |
| Mintos | 1766 EUR |
| PeerBerry | 1009 EUR |
| RoboCash | 2655 EUR |
| Swaper | 9.84 EUR |
| Viventor | 2351 EUR |
| Wisefund | 1000 EUR |
| Total | 23'184 EUR |
May Income from P2P Portfolio: +63.84 EUR
Noteworthy updates:
I liquidated a total of 353 EUR of my P2P Portfolio in June.
I've liquidated the Crowdestor account by selling the remaining 823 EUR stake in the default Fertilizer project for 250 EUR. Totaling a loss of 2'312 EUR
---
Blog statistics
Views: 1369 (-230 vs. May) slowly dropping numbers, no bueno.
Visitors: 444 (-38 vs. May) At least less dramatic drop than the views.
Followers: 42 (+3 vs. May) yay I happily take any increase in these statistics 🙂
I posted 1 blog posts in June. the monthly update and that's it. Working hours are a bit more bearable and I started to do sports again (using the hometrainer mainly), so maybe my energy and/or inspiration for more blog posts will return too. If you have ideas or are interested in more details let me know in the comments.
That's it for this month. Like last month let me know if you like the style and the ordering of topics.
If you have any questions or comments, please leave a message below or contact me by email. I try to answer all comments and emails.