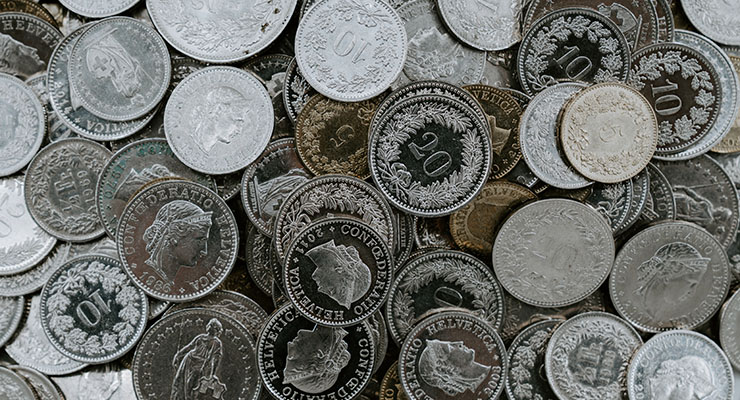 Welcome to the Portfolio update of July 2023. In June I've started my new job & met some readers of my blog…
Personal update
On the 1st of June I've started my new job, a few days later I've realized that due to my broken leg that my termination with my old company would have moved by one month and that I could have chilled all of June. A thing I regret in hindsight. The new job is rather demanding, I'm taking over from a key player of the startup that will leave the company towards the end of July and the setup of the startup with their ~90 employees is rather (overly) complex. Fortunately the new role comes with formal leadership & management responsibilities so some delegation to my 4 reports will be possible. However I did start questioning myself towards the end of the month if working a lower paid job that requires more effort and energy is really the right direction. I've also reflected for a moment if staying at megacorp wouldn't have made much more sense financially. But then I look at my former colleagues that were let go due to the layoff waves and reminded myself that I don't just want to be a number in a huge (bureaucratic/political) machinery.
Fortunately I do have 6 month of probation period (with an immediate 6 month of notice period after) so I could still call it quits sometime in the next 5 months if I should feel increasingly unhappy. I think the formal "Head of IT & Security" position title might open up doors in the future.
I've spent many days going to work by (my new awesome) car as I was still bound to crutches until the middle of June. Walking after removing the rubber shoe and the crutches turned out more challenging than anticipated so I've started to take some physio therapy sessions. They help a lot. I've attended quite a bunch of events by meeting friends & family, basically enjoying the regained mobility (both by car & on foot). And I've also found some time to start playing Diablo 4 since release day.
Another joyful part of June was meeting 3 readers of my blog. One was a random encounter at a watch event (before which I've bought a new Oris Pro Pilot x Kermit), that guy was able to identify me by just listening to my story (he works at megacorp…). Then two readers who reached out were met for lunch. Interesting guys and very likeminded when it comes to FIRE and business ideas. Shout out to C.M. and conquestador. I do meet with another guy that followed my blog for a while regularly for lunch and I'm trying to plan to setup a group of people that want to get to the next level and escape the regular 9-5 treadmill. Let me know if you're located around Zug and would like to join (both physically and/or in a Signal group).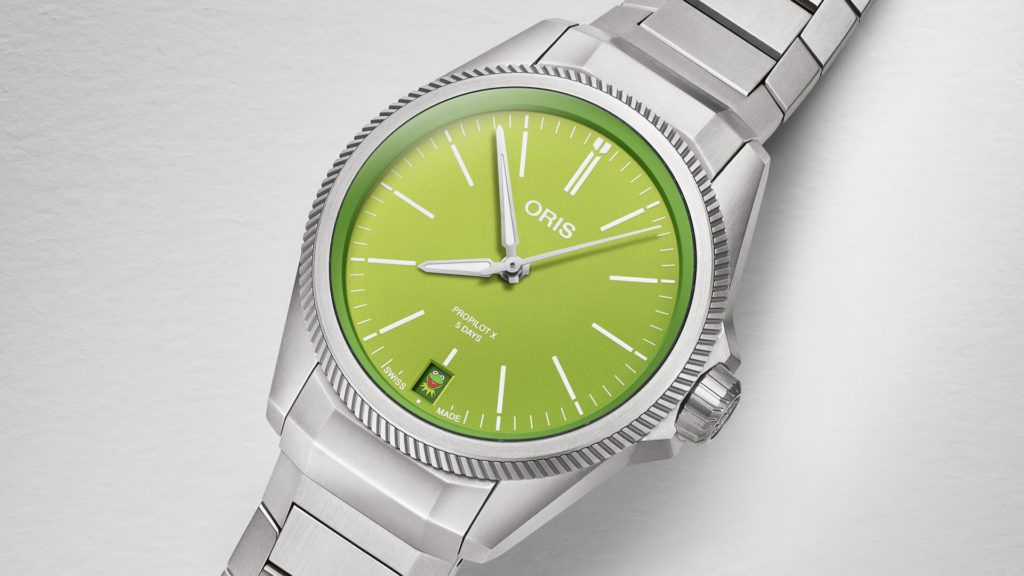 Savings Rate: June 2023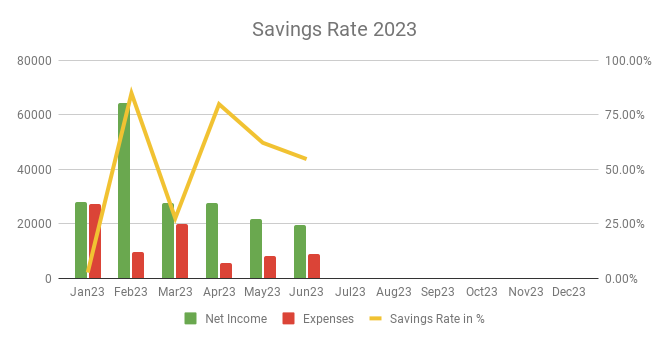 Cash flow: June 2023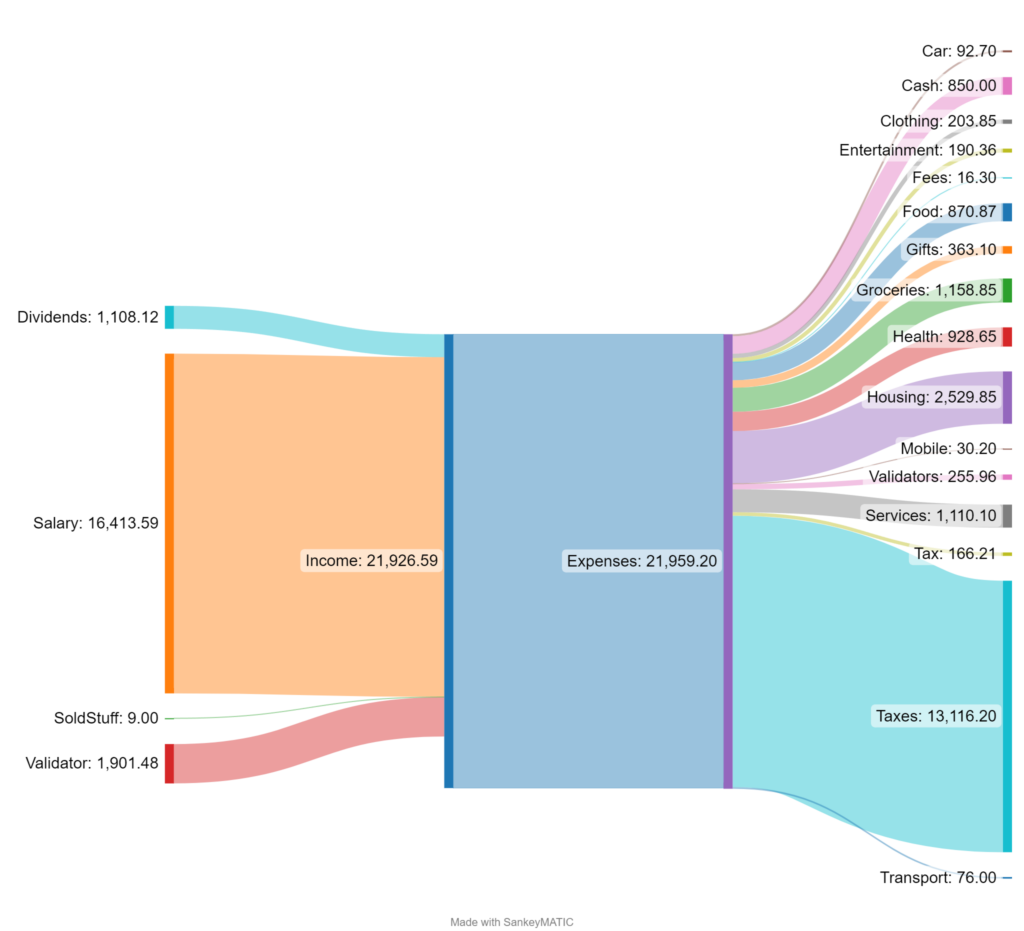 Total Income: 19'432 CHF (-2'331 CHF vs. last month) – New salary of 13.5k CHF (sigh), 2k CHF from previous job & some 888 CHF from social security. Then 1900 CHF validator income (Phala had a rewards halving which hits hard here) and some 1'108 CHF in dividends. Overall the lowest income month this year… makes me a bit sad.
Total Expenses: 8'810 CHF (+566 CHF vs. last month) (21'926 CHF incl. taxes) (plus technically 4.4k CHF for the new watch which however counts as assets) so a rather expensive month. I didn't calculate for the provisional tax bill this month but fortunately had enough cash laying around to cover it. Big ticket items: Quarterly mortgage interest & maintenance payments for ~2.4k CHF, then German lessons for my wife at 750 CHF, 360 CHF for a housewarming gift for one of my best friends, 300 CHF for cash for a nice meal in a "in the middle of nowhere" restaurant with friends.
Savings Rate: 54.66% (vs. 62.12% last month) – Even lower income and some quarterly recurring expenses lead to low savings rate.
Net Worth: 949k CHF (+22k CHF vs. last month) – Nice gain mostly thanks to crypto & stocks.
Stock Portfolio
Stock Portfolio value: 179'876CHF (+8'314 CHF vs. last month)
Stock Symbols
AAP
ABBA
ABM
CMCSA
DLR
ELBM
GRNBF
MMM
MO
MPW
RF
SXOOF
WBA
VT
Stock Portfolio at the end of this month
I didn't invest much this month due to tax invoice that had to be paid. I'm however generally happy with the stock market movements. My DLR position is up 30% and VT is also in the green. The other positions still have some room for recovery however they are all long term plays.
Crypto HODL Portfolio
Current HODL portfolio value: 238'634 CHF (~7.7 BTC / 288 KSM / 3229 DOT / 92100 CRO / 2.2k+ PHA) (+16'584 CHF vs. last month)
BTC was rather strong, recovering back up to 28k CHF which is nice.
---
Blog statistics
Views: 1045 (-416 vs. last month) – lower income, lower interest of readers?
Visitors: 376 (-99 vs. last month) – I got 99 problems but readers ain't one are gone.
I posted 1 blog post last month, the monthly update. If you have ideas or are interested in more details let me know in the comments.
That's it for this month. Like last month let me know if you like the style and the ordering of topics.
If you have any questions or comments, please leave a message below or contact me by email. I try to answer all comments and emails.