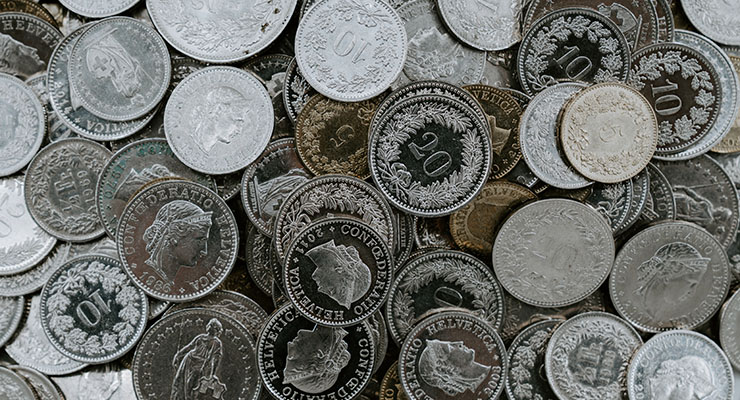 Welcome to the Portfolio update of March 2021. You read it correctly we're millionaires! Our net worth hit 1'010k CHF.
Personal update
February is my birthday month, not exactly exciting if you can't celebrate with guests. Well my parents ended up stopping by for coffee and cake which was nice. I used to have the tradition to invite all my friends to a bar around my birthday date to celebrate with them and pay the whole bill (usually around 1.2k CHF or so), didn't happen since my 30st birthday due to family, pandemic and other excuses… it sucks.
I transformed the work related frustration into interviews with a startup and quitting my job at the end of February. I can't get rid of the feeling that my direct manager kind of hoped for it as I didn't hide my frustration around the coworkers "promotion" too much. The usual carrot on the stick play however continued "Maybe you would have stayed if you knew your upcoming performance rating", no thanks. I do look back on 7 years of lifechanging events and experiences, did I mention that I took exactly 99 flights since I started working at that tech giant? It was roughly 50:50 business and leisure trips but boy did I NOT travel before that job.
Going thru 7 interview with the startup was a bit stressful, especially after me not having done any interviews for almost 7 years. So I blame that as the reason for the lack of blogging. I do have good news tho as I've had a somewhat creative weekend with 3 different business ideas. So stay tuned for these business idea posts in March!
The startup still didn't manage to get the offer and contract ready which freaks out my wife but I'm rather chill about it. My longest break from work since I started working with 16 years was 1 month of vacation in 2019. Sure I had other shorter vacations but I would be willing to try some 3-6 months off if the startup fucks me over with the offer.
The mortgage is in save towels (sorry might not translate) and I will get that nice 0.69% for the 5 year fixed mortgage starting next February.
Since I always put my money where my mouth is, I've got a Grand Seiko SBGA211G Snowflake. The retail price of the watch would have been 6'500 CHF but I got it for 5'172.70 CHF thanks to a direct import from Japan. It's very nice to wear as I love steel bracelets. Here is the promised pic of the watch:
I read up a bit more about margin loans and decided that I will probably reduce my emergency fund down to 10k CHF after the next tax payment round. This means I will start investing more aggressively (around 5k CHF instead of 1k CHF) in the next few months.
Not much else, besides we've broke thru the 1M CHF barrier! Wohooooo! That's Net Worth Level 3 reached. I already have ideas for the next watch 😉
Savings Rate: February 2021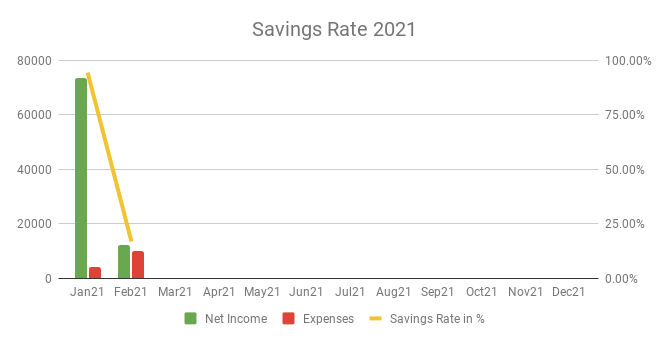 Cash flow: February 2021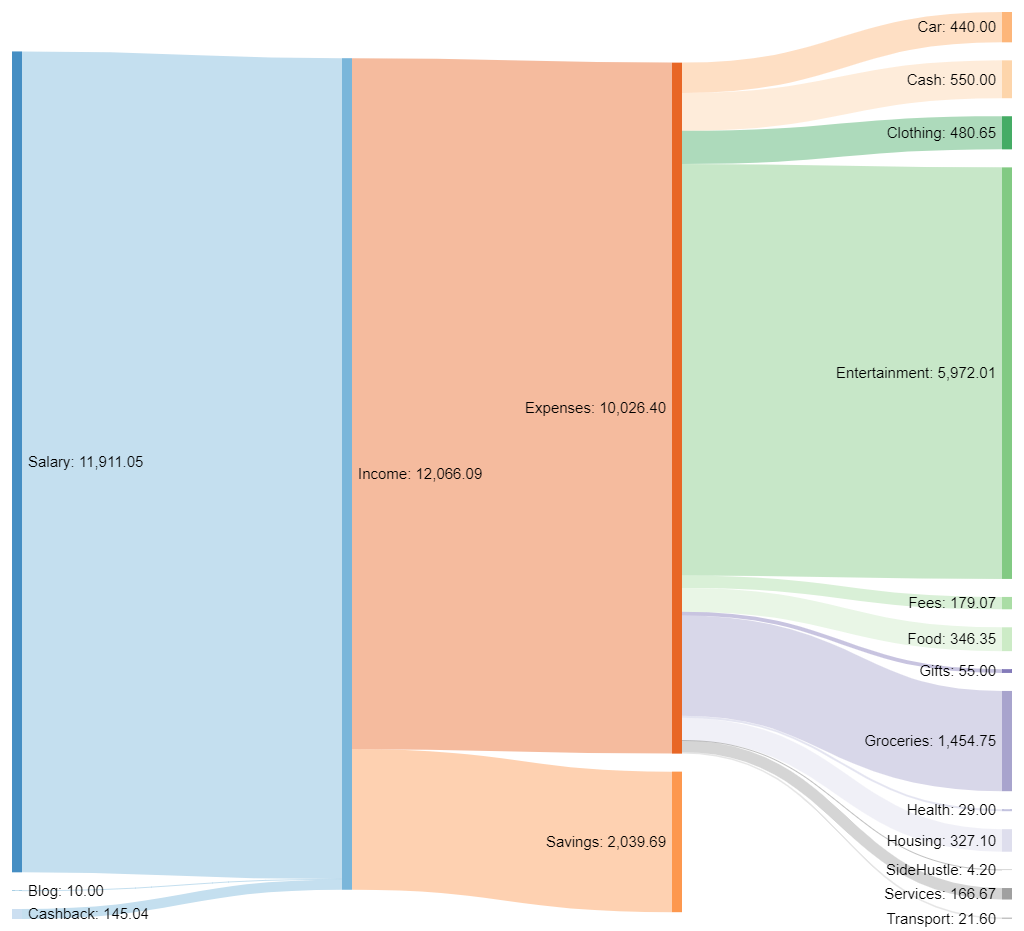 Total Income: 12'066 CHF (-61'206 CHF vs. Jan) – Regular salary, plus spot bonus, plus 10 CHF from a Neon referral (thank you!), plus 145.04 CHF from ETH that I had in my Revolut account. With the job change the fat months might be over for now, as said I don't have the final offer yet but the base salary might be a bit higher but the bonus will be paid in crypto tokens which might be worth 0 or 100k-500k CHF at vesting time.
Total Expenses: 10'026 CHF (+5'838 CHF vs. Jan) – Technically there was another 14.6k CHF in taxes but as stated last month I will not include them anymore as they will not be there when we're FIRE'd. Also regular watch purchases wouldn't really be a thing, so technically we're at 4'854 CHF expenses for the month. Some big positions were the 440 CHF car maintenance (not really needed but I've upgraded the charging capability with CCS compatibility), 480 CHF in clothing (winter is over and my son grew or something). 1'454 CHF in groceries and an exceptional 238 CHF for fixing a network socket in my apartment (I will get around 80 CHF back since I left a bad review and renegotiated the price for it). Then I bought a Google Pixel 5 since I will have to return my company owned phone which did cost 677.46 CHF. I will also have to start paying for my phone contract after almost 7 years again… bummer.
Savings Rate: 16.91% (-77.37% vs. Jan) – Crazy spending means shitty savings. Definitely not in line with my planned savings rate.
Net Worth: 1.01M CHF (+99k CHF vs. Jan) – Another of my net worth goals reached! Biggest gains are again thanks to my Bitcoins.
Stock Portfolio
Stock Portfolio value: 194'319 CHF (+23'735 CHF vs. Jan)
Stock Symbol
# Shares
Avg. price
Current price
Unrealized P/L
VT
1655
85.18 USD
97.03 USD

19'980 USD

ARKK
324
110.12 USD
136.22 USD

8'710

USD

SPXU
240
100.87 USD
25.55 USD

-18'100 USD

ABBA
8
60.86 CHF
111.38 CHF

404 USD

Total
2227
N/A
N/A

10'994 USD
Stock Portfolio February 2021
My CSCO stocks got sold at the preset 25% gain from purchase price. I made a profit of 261 USD.
The ABBA play keeps growing thanks to the strong crypto performance.
A bit of crystal ball, in March I will start investing in AVUV which is a US Small Caps ETF. This is because I've watched the lastest video from Ben Felix and believe that ARKK will not be able to keep outperforming the market:
P2P Portfolio
| | |
| --- | --- |
| Platform | Value |
| Bondster | 2671 EUR |
| Crowdestor | 823 EUR |
| DoFinance | 4360 EUR |
| FastInvest | 1854 EUR |
| Flender | 1116 EUR |
| Grupeer | 4787 EUR |
| IuvoGroup | 1353 EUR |
| Mintos | 2083 EUR |
| PeerBerry | 1673 EUR |
| RoboCash | 2774 EUR |
| Swaper | 7.18 EUR |
| Viventor | 3308 EUR |
| Wisefund | 1017 EUR |
| Total | 27'831 EUR |
February Income from P2P Portfolio: +145 EUR
Noteworthy updates:
I liquidated a total of 869 EUR of my P2P Portfolio in February.
FastInvest still sucks bad no money paid out, but it shows 700+ EUR available which I can't withdraw because of their limit.
Swaper

payed another 5 EUR which is funny because there's 0 money invested.
---
Blog statistics
Views: 1489 (-635 vs. Jan) My own fault… I didn't blog a lot.
Visitors: 426 (-167 vs. Jan) Sad :'(
Followers: 33 (+4 vs. Jan) Yay at least one number going up 😀 Welcome!
I posted 1 blog posts in February. the monthly update, and that's it 🙁 I wanted to write an article about the Netflix and YT Premium but realized that it was already discussed enough in the MP Forum. I have 3 business idea posts in the pipeline which I hopefully will be able to flesh out during my vacation between jobs.
That's it for this month. Like last month let me know if you like the style and the ordering of topics.
If you have any questions or comments, please leave a message below or contact me by email. I try to answer all comments and emails.