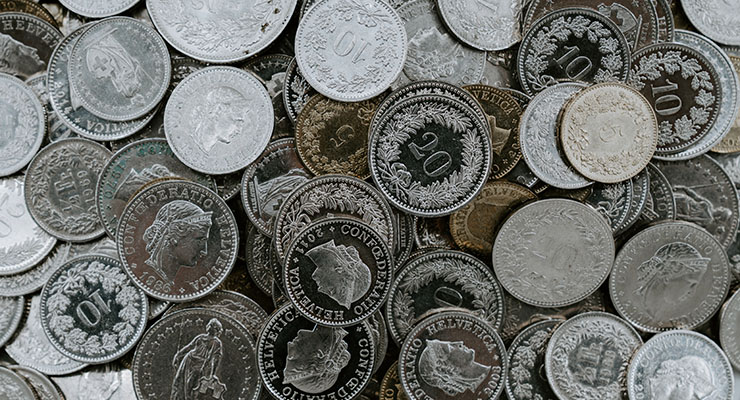 Welcome to the Portfolio update of March 2023. We've sold our car and ordered a new one… and put a down payment for a new apartment!
Personal update
February was pretty awesome, it started with a friends birthday, then my birthday incl. some drinks with friends. Then at the end of February I was one week in Paris for work to finally meet all my coworkers in person (a few ppl from the US flew over which I haven't met before). There was also NFT Paris, company sponsored parties and lots of alcohol.
Mid February I've sold my almost 8 year old Tesla Model S for which I still got 36k CHF. I'm on the fence if I should account that as income or not, but since I didn't count is as asset before it's just cash. Then I've ordered a new Tesla Model S Plaid on the same day, this now means that we're without a car until April-June, let's see.
Then the big news, there's a new multi-tenant home being built in our neighborhood, we've reached out to the architect back in August last year to inquire if there are available penthouse or ground floor apartments for sale. Which they back then declined, however turns out in the last two weeks the landlord decided to sell 12 of the 14 units and we've again announced interest. Unfortunately the plan was only for 3.5 and 2.5 room apartments so we inquired if we can buy two and merge them together. The architect said yes, the real estate agent said "sorry all gone". After a bit of back and forth we got lucky and put down the down-payment at the first of March. So we're extremely excited to be yet again involved in the process of building/buying an apartment less than 6 years after the last one.
Savings Rate: February 2023
Cash flow: February 2023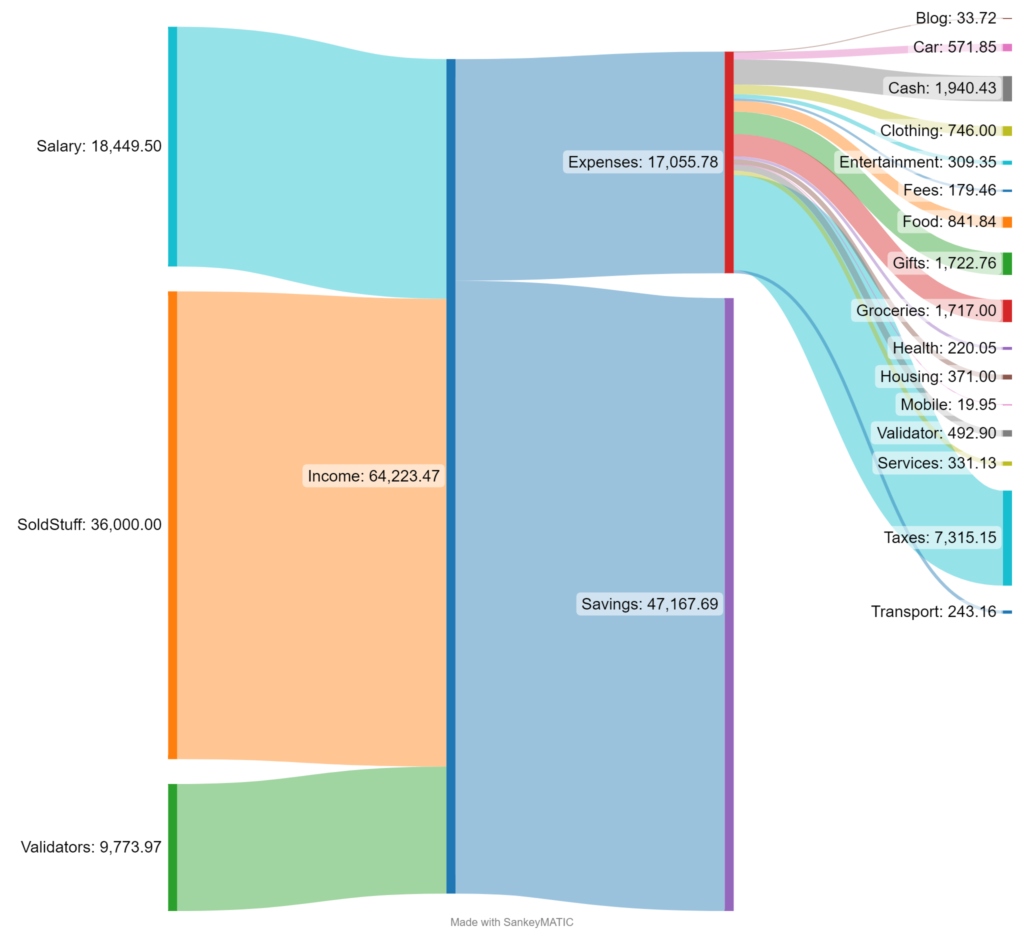 Total Income: 64'223 CHF (+36'137 CHF vs. last month) – Regular salary (~18.5k CHF), validator income of ~9.7k CHF and 36k CHF for the 8 year old Tesla Model S P85D. Without the sale of the car it would have been pretty similar to the January income.
Total Expenses: 9'740 CHF (-17'591 CHF vs. last month) (17'055 CHF incl. taxes) – Ok-ish month. A bit cash heavy, 1k CHF for my wife's allowance and some EUR to buy stuff on Amazon, then quite a bit of clothing (a dress for the wedding in Mexico we're attending in April) for 750 CHF, wedding gift 1k CHF, drinks on my birthday 600 CHF, Groceries 1.7k CHF, rental car for the upcoming weekend 320 CHF… you know here and there some things. The taxes were 15k CHF for 2023 minus 8k CHF pay-back for 2021 which was a nice surprise.
Savings Rate: 84.83% (+82.14 vs. last month) – Nice, obviously skewed due to the fact of ignoring the taxes and adding the sale of the car, would be a dream to keep those numbers up.
Net Worth: 1.065M CHF (+53k CHF vs. last month) – Nice millionaires once again. Let's hope it stays like this throughout the year.
Stock Portfolio
Stock Portfolio value: 275'428 CHF (+30'987 CHF vs. last month)
Stock Symbol
AAP
ABBA
ABM
CMCSA
ELBM
GRNBF
MMM
MO
MPW
RF
SXOOF
TSLA
VT
WBA
Stock Portfolio at the end of this month
More stock picks this month, I usually buy 5k USD worth of each and plan to hold them long term (5+ years). I've added AAP and MPW this month.
Regions Financial (RF) with 4.4% total return is so far the winning horse (besides Tesla) and 3M (MMM) the biggest loser with 12% down since purchase. We'll see how it goes, VT is still the main holding currently at 2.3% total gains.
Crypto HODL Portfolio
Current HODL portfolio value: 200'221 CHF (~7.7 BTC / 209 KSM / 2137 DOT / 92100 CRO / 2.2k+ PHA) (+11'422 CHF vs. last month)
Smallish gains in the crypto department, fortunately I won't need to sell any for the new real estate purchase. In Paris I've met a guy that bought 40k USD worth of BTC at 400 USD/BTC price, yeah he doesn't need to work anymore…
---
Blog statistics
Views: 1219 (-14 vs. last month) – Looks like I've established a baseline of ~1.2k views/month nice.
Visitors: 431 (-48 vs. last month) – Well loosing 10% visitor sucks 🙁
Followers: 52 – (+1 vs. last month) – Nice, welcome new subscriber!
I posted 1 blog post last month, the monthly update. If you have ideas or are interested in more details let me know in the comments.
That's it for this month. Like last month let me know if you like the style and the ordering of topics.
If you have any questions or comments, please leave a message below or contact me by email. I try to answer all comments and emails.