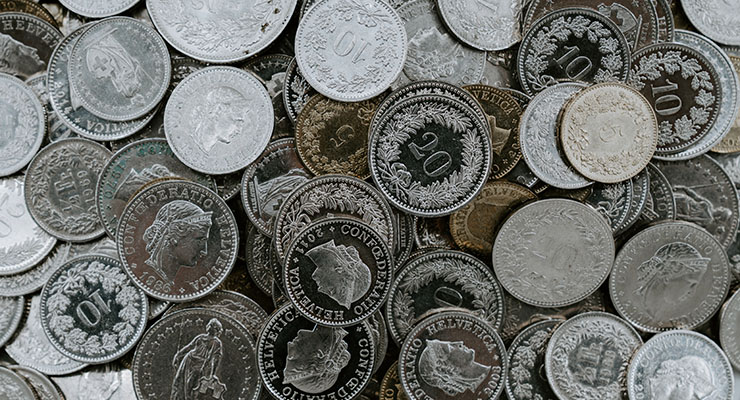 Welcome to the Portfolio update of November 2020. I managed to dissolve 4k EUR of my P2P portfolio this month. Net worth grew quite a bit probably due to currency fluctuations.
Personal update
October is gone, so is my family. My wife and son went to Mexico in the middle of the month to spend some time with the Mexican relatives. I got a new Samsung Odyssey G9 monitor this time built in August without a single quality issue and it was 200 CHF cheaper than the first one I got. Unfortunately I only got the refund for the first monitor at the end of October and the transfer for it is still pending so the expense numbers are a bit skewed.
Living alone for half of the month was pretty interesting, I didn't live alone anymore for the last 4 years. I certainly appreciate all the work my wife does in the household much more after cleaning the dishes and washing my cloths by myself.
I kept exercising almost every day during October and I feel much fitter than I did at the beginning of the month. I use the Nintendo Ring Fit Adventure game for my workout.
In the middle of November I will follow my family and work from Mexico a bit until the end of January. With COVID-19 cases spiking in Switzerland it's probably better to leave the country in the first place. I hope for nice internet speed and a pool or something. Christmas and New Years Eve in warm temperatures is certainly nice, I experienced that last time in 2014/15 when I went to Sydney, Australia.
Savings Rate: October 2020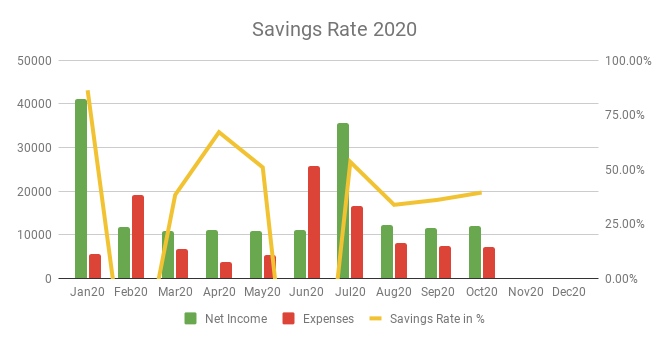 Cash flow: October 2020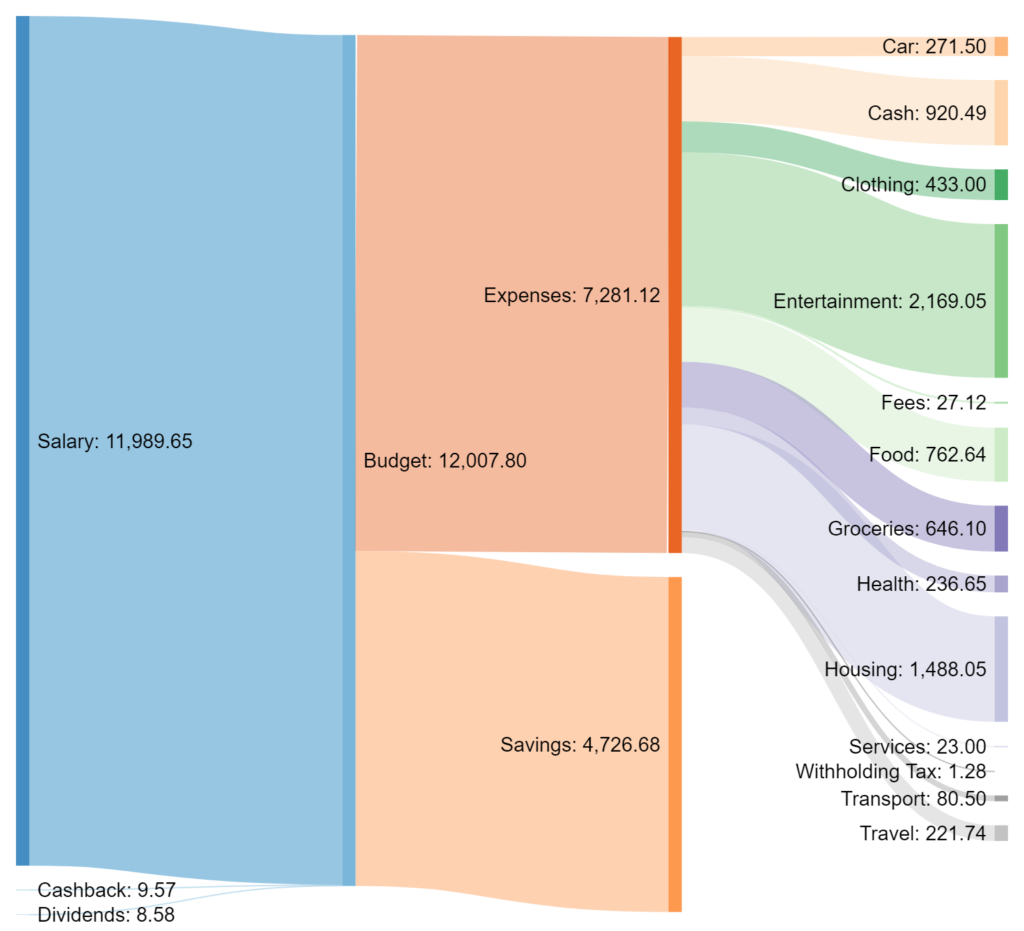 Total Income: 12'007 CHF (+449 CHF vs. Sept) – base salary with a 500 CHF bonus. There were also some dividend payments and cashback of 18 CHF.
Total Expenses: 7'281 CHF (-113 CHF vs. Sept) – October had some Renovation Fund payments for the apartment. I got a flight ticket refund of a planned trip in April which we moved later to November of 475 CHF and also the flight ticket refund from my planned trip to Mexico in May of 980 CHF however I did buy new flight tickets for 735 CHF (very good price for 6 flights and a total of 20h traveling). Then the purchase of a new AV-receiver (Marantz SR5015) did set me back 750 CHF but I managed to sell the old one for some 300 CHF. Plus the new Samsung monitor where I didn't get the refund for the first model I had yet. I also gave my wife some 500 CHF travel allowance.
Savings Rate: 39.36% (+3.34% vs. Sept) – Higher income and slightly lower expenses than last month give us a net 3.3% higher savings rate for this month. The savings rate is still not exactly where I want it to be (35% over the whole year).
Stocks: See below.
Net Worth gained 22k CHF which leads to a total of 460k CHF see my portfolio page for details about the asset allocation. Since the stock market didn't perform that well I think the biggest change were currency influences.
Stock Portfolio
Stock Portfolio value: 92'630 CHF (+5'390 CHF vs. Sept)
| | | | | |
| --- | --- | --- | --- | --- |
| Stock Symbol | # Shares | Avg. price | Current price | Unrealized P/L |
| VT | 934 | 79.01 USD | 78.83 USD | -169 USD |
| ARKK | 165 | 89.39 USD | 91.49 USD | 302 USD |
| CSCO | 26 | 37.92 USD | 35.90 USD | -48.80 USD |
| SPXU | 1200 | 20.17 USD | 9.07 USD | -13.61k USD |
| Total | 2325 | N/A | N/A | -11.44k USD |
Stock Portfolio October 2020
Stock market was pretty much a roller coaster this month. At some point VT unrealized profit was sitting at over 3k CHF and then two days of reds ate all those gains away. Same with ARKK which was at 1.6k CHF before the market down turn.
The UIS experiment went pretty well and I was able to sell them for a 173 CHF profit on October 27th. Nice little profit.
P2P Portfolio
| | |
| --- | --- |
| Platform | Value |
| Bondster | 3588.66 EUR |
| Crowdestor | 4567.72 EUR |
| DoFinance | 4905.32 EUR |
| FastInvest | 2914.28 EUR |
| Flender | 1375.90 EUR |
| Grupeer | 4787.29 EUR |
| IuvoGroup | 1352.96 EUR |
| Mintos | 2637.13 EUR |
| PeerBerry | 2413.34 EUR |
| RoboCash | 6244.25 EUR |
| Swaper | 887.18 EUR |
| Viventor | 3492.86 EUR |
| Wisefund | 1037.93 EUR |
| Total | 40204 EUR |
October Income from P2P Portfolio: +394 EUR
Calculated XIRR (of the platforms that generated money): 12.68%
Noteworthy updates:
Swaper payed out very reliably again: 553 EUR, 791 EUR and 248 EUR
Bonster allowed me to withdraw: 941 EUR, 373 EUR and 254 EUR
Also some withdrawals from Viventor and PeerBerry
And oh wonder FastInvest payed also some 184 EUR this month
---
Blog statistics
Views: 947 (+41 from September) I guess the higher posting activity brought more views.
Visitors: 296 (+19 from September) small but honest growth.
Followers: 16 (+0 from September) no change, no comment.
I posted 3 blog posts in October. The monthly update, 7 things I wished I knew before I bought/built my apartment, How to setup QNAP Cloud Backup using Infomaniak Swiss Backup. As you see I try to write more blog posts which bring actual value to people.
That's it for this month. Like last month let me know if you like the style and the ordering of topics.
If you have any questions or comments, please leave a message below or contact me by email. I try to answer all comments and emails.