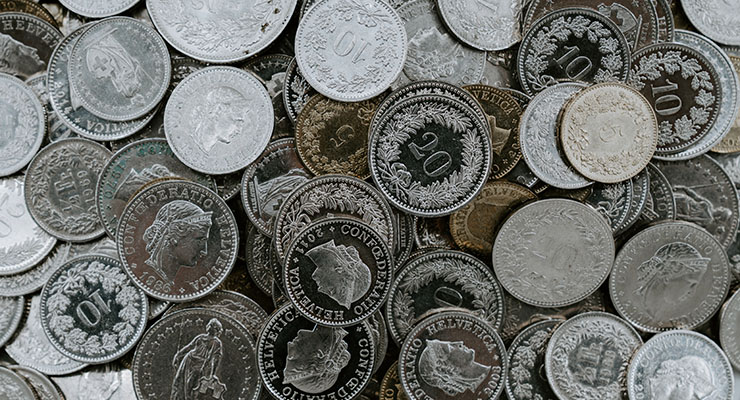 Welcome to the Portfolio update of November 2021. October brought us fantastic gains in the Crypto space again and I've started a new job.
Personal update
I've started my new job on October 11th and I'm pretty happy with it so far. I focused some time on introducing some basic security policies like Android Work profiles and did some patch management in our infrastructure. The team and people are great, next week we're going for a retreat in Barcelona with the whole company which I'm looking forward to.
The new job gives a lot of flexibility when it comes to work location and work from home, so we went ahead and booked a flight to Mexico to spend Christmas and new years eve with my family in law. I'm really excited to not having to freeze during Christmas for the first time in my life and enjoying warm weather for the second time in my life during NYEs (first time was Australia on NYE 2014/2015). Buying airplane tickets around christmas is not cheap tho 🙁
At the end of October I've got a call from my jewelry store that the first of four waitlisted Rolexes just became available. Super happy with it, given the value increased ~4k CHF right after walking out of the store (selling on the grey market w/o waiting list comes with a premium). However my plan is to keep it for a while as a investment diversification. I will not post pictures of it here due to a request of my wife.
My bug bounty hunting adventures continued a bit more in the first weeks of October and I've received an additional 500 EUR reward, totaling my bug bounty adventures at 1050 EUR. A somewhat ok return for the few hours I put into it.
The FTTH connection stalled completely, no sign of the utility company being willing to get us connected. Their excuse is that newly built houses have priority… well I'll be as relaxed and delayed when they send the invoice. Original promised finish date was end of July and here's definitely no supply chain issues at work!!
Savings Rate: October 2021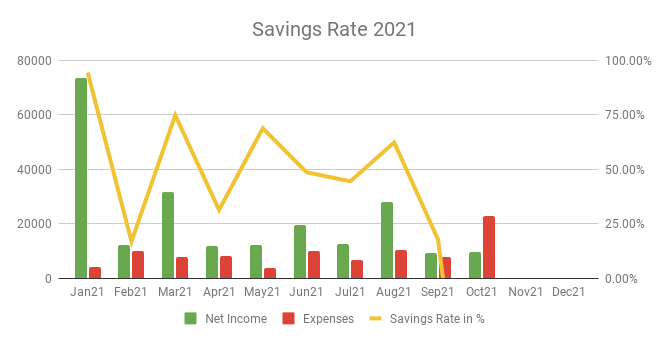 Cash flow: October 2021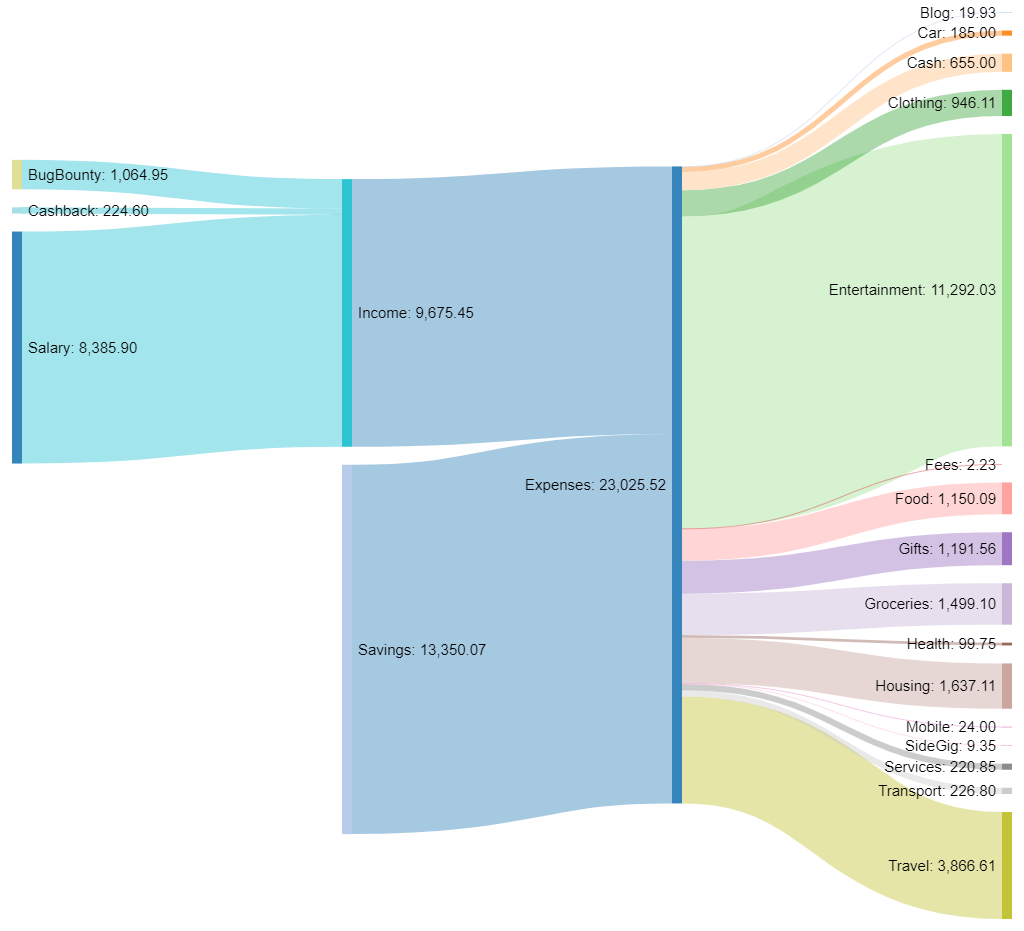 Total Income: 9'675 CHF (+254 CHF vs. September) – Half a month worth of salary 8385 CHF and the mentioned 1064 CHF bug bounty, plus 224 CHF cashback from my Crypto.com credit card (mostly from the flights).
Total Expenses: 23'025 CHF (-15'293 CHF vs. September) – Well whoops, some sever overspending mostly due to the unexpected watch purchase (11.1k CHF). Then the flights and AirBnB for the Mexico trip another 3'866 CHF. And we've started to buy Christmas gifts which also came in at 1'191 CHF (it's also my sisters 40's birthday and I advanced some of the pooled gifts). Also some big spend on clothing, I've renewed my underwear after not buying new ones for over 4 years for 489 CHF.
Savings Rate: -137.98% (+120.04% vs. September) – Ooooof that one hurt a little.
Net Worth: 1.13M CHF (+95k CHF vs. September) – Cryptos & stocks did very well this month. Almost 100k CHF gain in cryptos and 10k CHF gain in stocks compensated easily for the overspending.
Stock Portfolio
Stock Portfolio value: 277'470 CHF (+9'623 CHF vs. September)
Stock Symbol
# Shares
Current price
Unrealized P/L
VT
1666.44
107 USD

30'771 USD

ARKK
371.58
121.8 USD

3'526 USD

AVUV
552.72
78.66 USD

3'327 USD

AVDV
436.51
66.31 USD

1'532

USD

ABBA
48
27.45 CHF

830 USD

Total
3012.59
N/A

31'601 USD
Stock Portfolio end of October 2021
I haven't had the liquidity at the end of October to add my usual 5k CHF to the portfolio but I'm very pleased with the gains overall. ARKK did particularly well mostly thanks to Tesla.
I paused the monthly 5k CHF auto transfer until end of January to compensate for the watch purchase.
Crypto HODL Portfolio
Current HODL portfolio value: 368'232 CHF (~6.5 BTC) (+98'503 CHF vs. September)
UPtober was strong and brought us a new Bitcoin all time high. Very happy with this.
Crypto Gambling Portfolio
I optimize for BTC growth in this small crypto portfolio. No new funds were added this month.
Gains/Losses this month: +2'934 CHF (-0.0162272 BTC vs. September)
I'll just post my Binance portfolio picture here: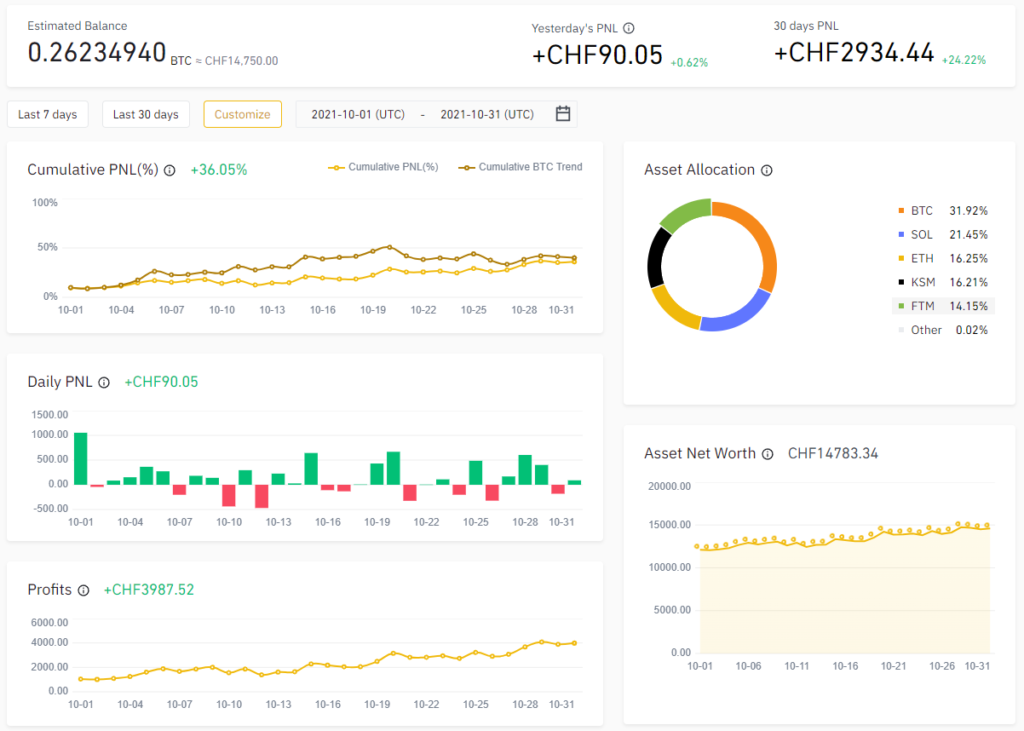 BTC was so bullish this month that I kept underperforming with my alt coin holdings. So while I gained 24% more in CHF terms I did lose a little in BTC terms. My end of year prediction for the BTC/USD price is by the way 69k USD.
P2P Portfolio
| | |
| --- | --- |
| Platform | Value |
| Bondster | 905 EUR |
| DoFinance | 4217 EUR |
| FastInvest | 3120 EUR |
| Flender | 1616 EUR |
| IuvoGroup | 1315 EUR |
| Mintos | 1650 EUR |
| PeerBerry | 750 EUR |
| RoboCash | 0 EUR |
| Swaper | 9.84 EUR |
| Viventor | 2045 EUR |
| Wisefund | 1000 EUR |
| Total | 16'630 EUR |
September Income from P2P Portfolio: 51.26 EUR
Noteworthy updates:
I liquidated a total of 339 EUR of my P2P Portfolio in October.
Nothing meaningful happened in the P2P space for me.
---
Blog statistics
Views: 1624 (+264 vs. September) third best month this year, yay.
Visitors: 540 (+90 vs. September) very cool, probably mostly MP Forum members.
Followers: 41 (-1 vs. September) ok bye, maybe an offended big corp person?
I posted 1 blog post in October. the monthly update. If you have ideas or are interested in more details let me know in the comments.
That's it for this month. Like last month let me know if you like the style and the ordering of topics.
If you have any questions or comments, please leave a message below or contact me by email. I try to answer all comments and emails.