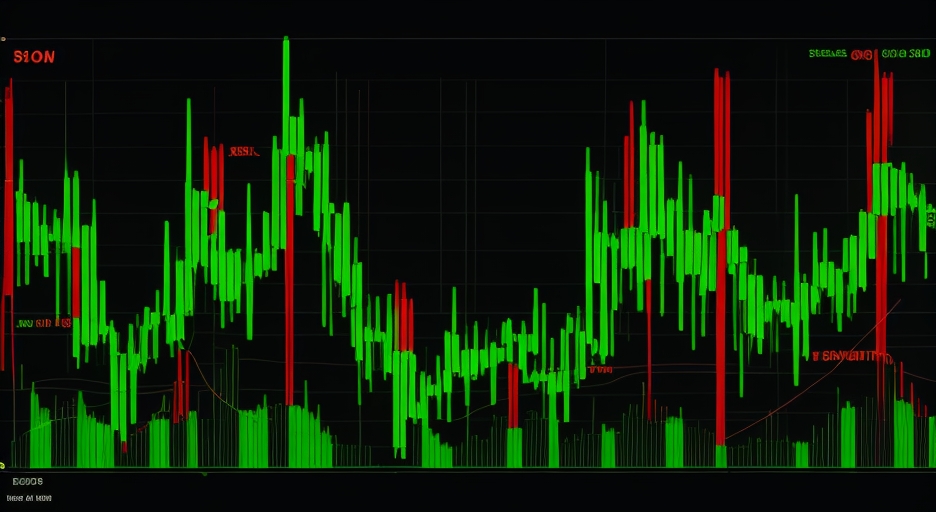 Welcome to the Portfolio update of November 2023. We've been to Sharm El Sheik which was nice and crypto went up pretty good.
Personal update
At the job stuff slowly gets better, the new employee is ramping up well and starts taking off work from my shoulders. I'm still mildly frustrated that I have to pass on some interesting opportunities in the crypto area, I've had a headhunter reach out for a VP of Site Reliability Engineering position with 300k USD base plus equity.
The highlight of October was our 6 day vacation in Sharm El Sheik, we've mostly hanged out at the 5* All-Inclusive hotel (Steigenberger Alcazar) and did a small submarine boat trip to watch the sea life in the red sea. Overall very nice experience with good food, clean rooms and friendly staff. I didn't quite swim as much as I planned to though.
Towards the end of October I've also had noticeably good progress with my foot recovery, since 1-2 weeks I'm completely pain free and believe after ending this fourth prescription of physio therapy I should be good to hit the bouldering wall again. My son also started his bouldering course which could make for a good shared hobby in the future.
Savings Rate: October 2023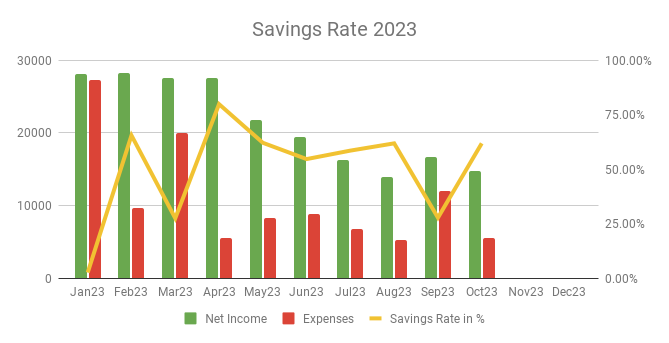 Cash flow: October 2023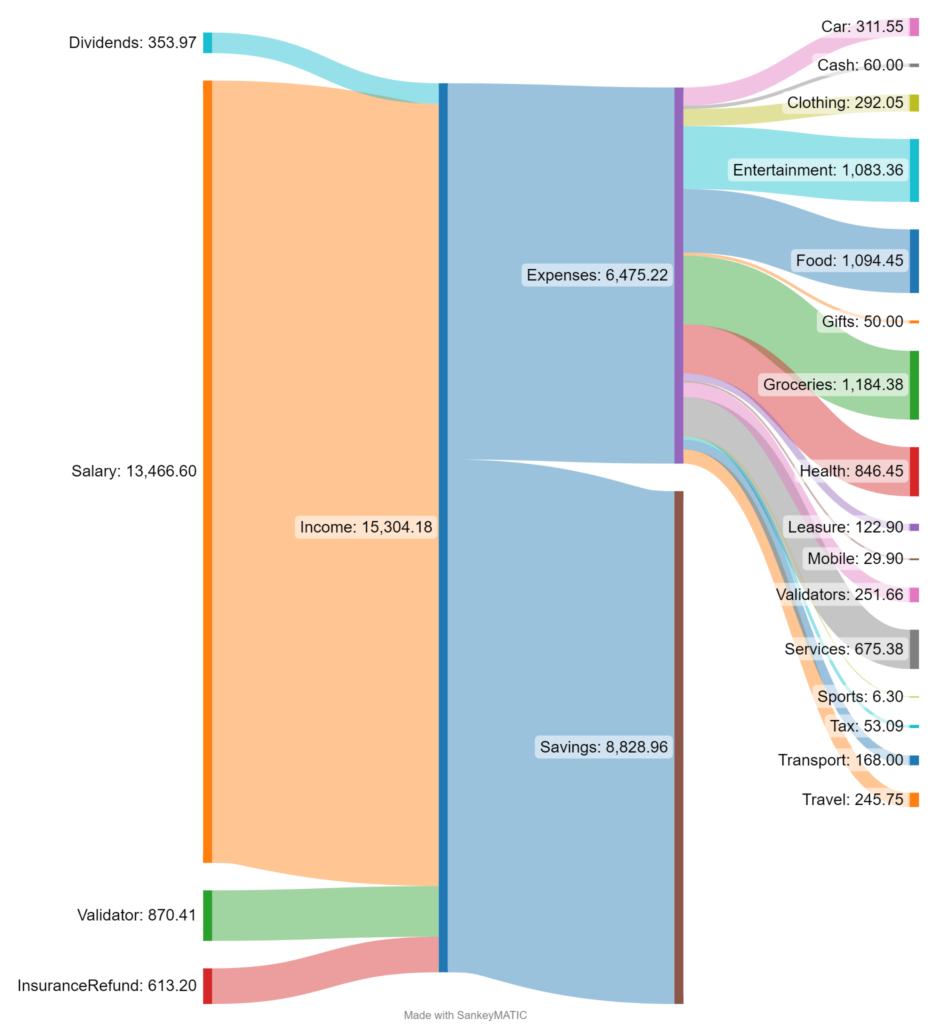 Total Income: 14'691 CHF (-1'938 CHF vs. last month) – My joint venture partner didn't do the accounting yet for the Phala validators so the income of October might still grow in hindsight, overall a rather weak month income wise. Regular salary plus 350 CHF in dividends and 870 CHF in validator income.
Total Expenses: 5'857 CHF (-6'400 CHF vs. last month) I used my moms old phone as an excuse to get myself a new Pixel 8 Pro and give her my Pixel 7 Pro to replace her rather old Nexus 5P, the new phone cost me 999 CHF. Then we've got some money back from the house insurance for the last two years because we didn't claim any damages. My sons swimming lessions & bouldering courses were 195 CHF each. We spent just 245 CHF in total in Egypt besides the already last month accounted for trip itself.
Savings Rate: 60.13% (vs. 27.82% last month) – Back on track with 60+% savings rate.
Net Worth: 989k CHF (+53k CHF vs. last month) – Bitcoin going from 25k to 31k CHF boosted the net worth pretty good.
Stock Portfolio
Stock Portfolio value: 87'437 CHF (-3'994 CHF vs. last month)
Stock Symbols
ABBA
ABM
CMCSA
CMI
DLR
ELBM
GRNBF
MMM
MO
MPW
RF
SXOOF
WBA
VT
Stock Portfolio at the end of this month
Another month w/o transfers as I wanted to wait for the credit card invoices to settle at the beginning of November. I will restart investing in November more aggressively. Also the war in Israel didn't help the international economy…
Equity Portfolio
Equity Portfolio value: 80'070 CHF (+0 CHF vs. last month)
I'm patiently waiting for the new fair market value of the company to see if my investment was worthwhile, this probably wont change for a while.
Crypto HODL Portfolio
Current HODL portfolio value: 271'431 CHF (~7.7 BTC / 325 KSM / 3800 DOT / 92100 CRO / 2.2k+ PHA) (+53k CHF vs. last month)
Pretty much the main source of all our net worth gains…
---
Blog statistics
Last month was same same as this month…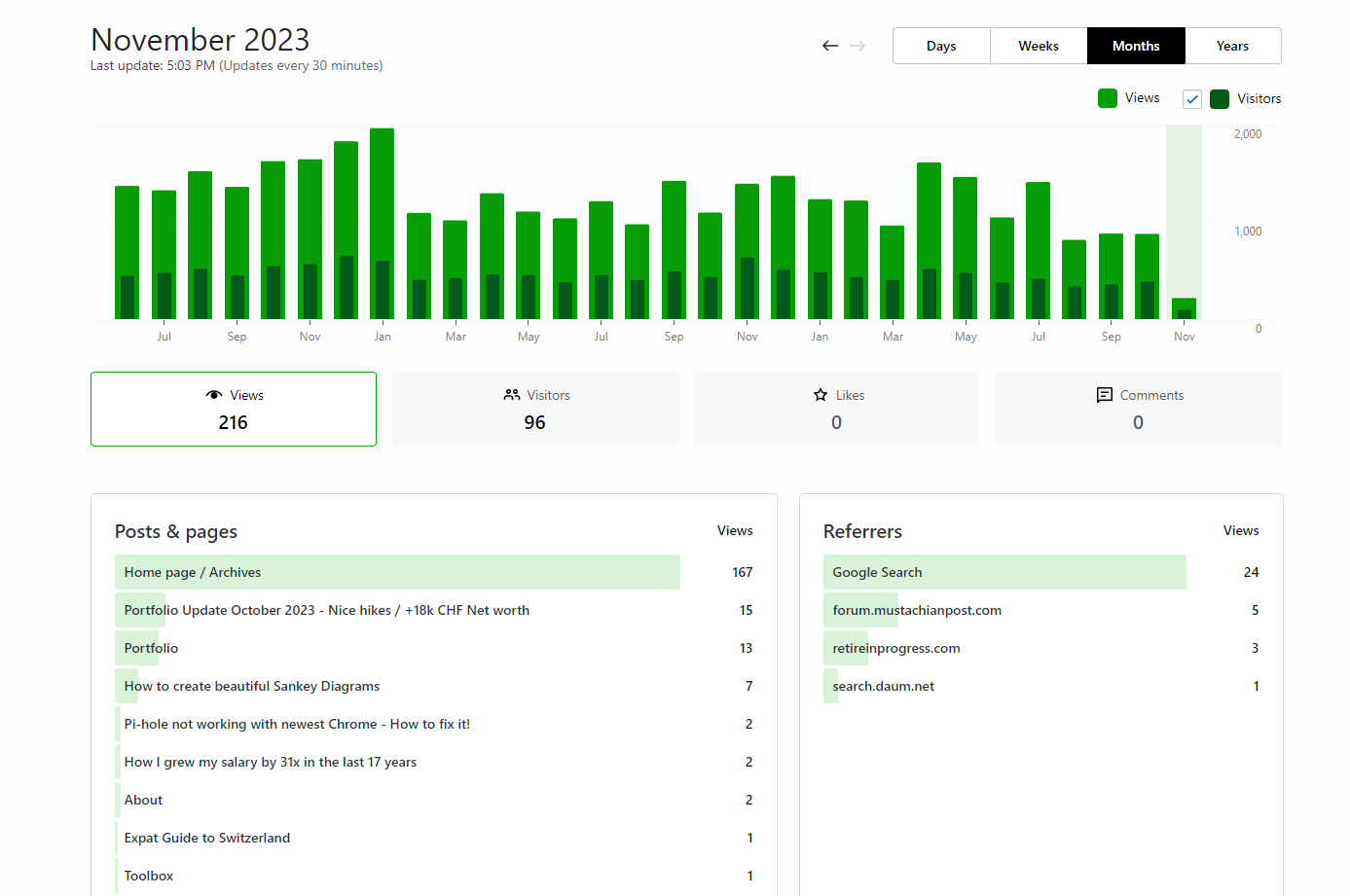 I posted 1 blog post last month, the monthly update. If you have ideas or are interested in more details let me know in the comments.
That's it for this month. Like last month let me know if you like the style and the ordering of topics.
If you have any questions or comments, please leave a message below or contact me by email. I try to answer all comments and emails.