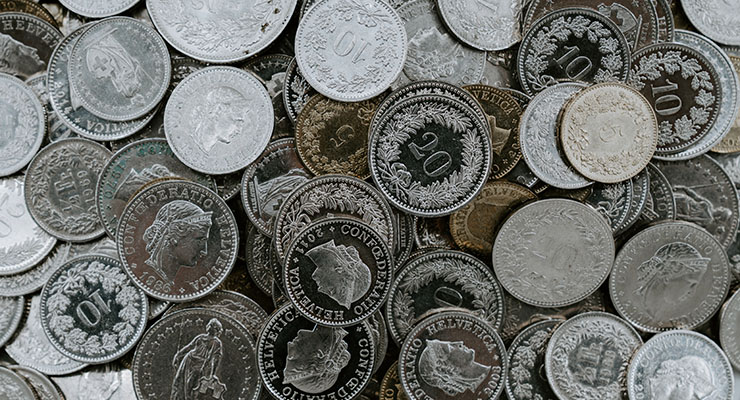 Welcome to the Portfolio update of October 2022. I happened to go to Paris in the first week of October again so that's a good excuse for the delay of this post.
Personal update
The job is slowly getting a bit more normal. Yet I was more or less spontaneously asked to go to Paris the first week of October to collaborate with a bunch of other guys that were there for the week. I took the TGV from Zurich this time, was kind of more expensive than a flight but also only slightly more convenient as I figured that rural France has a very spotty mobile network.
I setup my co-workspace successfully and worked 4/5 days from there. The commute from/to work is something I highly value to change my mindset and mood from family guy to employee.
Our little validator business grew again in September by attracting a Phala whale with 3M PHA invested in our pools. If the crypto market just would break-out & moon this could become some serious side income, I mean those ~5.7k CHF from the validators would already be enough to live comfortably in many countries. But since I have no plans to stop working before 40 or 45 we let that income contribute towards fat FIRE for now.
I try to accumulate some cash as there will be a bunch of large invoices to pay in the upcoming months (health insurance ~8k, FTTH installation ~9k) and having some cash ready for the Mexico trip in November doesn't sound wrong neither.
Savings Rate: September 2022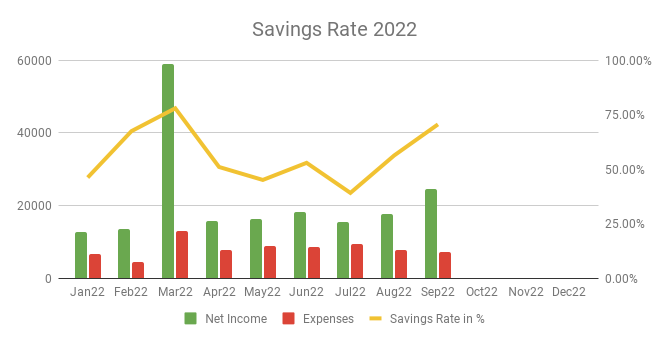 Cash flow: September 2022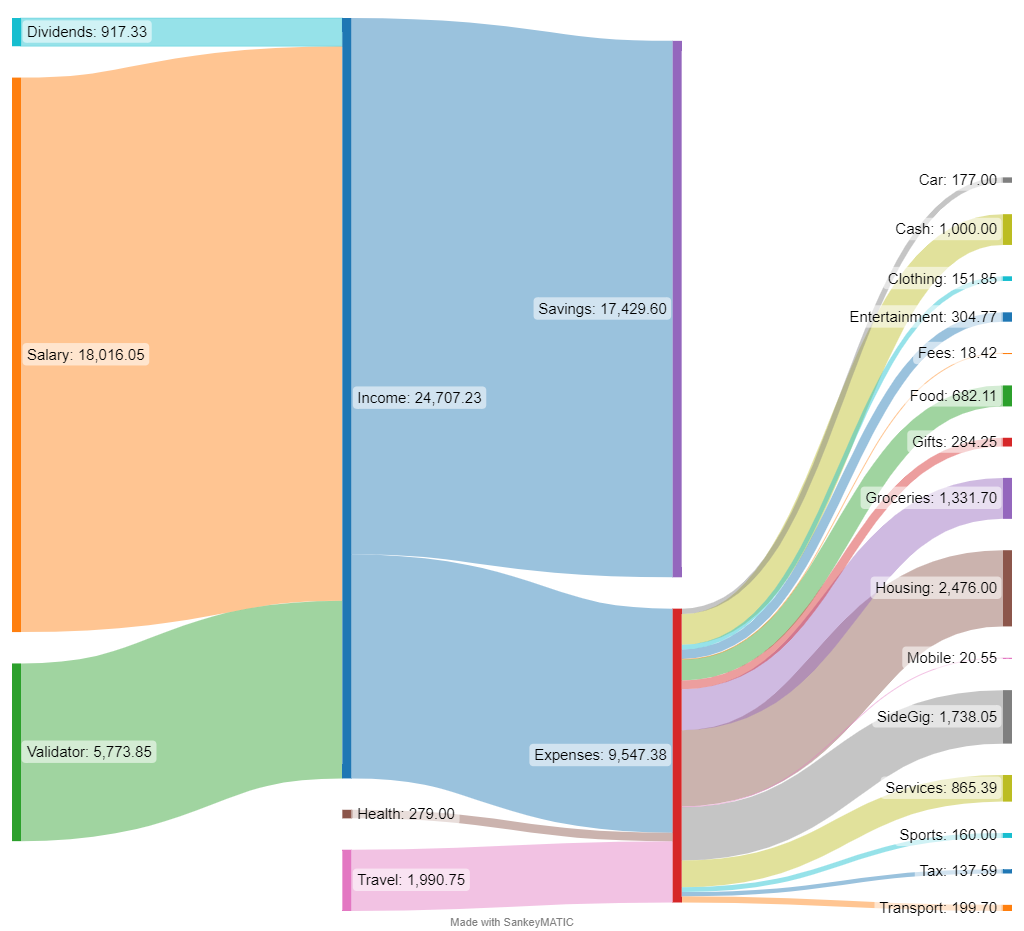 Total Income: 24'707 CHF (+6'997 CHF vs. August) – New regular salary (~18k CHF) plus dividends (917 CHF) and the validator income which currently stands at 5'773 CHF. Nice, I hope to see a trend towards bigger numbers for the validator income if the crypto market shows some signs of recovery. In April the PHA price was more than double from now (0.08 USD now vs. 0.23 USD then), so a theoretical 10k CHF from Validator income could be possible. But honestly anything above break-even is awesome. Unexpectedly the company also paid me the net salary and handles the retirement fund & social security payments directly, less admin work for me, nice.
Total Expenses: 7'277 CHF (-460 CHF vs. August) turns out that the Mexico tickets got now imported with the date from 31th of August so they don't show up this month and I'm honestly too lazy to update the last months post just because of that. So this month we have the reimbursement of the Travel and some Health Insurance pay backs that should be deducted from the expense amounts above. Big positions this month: quarterly housing & mortgage interest (2.4k CHF together), Validator spending (1.7k CHF), yearly play group & swimming lesson invoices for my son (~800 CHF), Gifts for Mexico (284 CHF). A nice side effect of going to Paris is that all my expenses are being reimbursed so food outside of home was rather low this month.
Savings Rate: 70.55% (+14.24 vs. July) – That's a number I like to see staying at that level.
Net Worth: 878k CHF (-15k CHF vs. August) – Still going the wrong direction, but after hearing my friend telling me how his stock portfolio went down 300k CHF this year I'm a bit more chill.
Stock Portfolio
Stock Portfolio value: 209'753 CHF (-23'410 CHF vs. August)
Stock Symbol
VT
AVUV
AVDV
ABBA
Fundsmith T Acc Mutual Fund
GRNBF
SXOOF
ELBM
Stock Portfolio end of September 2022
I didn't do any repayment of the 10k CHF margin loan this month as I rearranged my main bank for the salary to Revolut Business. I will however settle the loan in mid October and then probably start investing more aggressively again after the Mexico trip. That's also in line with the commonly expected further drop of the stock market in the coming months.
Crypto HODL Portfolio
Current HODL portfolio value: 155'551 CHF (~6.7 BTC / 157 KSM / 948 DOT / 92100 CRO / 2.2k+ PHA) (-2'131 CHF vs. August)
The goal is to start accumulating BTC again in the upcoming months.
---
Blog statistics
Views: 1421 (+446 vs. last month)- Woah quite an increase, not sure why, I wasn't very active in the forums.
Visitors: 491 (+90 vs. last month)- Also nice increase, welcome new readers!
Followers: 50 – Still the same
I posted 1 blog post last month, the monthly update. If you have ideas or are interested in more details let me know in the comments.
That's it for this month. Like last month let me know if you like the style and the ordering of topics.
If you have any questions or comments, please leave a message below or contact me by email. I try to answer all comments and emails.