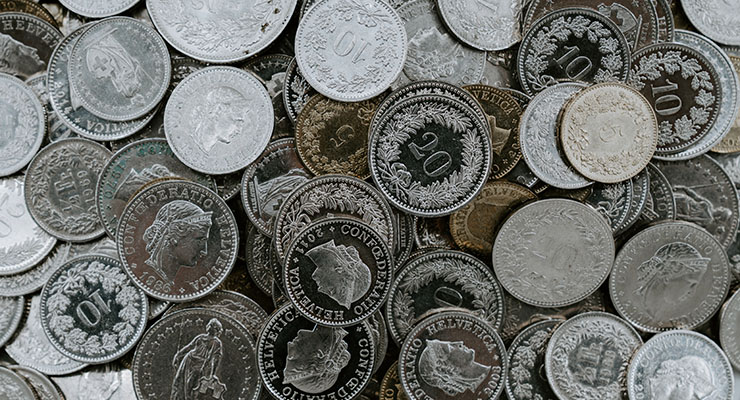 Welcome to the Portfolio update of September 2021. August brought me lots of free time, an 51k CHF net worth increase and some interview experience.
Personal update
The last 1.5 months I spent some quality time with my family. I had time to go hiking, spend some days at our regular place in Ascona with my parents and sister and her family and spend a lot of money in general.
Productivity lacked a bit, I've started looking into the different options for a job, got rejected by GitHub after the first few interviews. Applied to 3 more startups and was looking into getting back to mega corp. Turns out the blog post I've posted in March to vent my (now gone) frustration with mega corp made it in my records as I found out at the exit interview this week, a post I highly regret and I ultimately deleted after 2 days being online. However it still could mean that mega corp bans me from future job opportunities, unfortunately there's not transparency about that.
One interview was with a startup where the CEO currently earns 4x less than what I've got last, not sure if they could afford me even with company shares. Another interview sounded similar to the crypto gig but they also indicated that my base salary expectations of 180k CHF might be too high for the role. And a MedTech startup might provide an attractive offer as they just closed another financing round. We'll see where the journey goes, my competitive advantage is certainly my immediate availability.
I've met a bunch of friends for food and drinks and bought two new eye-glasses, regular ones for day-to-day use and corrected sun glasses which also help with my colorblindness (usefulness to be tested).
I started doing some bug bounty hunting on the side which didn't yield any income yet, despite reporting some vulnerabilities that would lead to 5 digit invoices for the customers.
The FTTH connection build-out is now in full force, they've even ripped open the street outside our house in 5 different places. ETA October 2021.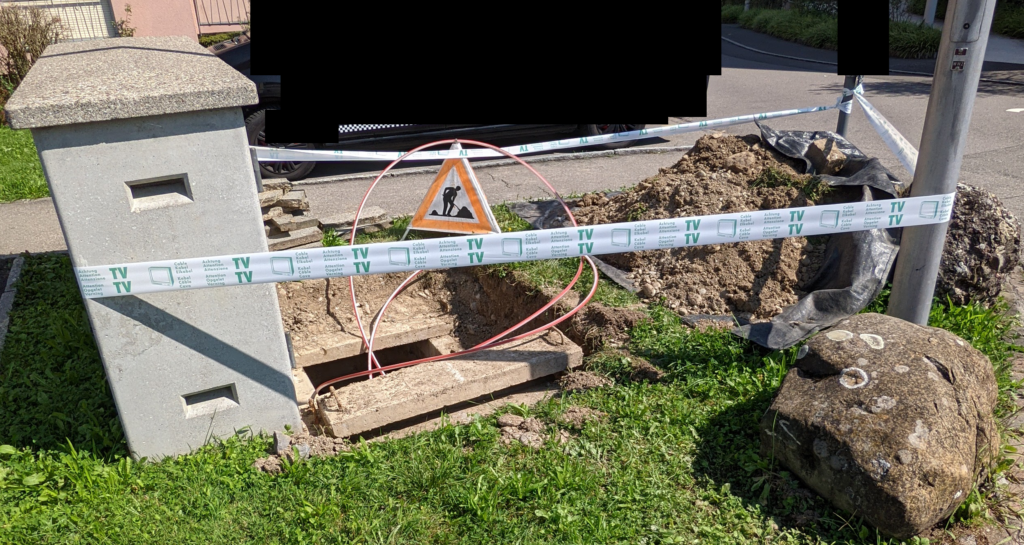 Savings Rate: August 2021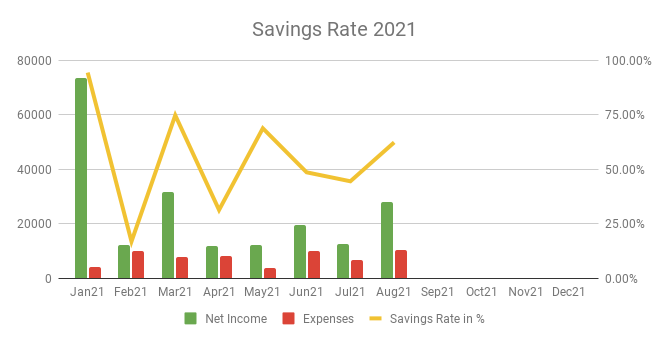 Cash flow: August 2021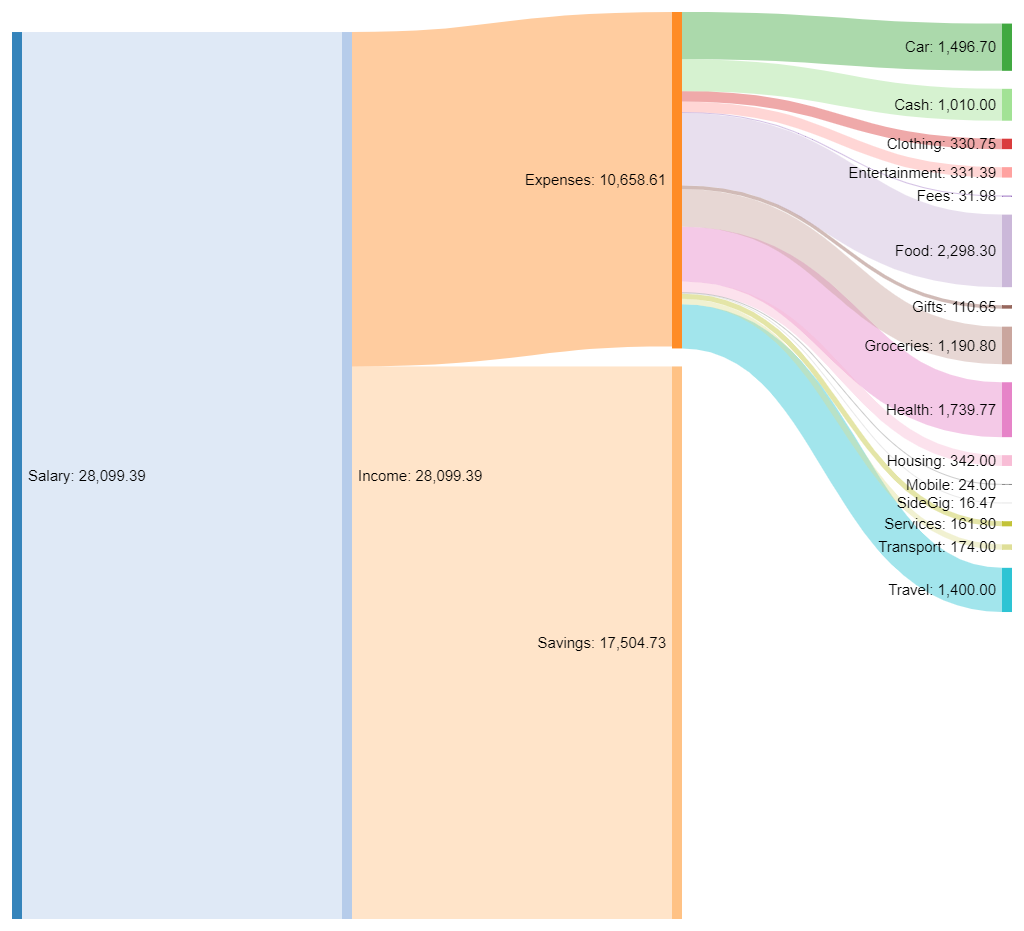 Total Income: 28'099 CHF (+15'655 CHF vs. July) – Regular salary plus severance plus some overtime. I expect much lower numbers in the upcoming months :'(
Total Expenses: 10'594 CHF (+3686 CHF vs. July) – August is always on the more expensive side. Extraordinary positions: 1478 CHF car insurance (yearly), 1400 CHF for the hotel in Ascona (we invited my parents and my wife payed for one night out of her monthly cash allowance), 2213 CHF for Restaurants/Bars (as said I've met some friends, with a 370 CHF fancy dinner with 2 bottles of wine as the biggest position ah plus 450 CHF for the dinner with my parents and sisters family). I hope the next months are a bit better. The FTTH invoice is still pending and we've ordered some curtains for our windows, who knows.
Savings Rate: 62.30% (+17.81% vs. July) – Heh, savings rate looks great on paper but 10k CHF expenses is not sustainable even if it was the 3rd month with that amount this year 🙁 (other two months were mostly due to bought watches tho).
Net Worth: 1.06M CHF (+51k CHF vs. July) – Most gains from cryptos, the regular stock market seems to be a bit uninspired and not moving much.
Stock Portfolio
Stock Portfolio value: 270'348 CHF (+13'381 CHF vs. July)
Stock Symbol
# Shares
Avg. price
Current price
Unrealized P/L
VT
1634.61
87.34 USD
106.61 USD

31'498 USD

ARKK
340.75
111.15 USD
122 USD

3'697 USD

AVUV
563.72
72.61 USD
75.5 USD

1'629 USD

AVDV
434.51
62.79 USD
66.27 USD

1'512

USD

ABBA
48
10.14 CHF
21.24 CHF

532 USD

Total
3021.59
N/A
N/A

38'869 USD
Stock Portfolio end of August 2021
I've enabled fractional shares for the US market to minimize the cash laying around in IBKR. Some good move up this months but nothing exciting compared to the crypto market.
Due to the job uncertainty and the looming FTTH invoice I'll hold off from putting more money at the stock portfolio for now. However 45k CHF of liquid cash not earning any interest is a bit too much for my taste.
Crypto HODL Portfolio
Current HODL portfolio value: 280'285 CHF (~6.5 BTC) (+35'225 CHF vs. July)
Another nice gain from my HODL portfolio. For new readers HODL is basically a typo'd form of hold and means that people hold on to their cryptos w/o any specific target price to sell. I really hope for that 100k USD per BTC by the end of the year.
Crypto Gambling Portfolio
I optimize for BTC growth in this small crypto portfolio. No new funds were added in August. I've withdrawn 1'000 CHF worth of crypto for another small investment opportunity.
Gains/Losses this month: +4'201 CHF (+2'901 CHF / +0.01327905 BTC vs. July)
I'll just post my Binance portfolio picture here: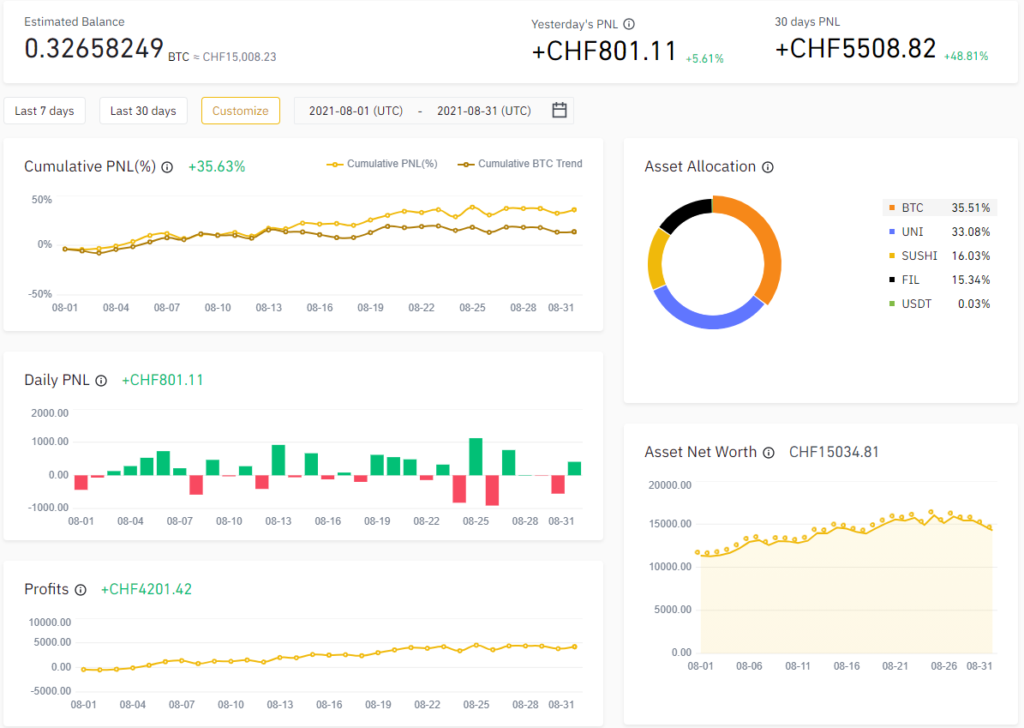 I managed to beat the general BTC trend which gained 13.52% and I've made 35.63%.
P2P Portfolio
| | |
| --- | --- |
| Platform | Value |
| Bondster | 973 EUR |
| DoFinance | 4195 EUR |
| FastInvest | 3120 EUR |
| Flender | 1616 EUR |
| IuvoGroup | 1315 EUR |
| Mintos | 1650 EUR |
| PeerBerry | 884 EUR |
| RoboCash | 0 EUR |
| Swaper | 9.84 EUR |
| Viventor | 2005 EUR |
| Wisefund | 1000 EUR |
| Total | 16'771 EUR |
July Income from P2P Portfolio: 53.47 EUR
Noteworthy updates:
I liquidated a total of 603.53 EUR of my P2P Portfolio in August.
I've received a subpoena to testify as a witness against wisefund.eu, curious to see what they want from me. Maybe they've seen my review of wisefund?
---
Blog statistics
Views: 1520 (+196 vs. July) nice to see some growth 🙂
Visitors: 515 (+39 vs. July) Steady growth of ~35 ppl cool 😀
Followers: 42 (+1 vs. July) could be more but I take what I get.
I posted 1 blog post in August. the monthly update. If you have ideas or are interested in more details let me know in the comments.
That's it for this month. Like last month let me know if you like the style and the ordering of topics.
If you have any questions or comments, please leave a message below or contact me by email. I try to answer all comments and emails.