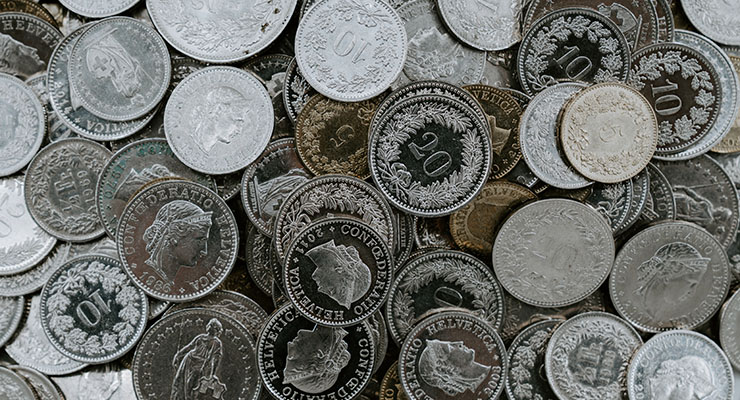 Welcome to the Portfolio update of September 2022. Took me a while to get to write this post as the beginning of September was super busy. On the 3rd day of my new job I happened to visit Paris.
Personal update
I've started my new job on the first of September and immediately was asked to go to the HQ in Paris the second week. Flew out on Monday and back on Thursday, 3x 10h work days with lots of new infos and people. I like the new job a lot but it was rather intense so far. I've now also got a co-workspace so I can change scenes from the repetitive home office whenever I feel like.
The product of the new company is still in it's infancy but in the two weeks I've been there now there were already notable improvements implemented. Customers are queueing to get the product in their hands. I'm optimistic that it will be a success.
August was overall nice, I've stopped working on the 12th of August and invited all my coworkers for some drinks at a nice bar. Was a memorable event for sure. The 2.5 weeks of vacation between jobs were filled with nice little day trips, some hiking with my wife and a visit in Ascona to eat our favorite pizza.
We've also booked our trip to Mexico in November with family and my parents, the flight tickets (5 people) for 5.7k CHF were however not yet accounted for in the month of August.
Savings Rate: August 2022
Cash flow: August 2022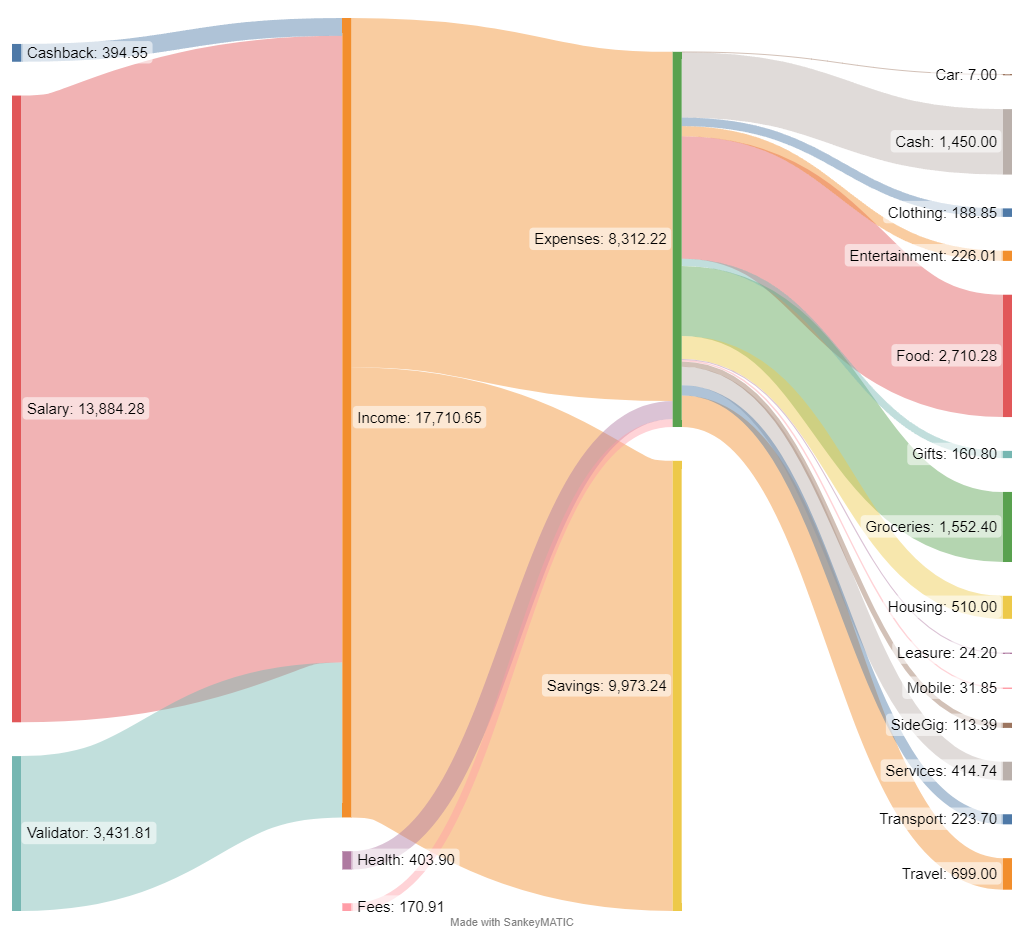 Total Income: 17'710 CHF (+2'257 CHF vs. July) – Regular salary plus some vacation pay out, jucy validator income on top. September should generate up to 5k CHF in extra crypto money as we've attracted a big whale on Phala.
Total Expenses: 7'737 CHF (-1664 CHF vs. July) as mentioned techncially there should be some 5.7k CHF on top for the flights to Mexico however my parents will reimburse me for their tickets. Otherwise pretty excessive Cash and Food spending, that good bye drinks event did cost me 1000 CHF, got again some reimbursement from the health insurance which is nice, but breaks the Sankey diagram a bit.
Savings Rate: 56.31% (+17.15 vs. July) – Acceptable but as said doesn't reflect the late August spending. September Income should be very very nice tho.
Net Worth: 893k CHF (-23k CHF vs. July) – And down again 🙁
Stock Portfolio
Stock Portfolio value: 233'163 CHF (-6'116 CHF vs. July)
Stock Symbol
VT
AVUV
AVDV
ABBA
Fundsmith T Acc Mutual Fund
GRNBF
SXOOF
ELBM
Stock Portfolio end of August 2022
The monthly 5k CHF went to repay the 20k CHF margin loan I've took out. Still 10k left to go. I expect the market to drop another 15-20% until the year end and I'm tempted to get 5-10k of SPXU to hedge against that.
Crypto HODL Portfolio
Current HODL portfolio value: 157'551 CHF (~6.7 BTC / 148 KSM / 817 DOT / 92100 CRO / 2.5k+ PHA) (-22'335 CHF vs. July)
I'll get the payout of the joint-venture in cash in the future to make my partners accounting a bit easier.
---
Blog statistics
Views: 975 – I guess people were on holiday…
Visitors: 401 – 50 people less than last month 🙁
Followers: 50 – Couldn't convince anybody to subscribe :'(
I posted 1 blog post in August, the monthly update. If you have ideas or are interested in more details let me know in the comments.
That's it for this month. Like last month let me know if you like the style and the ordering of topics.
If you have any questions or comments, please leave a message below or contact me by email. I try to answer all comments and emails.