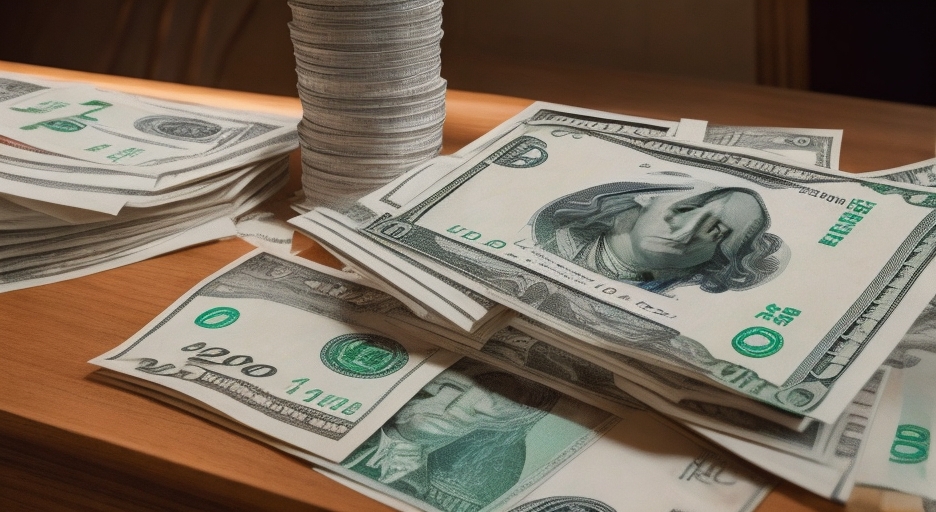 Welcome to the Portfolio update of September 2023. In August I was mostly hot and sweaty…
Personal update
I've now fully settled into the new job and finished my third out of 6 months of probation period. I like it so far, so much that I've cut a deal to buy some company shares. I'm now the owner of ~0.1% of the company. After seeing the shareholder register I do however hope that the founders will allocate some more shares for the leaders of different areas as I don't feel like bringing up much more capital of my own to participate in the upside. I managed to find a good candidate for my open DevOps position who will start at the beginning of October.
My physio therapy for my foot are still ongoing and I kind of do like those forced exercise breaks from my daily job. I'm slowly really longing to go back at the wall and start bouldering again.
In the last August weeks my son started his 1st kindergarden year, quite some change for the daily schedule and routine. Fortunately he likes it very much so far.
My new Model S Plaid gives me a bit of trouble, I fear that the front right forearm assembly is already failing (as the one on my previous Model S did after 3 years). It will go for an inspection on Wednesday. Otherwise I'm still happy with the car, sure a 133k CHF car that does 0-100km/h in 2.1sec is not really needed in Switzerland but I enjoy it a lot. If you also consider buying a new Tesla feel free to use my referral code.
Savings Rate: August 2023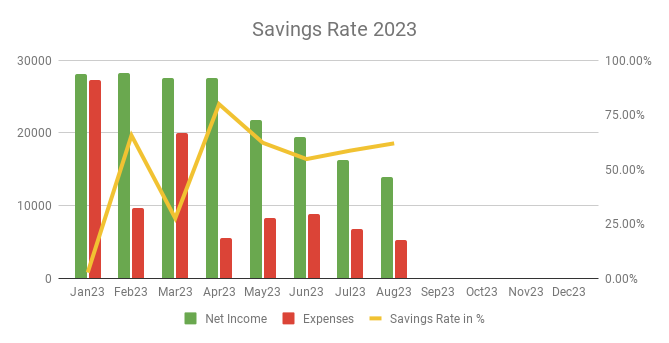 Cash flow: August 2023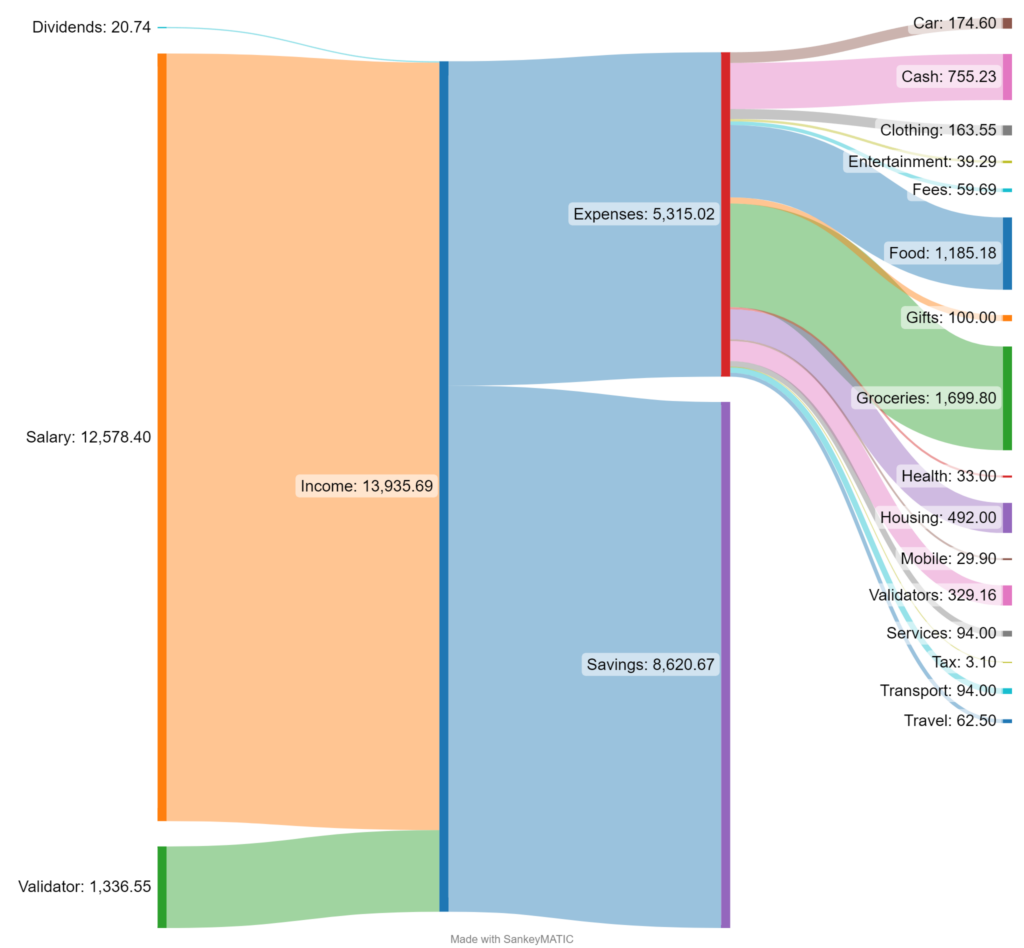 Total Income: 13'935 CHF (-2'371 CHF vs. last month) – I have to admit, it frustrates me tremendously that the income is only pointing downwards. In August the validator side of things was especially frustrating, a new software release in the Phala universe caused a lot of work (5-10h) which the roughly 600 CHF income does not cover at all. The last time I've had a total income that little was February 2022. I know like 90% of all Swiss people probably earn less than that but if you have tasted several ~30k CHF income months in a row it just sucks.
Total Expenses: 5'315 CHF (-1'446 CHF vs. last month) on a positive note our August was rather frugal. While we still went for some hikes and outings in restaurants we didn't travel abroad nor stayed in any hotels. Largest positions as usual Groceries (self-cooked stuff & consumables) & Food (Restaurants/Drinks/Delivery).
Savings Rate: 61.86% (vs. 58.54% last month) – The savings rate is on target, which is nice.
Net Worth: 918k CHF (-27k CHF vs. last month) – Another crappy month in crypto and stocks were not all green neither.
Stock Portfolio
Stock Portfolio value: 95'067 CHF (-88'121 CHF vs. last month)
Stock Symbols
ABBA
ABM
CMCSA
CMI
DLR
ELBM
GRNBF
MMM
MO
MPW
RF
SXOOF
WBA
VT
Stock Portfolio at the end of this month
As announced I've had to sell about 97k USD worth of VT to get the 80k CHF for the equity in the company. I've also dumped Advance Auto Parts (AAP) and switched that position into Cummins Inc. (CMI) which is some solid growth stock with ~3% dividend yield.
Equity Portfolio
Equity Portfolio value: 80'070 CHF (+80'070 CHF vs. last month)
As mentioned I've bought myself into the current company and do now own a ~0.1% stake which could become interesting if the company ever get's valued at a billion or more. Currently the (theoretical because not publicly traded) market cap is in the mid two figure millions.
Crypto HODL Portfolio
Current HODL portfolio value: 200'745 CHF (~7.7 BTC / 325 KSM / 3800 DOT / 92100 CRO / 2.2k+ PHA) (-25k CHF vs. last month)
The main source of my loss of net worth…
---
Blog statistics
Views: 815 (-595 vs. last month) – Like my income is also my viewership collapsing :'(
Visitors: 337 (-82 vs. last month)
I posted 1 blog post last month, the monthly update. If you have ideas or are interested in more details let me know in the comments.
That's it for this month. Like last month let me know if you like the style and the ordering of topics.
If you have any questions or comments, please leave a message below or contact me by email. I try to answer all comments and emails.