Updated: 02.09.2021
Here you can see the statistics for my income, expenses and savings rate.
For 2021 I'll aim at a savings rate of 60%+.
"Net income" is the net amount of money which lands on my bank account.
"Expenses" are all money leaving our bank account.
Update 01.01.2021: I updated the savings graphs/numbers for 2020 to exclude taxes, but include them explicitly in the yearly savings rate on a dedicated line.
2021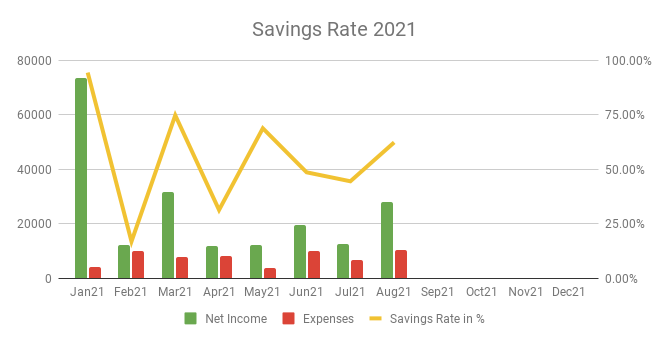 Month
Net Income
Expenses
Saved
Savings rate in %
Jan-21

73'272 CHF

4'188 CHF

69'084 CHF
94.28%
Feb-21

12'066 CHF

10'026 CHF

2'040 CHF
16.91%
Mar-21

31'758 CHF

8'028 CHF

23'729 CHF
74.72%
Apr-21

12'017 CHF

8'249 CHF

3'768 CHF
31.36%
May-21

12'307 CHF

3'844 CHF

8'462 CHF
68.76%
Jun-21

19'610 CHF

10'111 CHF

9'499 CHF
48.44%
Jul-21

12'444 CHF

6'908 CHF

5'536 CHF
44.49%
Aug-21

28'099 CHF

10'594 CHF

17'505 CHF
62.30%
Sep-21
Oct-21
Nov-21
Dec-21
Total 2021

201'556

CHF

61'910 CHF

139'645 CHF
69.28%
Total 2021 (incl. Taxes)
201'556 CHF

94'294 CHF

107'261 CHF
53.22%
2020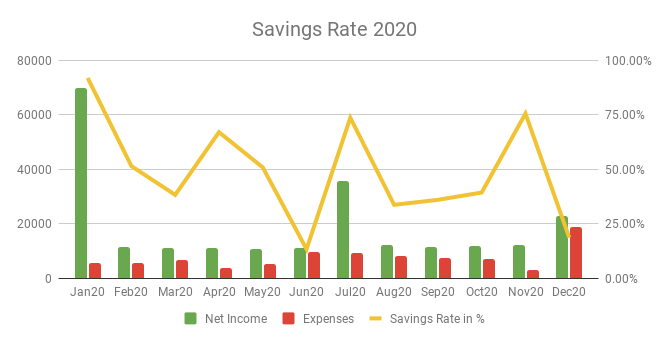 | | | | | |
| --- | --- | --- | --- | --- |
| Month | Net Income | Expenses | Saved | Savings rate in % |
| Jan-20 | 69'837 CHF | 5'679 CHF | 64'157 CHF | 91.87% |
| Feb-20 | 11'683 CHF | 5'670 CHF | 6'012 CHF | 51.46% |
| Mar-20 | 10'969 CHF | 6'769 CHF | 4'200 CHF | 38.29% |
| Apr-20 | 11'158 CHF | 3'680 CHF | 7'477 CHF | 67.02% |
| May-20 | 10'927 CHF | 5'368 CHF | 5'559 CHF | 50.87% |
| Jun-20 | 11'088 CHF | 9'599 CHF | 1'488 CHF | 13.42% |
| Jul-20 | 35'601 CHF | 9'391 CHF | 26'209 CHF | 73.62% |
| Aug-20 | 12'164 CHF | 8'059 CHF | 4'104 CHF | 33.74% |
| Sep-20 | 11'557 CHF | 7'394 CHF | 4'163 CHF | 36.02% |
| Oct-20 | 12'007 CHF | 7'281 CHF | 4'726 CHF | 39.36% |
| Nov-20 | 12'134 CHF | 2'969 CHF | 9'165 CHF | 75.53% |
| Dec-20 | 22'972 CHF | 18'675 CHF | 4'297 CHF | 18.71% |
| Total 2020 | 232'098 CHF | 90'538 CHF | 141'559 CHF | 60.99% |
| Total 2020 (incl. Taxes) | 232'098 CHF | 141'559 CHF | 104'808 CHF | 45.16% |
2019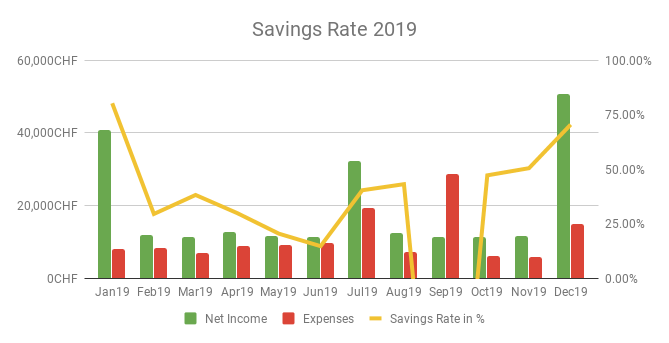 | | | | | |
| --- | --- | --- | --- | --- |
| Month | Net Income | Expenses | Saved | Savings rate in % |
| Jan-19 | 40'734 CHF | 8'042 CHF | 32'692 CHF | 80.26% |
| Feb-19 | 11'916 CHF | 8'395 CHF | 3'521 CHF | 29.55% |
| Mar-19 | 11'442 CHF | 7'066 CHF | 4'376 CHF | 38.25% |
| Apr-19 | 12'704 CHF | 8'901 CHF | 3'803 CHF | 29.93% |
| May-19 | 11'724 CHF | 9'319 CHF | 2'405 CHF | 20.51% |
| Jun-19 | 11'304 CHF | 9'631 CHF | 1'673 CHF | 14.80% |
| Jul-19 | 32'365 CHF | 19'288 CHF | 13'077 CHF | 40.40% |
| Aug-19 | 12'611 CHF | 7'164 CHF | 5'447 CHF | 43.19% |
| Sep-19 | 11'330 CHF | 28'658 CHF | -17'328 CHF | -152.94% |
| Oct-19 | 11'518 CHF | 6'077 CHF | 5'441 CHF | 47.24% |
| Nov-19 | 11'644 CHF | 5'762 CHF | 5'882 CHF | 50.51% |
| Dec–19 | 50'745 CHF | 14'987 CHF | 35'758 CHF | 70.47% |
| Total 2019 (incl. Taxes) | 230'036 CHF | 133'289 CHF | 96'747 CHF | 42.06% |