Updated: 29.12.2020
Welcome to the FastInvest technical review. Let's look into the gory details of FastInvest.
Bad Press
Here are the blog articles I've found regarding bad press for FastInvest:
And there are plenty of reports on Twitter and myself included that the withdrawals are only being processed very slowly.
Owners/Team public
FastInvest lists 24 people for the whole company:
There are a total of 23 people on the LinkedIn company page. Many seemingly less than 12 months with the company, few there forever.
Company Records
These are the company records I've found related to FastInvest:
FAST INVEST UAB

The company register claims that there are 24 employees which does match with the teams page and the LinkedIn profiles.
Average salary ~2 000 EUR pretty decent for an eastern european country

FAST INVEST LTD

Company was called BIG CREDIT LTD from 2012 – 2015, some blogs reported about this before.
Not much information in the company records. No information about actual owners besides Simona. Also no information about revenue or capital.
Technological Analysis
Webhoster
The fastinvest.com is running on Amazon Web Services. Generally a good choice of hoster.
DNS Records
Whois Records for fastinvest.com:
Is completely obfuscated, no address and no contact available –

RED FLAG

Domain was registered in February 2005 was probably bought later
Last updated in March 2019 (migration to AWS?)
I don't see a legitimate reason to hide DNS whois records for legal businesses to be honest. They do run on AWS which is used by millions of other companies so that's not a problem.
Available in different countries
Inspired by Kristaps Mors FastInvest article I checked if the FastInvest homepage is reachable from different countries: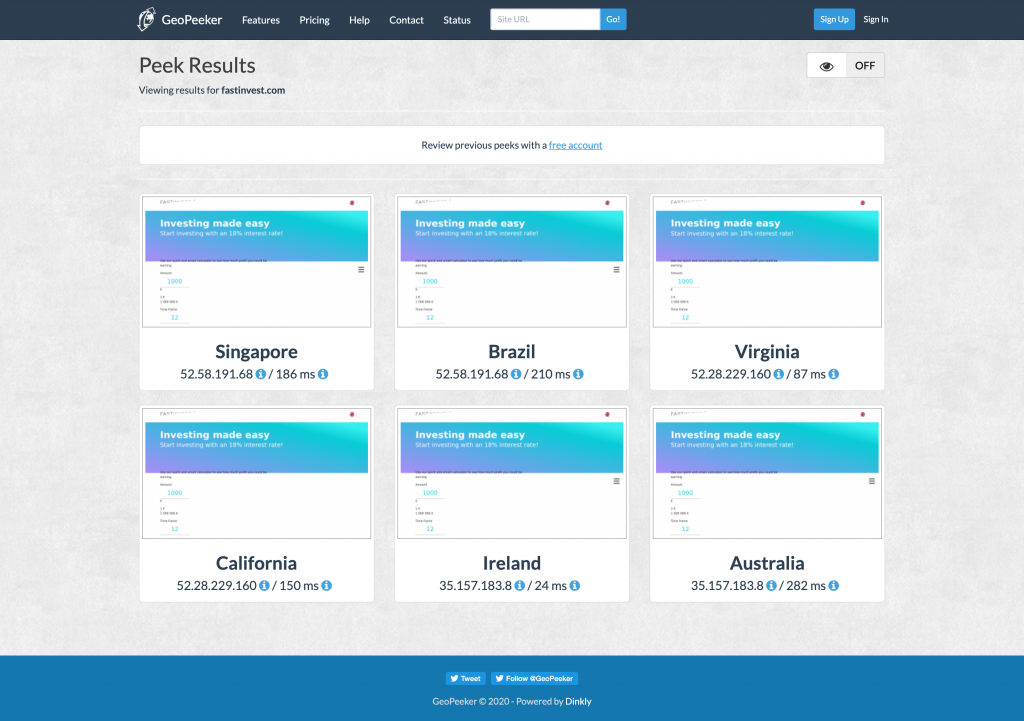 They seemingly learned from the Blogpost of Kristap Mors and made sure that the homepage is reachable from everywhere.
Withdrawal Time
I personally have three withdrawals of almost 900 EUR pending since the 1st of April, looks like a joke to them? – SUPER RED FLAG (counts double)
I got one withdrawal from them before April 2020 but none since then.
Update December 2020: My 5+ pending withdrawals from April and May got almost all processed in November/December 2020. However I do have another 4 payouts since 1st of December which haven't been processed yet. So assume a 6 month payout duration for now.
Verdict
We had a total of 6 RED FLAGs. They still aggressively advertise and try to lure people with up to 18% interest rates into investing. However I'm clearly not the only one with issues getting the withdrawals processed so I have to categorize them as scam for now.
I give FastInvest a 95% SCAM verdict. DO NOT INVEST IN THIS PLATFORM!
Let me know in the comments what you think.