Updated: 13.04.2020
Welcome to the Monethera technical review. Let's look into the gory details of Monethera.
Bad Press
Here are the blog articles I've found regarding bad press for Monethera:
Multiple bloggers concerned about the project quality. At least they don't publicise any partnering with welltrado at this point. Doesn't start great.
Owners/Team public
Monethera lists three people for the whole company:
Andis Taubers (CEO? / Project Manager)

The company Twitter account indicates that withdrawals since the 10th of March are not being processed (I have a withdrawal of 32 EUR pending since the 21st too) –

RED FLAG

Many "Principal CEO" positions of different companies which seemingly are all gone, what the fuck even is a principal CEO?
They officially stop business activities due to the Corona crisis conveniently on a Friday, what company can't keep working remotely in 2020? –

RED FLAG

Kristina Romanova (Investment Advisor)

Is CEO of a company called "Aurum Invest LLC" conveniently named after a large hedge fund she also seems to have links to other companies. A network of scam entities? –

RED FLAG

The LinkedIn Profile picture and the one the page seem to be completely different people.

Viktors Mirosnicenko (Financial Analyst & Risk Specialist)

Removed all traces of Monethera from his profile.-

RED FLAG

His only listed company "Innovation Systems, SIA" belongs to his wife(?) Oksana Miroshnichenko and barely paid any taxes in 2018.
So all three people that are in connection with Monethera seem to have fishy backgrounds. Some random companies which they seemingly still work for.
Company Records
These are the company records I've found related to FastInvest:
MONETHERA GROUP OÜ

Monethera claims that they were founded in 2017 however the previous company was renamed in 2018
Seems to be weird to lie about the founding date of the company, also why reuse an old companies registration instead of going for a brand new one?
Technological Analysis
Webhoster
The monethera.com domain was registered using joker.com and is hidden behind cloudflare servers. So not fully clear where the page is hosted.
DNS Records
Whois Records for monethera.com:
Is completely obfuscated, no address and no contact available
Domain was registered in February 2019 –

RED FLAG

(they claim to be operational since 2017)
Very fishy DNS records, they hide behind Cloud Flare which is fair to protect pages from hackers but combined with the hidden registration data it seems more like measure to hide their asses.
Available in different countries
Inspired by Kristaps Mors FastInvest article I checked if the Monethera homepage is reachable from different countries: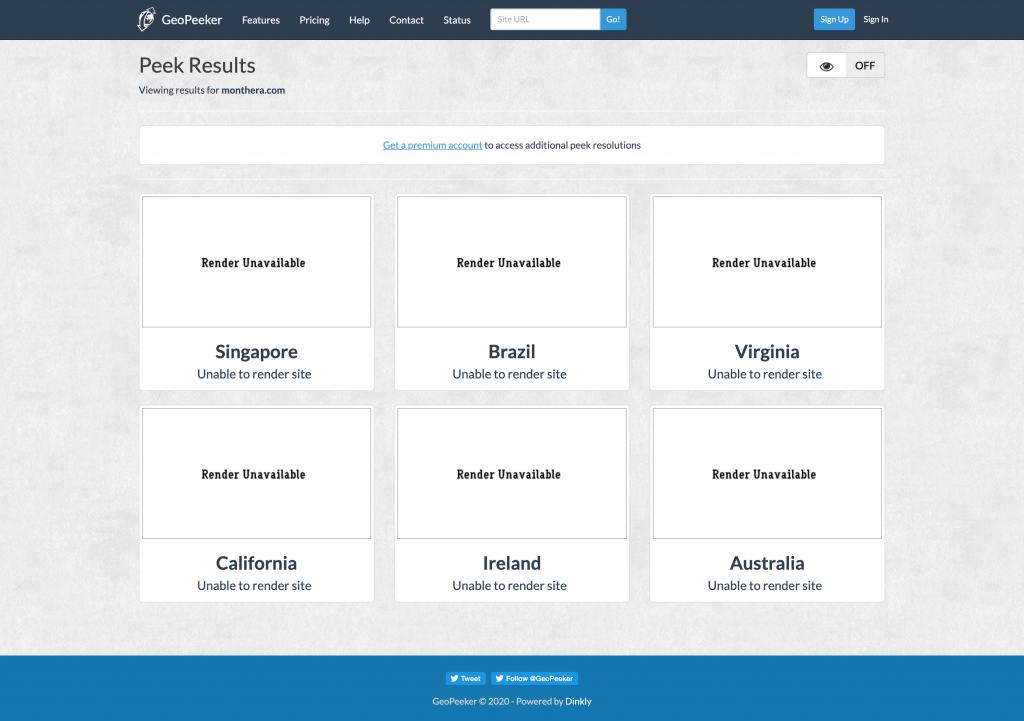 Due to the page being behind CloudFlare it seems automated requests are being blocked. So not sure how to rate that.
Withdrawal Time
I mentioned before that I found people complaining about pending withdrawals since 10th of March and I personally have a withdrawal pending since the 21st of March. – SUPER RED FLAG (counts double)
Verdict
We had a total of 8 RED FLAGs. Mostly their claim to stop all communication and operations due to corona virus seems too convenient to be true. Also the combination of the fact that they had bank issues and withdrawal problems since early March make all alarm bells go off.
I give Monethera a 100% SCAM verdict. DO NOT INVEST IN THIS PLATFORM!
Let me know in the comments what you think.