Updated: 09.04.2020
Welcome to the Wisefund technical review. Let's look into the gory details of Wisefund.
Bad Press
Here are the blog articles I've found regarding bad press for Wisefund:
Quite some alarms going off in my head. Multiple bloggers concerned about the project quality and one claimed partner company deleting previous blog posts? Doesn't start great.
Owners/Team public
Wisefund lists two people for the whole company:
Ingus Linkevics (CEO)

Rather inactive Twitter account
Seemingly building Android apps on the side, he claims the company Andromo App Maker is resided in the Netherlands but the Google Play store lists an address in Latvia RED FLAG (also why would you lie about such a detail?)
Old dissolved Company called Gilmore where he was CEO too

Diana Ozolina (Customer Success Manager)

Not using the full last name on her LinkedIn profile, why?
Very suspicious LinkedIn profile, expect for the University no other experience? No internship nothing?
Facebook profile a bit more realistic, was created in 2009 but most posts locked down, it would be hard to create a fake profile with such an old creation date.
So the two listed team members do seem to exist even if there are some details I don't like.
Company Records
These are the company records I've found related to Wisefund:
WISEFUND CAPITAL OÜ

Lists only 1 employee while they claim they have 2
Given the 2x 69 EUR taxes that were paid in 2019 Q4 the estimated revenue would be 32'000 EUR which seems too low in my opinion.
Phone number in registration does match with the phone number on Wisefund website.
Address does match the claimed office address.

WISEFUND FINANCE OÜ

Same 2500 EUR capital
Only exists since November 2019
I made my bank transfer to this business entity which seemingly never paid taxes yet.
Different phone number compared to the other business entity.
contact@ecovise.ee is an invalid domain RED FLAG
Address does match the claimed office address and of the other business entity
There are records of the company which can be traced back, however the Wisefund Finance OU business entry seems to be more shady than the Wisefund Capital OU entry.
Technological Analysis
Webhoster
The wisefund.eu domain is hosted by a company called SIA Alicorn (nslookup wisefund.eu -> 145.239.239.47 -> mailc.alicorn.lv.). So let's see what's up with them:
Oļegs Jevsejevs (Project Manager): changed jobs in Nov 2018, a web company that doesn't update their team on their homepage in over 1 year kind of sucks RED FLAG
Aija Staškeviča (Financial Specialist): LinkedIn profile was deleted or invalid link. Again not a great sign of trust.
Edmunds Beinarovičs (CTO): Quit Alicorn in August 2019
Out of 9 people with LinkedIn profile only 5 bothered to join the company profile and 2 even only with an anonymous profile. Must be a great employer <.<
The company payed 80 750 EUR in taxes, must be very successful on the otherhand I have no idea about taxes in Latvia
Latvia apparently has a 15% company tax rate so if they pay 80 750 EUR in taxes their revenue must be around 530 000 EUR. Sounds like a lot for a simple webhosting company.
DNS Records
Whois Records for wisefund.eu:
Points to the business address of WISEFUND CAPITAL
Points to nsc.alicorn.lv as name server
Domain was registered on 30 nov 2018 with GoDaddy
Other websites hosted on the same IP:
Domain
flc-logistics.com
plk-logistics.ru
rixjet.lv
rixjetriga.lv
trafimaf.com
wisefund.eu
Nothing wrong with the DNS records, they do point to the respective business entities. I would not be surprised if one of the other domains are related to projects which showed up on Wisefund.
Available in different countries
Inspired by Kristaps Mors FastInvest article I checked if the Wisefund homepage is reachable from different countries: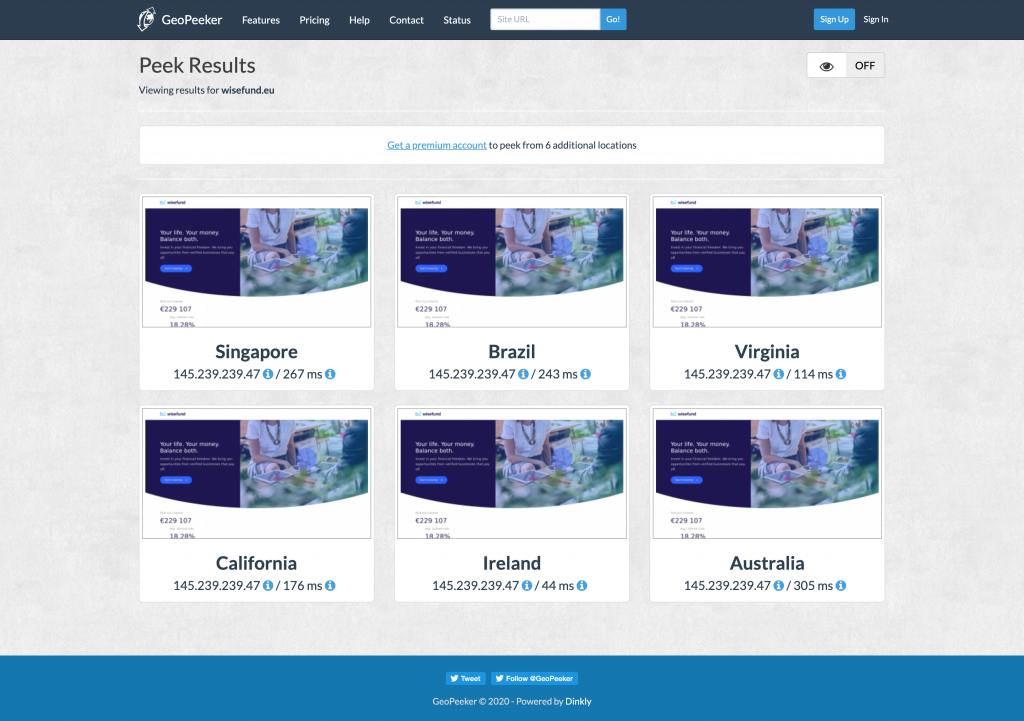 Looks like it is reachable, so Wisefund doesn't fear any customers from the US or other countries.
Withdrawal Time
I was honestly very impressed when I withdrew money from my account on April 9th. From clicking to withdraw to getting the money to my Revolut account it took about 5 mins. This is a big GREEN FLAG
Scam platforms would usually do the withdrawals delayed and manually. Wisefund however seems to have that completely automated. Automatic withdrawals could however also be a risk. In case the platform is hacked the hackers could walk away with the money pretty quickly.
Verdict
We had a total of 4 RED FLAGs. It seems weird that the CEO needs to lie on it's LinkedIn profile about previous job locations. The second employee seems to be very inexperienced and has a very low profile in the internet. And the webhosting company seems to make quite some money.
And there's also the bad press about the hard to verify projects.
I give Wisefund a 70% SCAM verdict.
Let me know in the comments what you think.